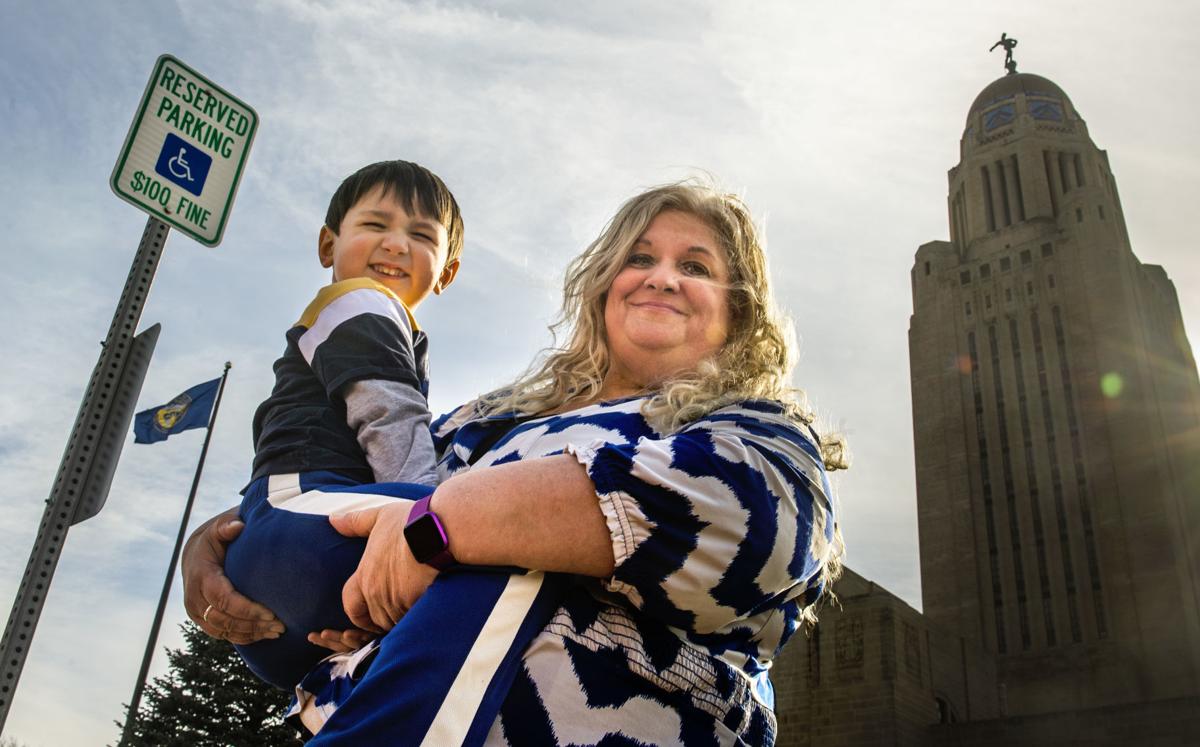 Max Petersen has an impish smile that radiates energy and boyish charm. 
He also has a disability imperceptible to most people.  
So you might not know the parents of this 5-year-old could benefit from a handicap parking permit when they transport him around town, to appointments, play dates and occasionally the state Capitol, where it is notoriously hard to find a parking spot. 
When they reach their destination, and his mom unloads him from the car, he can be unpredictable because of his autism, which can create difficult social interactions and communication and sometimes an unexpected meltdown.
He might run out into the street without warning if he sees litter, because he's obsessed with picking it up no matter where he sees it. If it rains, he can't tolerate it; it feels like a form of torture. 
"There are things that you wouldn't think would be a scary thing for him that absolutely are," said his mother, Cris Petersen. 
A year ago, Petersen became an advocate ambassador for Autism Speaks, an advocacy group that promotes solutions, across the spectrum and throughout the lifespan, for the needs of people with autism and their families.
The Lincoln mom developed a website, sassymamaforautism.com, to educate and advocate for children with autism and their families. In researching links to put on her website for states' handicap parking permits, she came across a law in Virginia that included autism and neurological disorders for handicap parking permits.
It gave her an idea about including those disorders in the Nebraska law.
She approached Lincoln Sen. Kate Bolz, who agreed to offer a bill (LB976) that simply inserts "neurological" into the definition of impairments that can qualify for a handicap parking permit. 
Petersen said the ability to qualify for a parking permit could impact up to 40,000 families in Nebraska who have loved ones affected by developmental or neurological disabilities. 
"This speaks to how your vote counts, how one person's voice makes a difference," she said. 
Because, Petersen said, she has talked to other ambassadors and the idea of expanding a handicap parking permit is spreading to other states. 
She's not fighting this fight for her own family, she said. It already has a handicap permit because Max has a significant respiratory condition. 
"I'm fighting this fight because it's the right thing to do, for all the families who don't know that they can advocate for themselves or are just too exhausted to do it," she said. 
With her family's permit, it can make the difference of whether they can get to a doctor's appointment or some other important family commitment because Max struggles so much with transitions to and from a car, Petersen said.
"People don't understand that a 2-year-old having a fit and a child with autism having a fit are not the same thing," she said. 
When Max is on sensory overload, she said, he feels helpless and almost ill and cannot verbalize what is happening. He may become aggressive, demanding, throw things or himself on the ground, cry or run out of sight. 
And, once there, if she would have to remove him from a place or situation, it would be difficult for him and for her to have to walk him to a far-away parking location. 
Bolz said Petersen came to her and made a compelling case for the bill. 
There are two qualifications for a handicap permit, one a state qualification and one federal. The federal rule includes challenges in walking 200 feet or having a neurological disorder that results in a mobility impairment. 
But the state statute requires a visual or physical impairment. The Department of Motor Vehicles form that physicians have to fill out to verify the status of the applicant has no check-off for a neurological disorder and related mobility impairments, Bolz said. 
"So you might be someone who has Alzheimer's or dementia, or be someone that has autism, that otherwise would qualify, but not according to our statute," she said. 
With this bill, there would still have to be a doctor's qualification and limitations in the person's ability to be mobile, she said.
"And that may not look like someone who used a wheelchair or who has lost an appendage, but that doesn't mean that they're not at risk of running in a parking lot or having a sensory overload that endangers them in traffic or, in the case of someone who has (Alzheimer's) or dementia, just walks off," Bolz said. 
The bill has been sent to the Urban Affairs Committee. A hearing for LB976 has not been scheduled.