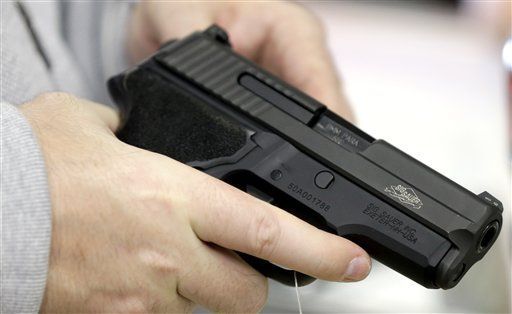 Concerns about gun violence in Nebraska's two largest cities trumped an effort to banish local firearm laws in the Legislature on Wednesday.
A proposal to eliminate cities' ability to restrict firearms beyond what is included under state law failed to overcome a days-long filibuster, falling short by a single vote.
"It was an exceedingly sweeping bill," said Speaker Galen Hadley of Kearney, who joined opponents in voting to block the measure.
As written, the bill would have pre-empted local ordinances in Lincoln that ban guns from domestic violence shelters and drug abuse treatment centers, and prohibit a wider range of offenders from possessing firearms than is covered under state law.
In Omaha, the measure would have dashed a local law aimed at keeping guns out of the hands of juvenile gang members and a registration requirement that allows police to deny handguns for those who are mentally ill or involved in documented gang activity.
Supporters, including the bill's sponsor, Sen. Laura Ebke of Crete, said those local ordinances encroach on Nebraskans' constitutional right to bear arms and threaten responsible gun owners who might unknowingly break the law while traveling throughout the state.
They also called the local laws ineffective.
"These feel-good attempts have done nothing," said Sen. Mike Groene of North Platte, pointing to Omaha's climbing murder rates and calling that city's handgun registry requirement a joke.
Still, Ebke and senators from Lincoln and Omaha spent days attempting to hammer out a compromise that could protect certain city ordinances while preserving the essence of the overall bill.
Those talks failed, and both sides Wednesday morning accused each other of being unwilling to waver — using virtually identical language.
Several senators said they were prepared to support Ebke's bill with an amendment proposed by Lincoln Sen. Adam Morfeld. His proposal would have rewritten the measure to reflect a federal law protecting gun owners who travel between states.
That point — to protect responsible gun owners from elsewhere in the state from unknowingly breaking local laws — was the main argument raised in favor of Ebke's bill during a public hearing on the measure last year, Morfeld said.
Ebke said Morfeld's proposal would have gutted her bill.
It's unclear whether the amendments could have been adopted anyway, with Omaha Sen. Ernie Chambers saying he would use legislative rules to block changes that would cause more of his colleagues to support the bill.
During debate that grew emotional at times, opponents argued cities are best positioned to restrict guns in their communities, based on the first-hand experiences of local law enforcement.
"They live on those streets every single day," Morfeld said.
Sen. Rick Kolowski of Omaha recounted being held at gunpoint with a group of travelers on the Amazon River in Peru in the 1990s. One member of his group was shot.
"You don't want that to happen in your life," Kolowski said. "You don't want to see that happen to a member of your family. You don't want to see someone bleeding on the floor in front of you while pressing his wound with a tablecloth."
Ebke read an email from a Lincoln defense attorney, Korey Reiman, who questioned the city's ordinances on practical and legal terms. 
Reiman argued anyone who brings a gun into a domestic violence shelter with the intent to do harm wouldn't be worried about the city's ban because that person would already be facing felony charges for making terroristic threats. And people convicted of misdemeanor crimes already unknowingly break the law under Lincoln's more expansive gun ban.
"A city should not have the power to add on (an) additional misdemeanor offense, where a guy gets a $100 fine, to strip him of his constitutional right," Reiman said. 
But opponents of Ebke's bill cited concerns raised by the Omaha police union and Lincoln Mayor Chris Beutler.
Sen. Heath Mello of Omaha said the handgun registry is a tool law enforcement uses every day in his city.
"We could have more homicides if this would go away," he said of the registry.
Wednesday's vote made Jan Hobbs, an anti-gun-violence activist from Franklin, ecstatic.
She survived 15 minutes at gunpoint by a friend's abusive husband 38 years ago and says she drove 2½ hours from her hometown to the state Capitol each day this week to watch the debate.
The outcome doesn't just protect people in Omaha and Lincoln, she said.
"I think that it was a very good thing for Nebraska."