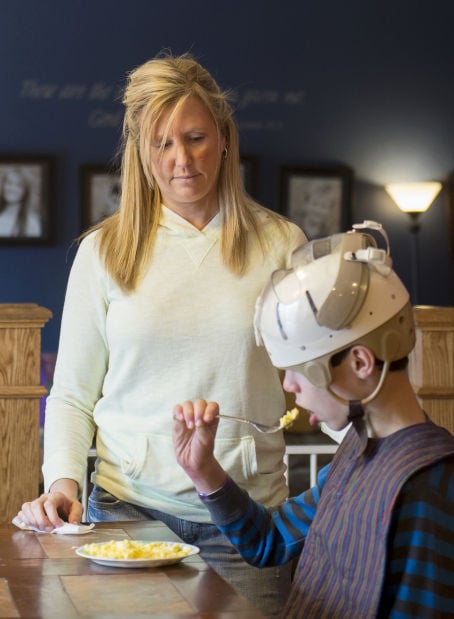 People who are eager for the approval of medical cannabis in Nebraska will have to wait at least another year, and maybe three, for a chance at getting it legalized. 
It is hoped those who need it still will be around to benefit from it, if and when it eventually is approved in this state, said Shelley Gillen, whose son Will has severe epileptic seizures and potentially could be helped by the drug. 
After a bill (LB643) failed in April to get enough votes to stop a filibuster, and allow for an up or down vote on the bill itself, several groups said they were working on an initiative petition drive to get the question on the November ballot. 
That won't happen, Gillen said. There's not enough time and there's not enough money to get it done this summer. 
They are looking at the possibility of a 2018 vote, she said. 
"We just can't count on the Legislature," she said. "We've been doing this since Will was 11. He's now 14. So we've been through it three legislative sessions."
The strictest medical cannabis proposal in the country still isn't good enough for some senators, she said, or Gov. Pete Ricketts and Attorney General Doug Peterson. 
The bill would have allowed medical cannabis in pill, oil or liquid form for patients with certain conditions who were certified by a medical provider. It would have been acquired and dispensed through centers -- one per congressional district -- registered by the state Department of Health and Human Services. 
"I have no doubt Sen. Garrett's bill would've passed if it weren't for the two of them (Ricketts and Peterson)," Gillen said. 
Sen. Matt Williams of Gothenburg led the charge in the Legislature against the bill, saying he didn't want the state legalizing a federal Schedule I drug. 
Garrett's bill was filibustered, and it required 33 votes to stop the debate and force a vote. Garrett said after the vote failed that he thought he had the 33 votes, but some senators reneged. He ended up with 30. 
Without the filibuster, the bill needed only 25 votes to pass a second round of consideration.
It broke Garrett's heart, he said, because last summer he had talked those who wanted medical cannabis in the state out of working on gathering signatures for the initiative petition. 
"I really thought we had a great chance of getting it passed," Garrett said. 
Now, getting it on the November ballot is a bridge too far, he said. 
"It required so darn much money to get something on the ballot," he said. 
He speculated it would have taken $700,000 to nearly $1 million to pay for petition circulators, consultants, advertising and promotion. 
Last year, Nebraskans for the Death Penalty successfully collected enough signatures to get their reinstatement question on the November ballot. That campaign reported spending about $909,000. 
Garrett is facing re-election this year, but if he makes it back to the Legislature, he said, he plans to try again on the bill. 
"It's going to be an uphill struggle," he said. 
Nine senators who supported the bill will be gone next year because of term limits, and several more are facing re-election. Only one opponent of the bill -- Omaha Sen. Beau McCoy -- will leave. 
"We've got a whole bunch of new senators that we're going to have to convince," he said. "(But it's) not an impossibility, especially now that yet another state has approved it." 
In April, Pennsylvania became the 24th state to legalize medical marijuana.
And this week, the U.S. House of Representatives joined the Senate in passing legislation that would lift restrictions on Veterans Affairs doctors discussing medical marijuana as a treatment option with their patients in states where it is legal.
Hillary Clinton, Bernie Sanders and Donald Trump have expressed some form of support for medical marijuana. And the federal Drug Enforcement Administration will review marijuana's classification as a Class I drug, the most dangerous, this summer. 
"You know, if the moon and the stars align right, there's a potential we could get it done," Garrett said.
"We're going to keep fighting the fight."