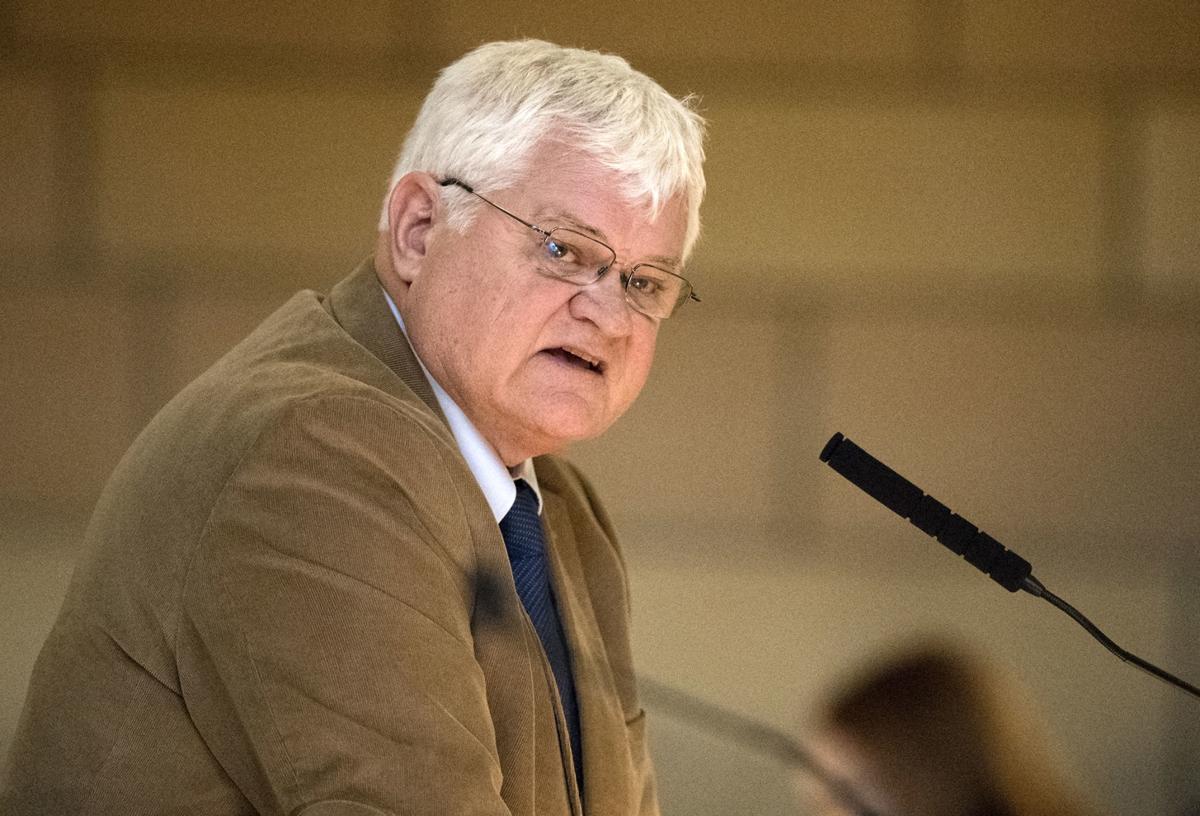 Sen. Mike Groene's third attempt to give educators the authority to physically restrain students who become violent in schools did not advance out of committee this year.
Earlier iterations of the bill (LB147), which allows teachers, administrators and staff to restrain students who are harming others, school property, or themselves, fell victim to a filibuster.
Opposed by school administrators, Groene couldn't muster the votes needed in committee to send it to the floor for debate.
"At the end of the day, we came to an impasse along political-ideological lines," Groene said of the 4-4 vote in committee, casting blame on four members who are registered Democrats in the officially nonpartisan Legislature. "This situation, I believe, is why a pull motion is in our rules."
On Tuesday, Day 79 of a likely truncated legislative session, Groene launched an attempt to raise his own bill out of committee, a seldom-used legislative tactic requiring a simple majority of the full body.
Last year, lawmakers successfully raised former Bancroft Sen. Lydia Brasch's priority bill (LB1069), changing Nebraska's Americanism statutes, from the Education Committee,  where it was stuck. Brasch's bill got minimal floor debate before falling off the agenda.
In 2017, Sen. Lou Ann Linehan of Elkhorn successfully pulled her priority bill (LB651) that would set higher reading standards for Nebraska third graders out of the Education Committee, but it failed on the floor only to be revived a year later following a legislative study.
Other senators said Groene's attempt to use the procedure, however, created a "dangerous precedent" of a chairman trying to pull his own bill out of the committee he leads over the wishes of other senators.
Omaha Sen. Sara Howard, who chairs the Health and Human Services Committee, said introducers and committee members often refine legislation until a majority of senators can back the proposal.
"I think it's concerning to see another leader in this body try to subvert the will of his own committee," Howard said. Without a committee vote, other senators are not provided a record of support or a committee's statement of intent to consider during debate, she added, which erodes the structure of the unicameral institution.
You have free articles remaining.
Sen. Steve Lathrop, also of Omaha, said it was rare for senators to try and pull their bill from committee during his previous two terms in the Legislature.
"This is going to be water going over the dam and you are going to be sorry you voted for a pull motion because you are going to have a lot of them next year," the Judiciary Committee chairman said.
The motion to pull a bill out of committee was intended for senators who had their bills blocked by a committee chairman, not for committee chairmen stymied by a lack of support for their own bill, said Sen. Matt Williams of Gothenburg, the chairman of the Banking, Commerce and Insurance Committee.
Groene disputed Williams' reading, however, saying the pull motion existed to keep party politics from blocking a committee's proceedings.
Lincoln Sen. Patty Pansing Brooks lauded Groene's work on LB147, but described the bill as "not ready for prime time," and proposed a legislative study of the issue.
While he has supported previous student restraint bills, Lincoln Sen. Adam Morfeld said LB147 included language that could potentially confuse teachers into thinking they had legal immunity when using physical restraint when they did not.
"There is a reason why this bill is still in committee," Morfeld said. "That's because the committee process works."
Sen. Lynne Walz of Fremont criticized Groene's leadership of the Education Committee, saying he passed over several bills in committee in lieu of his own student restraint legislation.
She described this year's committee proceedings, in which 56 bills were introduced but only 18 were deliberated during executive session, as a "struggle," and suggested it was useless to introduce education-related legislation next year.
"This is one of the first major education bills we are able to talk about this year," Walz told the Legislature. "To put it in perspective, this is a committee priority bill, typically a bill that is supported by the entire committee, that we now have to debate a pull motion on."
But backers such as Linehan and Sen. Dave Murman of Glenvil said the bill addressed a growing problem in Nebraska's schools and deserved to have a full debate.
Groene was successful in convincing enough senators to give him that debate — but just barely. His motion passed 25-14, with eight senators declining to vote, and two excused.
If it is placed on the agenda, Groene will need 33 votes to defeat a filibuster promised by opponents to the bill.