Gov. Pete Ricketts signed an anti-abortion bill Saturday on the steps of the Capitol, giving props to eight state senators while a crowd of 200 cheered them on.
Ricketts did the public signing for a bill (LB814) that prohibits a dilation-and-evacuation procedure that the bill calls "dismemberment abortion" on a living fetus. The bill makes it a felony for a medical professional to perform the procedure anywhere in Nebraska, punishable by up to two years in prison and/or a fine of $10,000.
Throughout the signing ceremony, protesters could be heard shouting "murderer" at Ricketts for his financial participation in restoring the death penalty in Nebraska, which the Legislature repealed, through an initiative petition campaign. He also supported the execution of Carey Dean Moore, sentenced to death for killing two Omaha cab drivers. Moore was killed by lethal injection two years ago this month.
Ricketts asked the crowd to lift up in its prayers Julie Schmit-Albin, executive director of Nebraska Right to Life, who could not be there because of ill health. Schmit-Albin sent a note thanking Ricketts and Lincoln Sen. Suzanne Geist on behalf of her organization for their leadership in passing the bill.
"With the assistance of many other pro-life supporters and advocates, you have proven once again that Nebraska is a pro-life state," the note said.
Ricketts said Geist had to get the bill pulled from the Judiciary Committee and then had to overcome filibusters on all three rounds of debate to get it passed. 
Geist said she had never seen such an outpouring of support and prayer for a bill since she has been in the Legislature.
"That's what helped us overcome this obstacle and every single obstacle," she said. "That's what strengthened the ... colleagues who were on the fence of whether or not they were going to support this."
Kristen New of Omaha, who worked as a counselor for three years during college and graduate school at two different abortion clinics, also spoke at the bill signing. She said she watched on ultrasound during a D&E abortion a "preborn baby boy experience pain, attempt to fight for his life and ultimately lose."
At the end of the signing ceremony, Ricketts called members of the crowd up onto the Capitol steps for a photo. They stood shoulder-to-shoulder for the picture, many of them without face masks.
At least a dozen protesters stood on the sidewalk below the Capitol steps behind temporary perimeter barriers.
The protesters shouted that Ricketts was a hypocrite for saying he is pro-life but supporting the death penalty. They held signs indicating the way to stop abortions was to hold men accountable for unwanted pregnancies. One sign read, "Ask me how you reverse an erection," referring to a bill passed last year.
That bill requires the state Department of Health and Human Services to provide information for women on what to do if they change their minds halfway through a medication abortion. It was referred to as an abortion reversal.
Photos: Public signing for anti-abortion bill
Abortion bill signing
Abortion bill signing 8.15
Abortion bill signing 8.15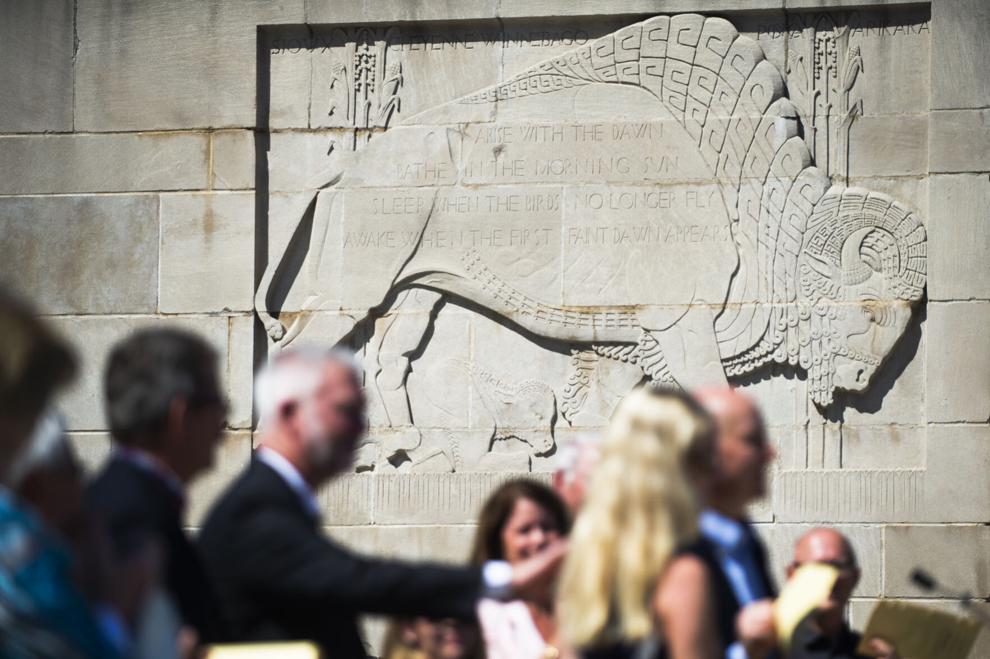 Abortion bill signing 8.15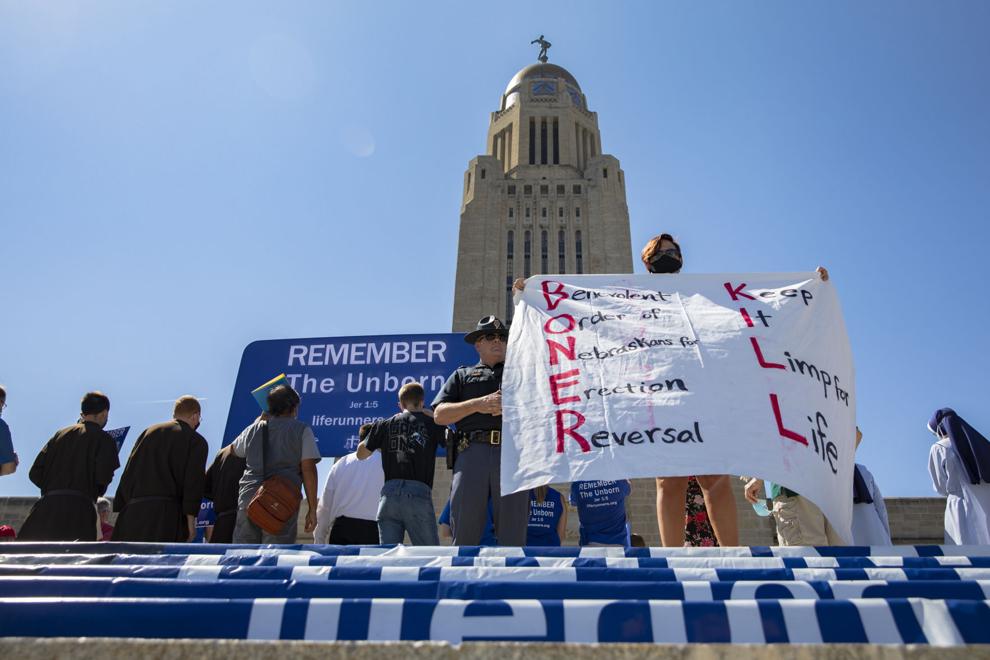 Abortion bill signing 8.15
Abortion bill signing 8.15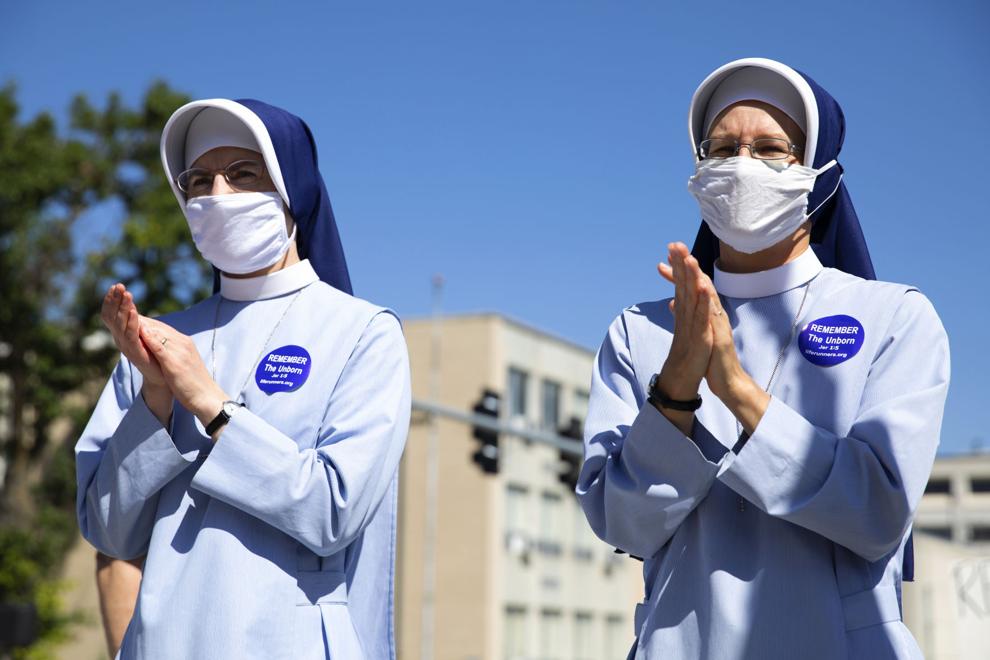 Abortion bill signing 8.15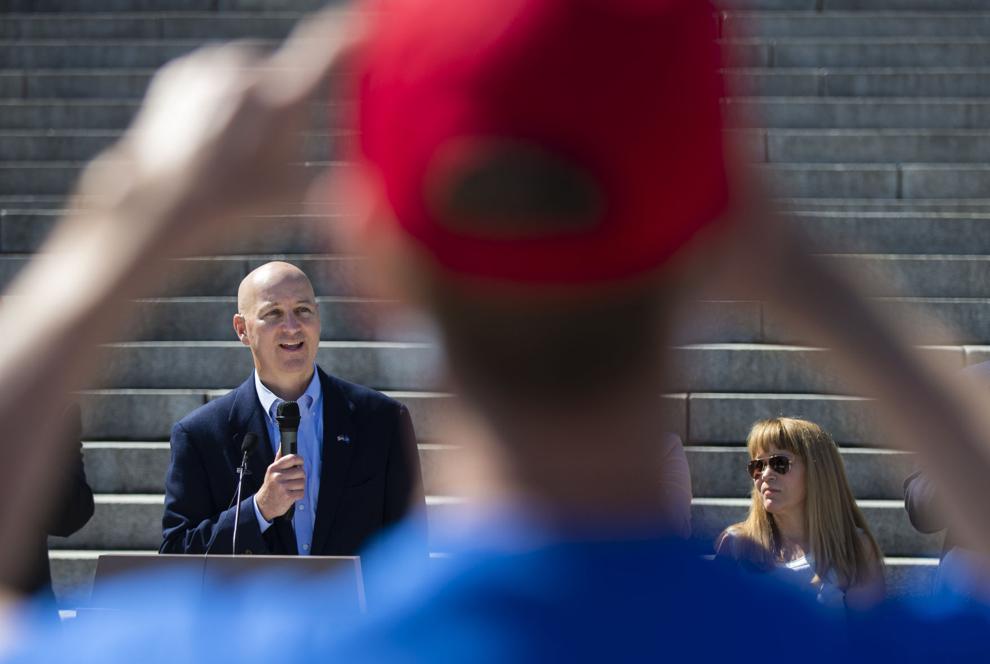 Abortion bill signing 8.15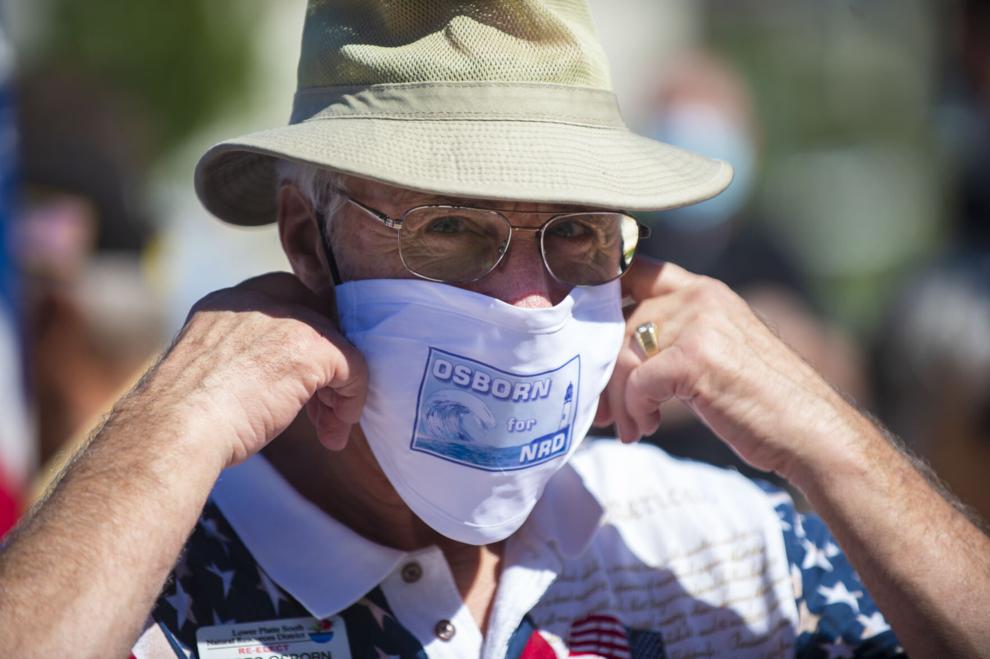 Abortion bill signing 8.15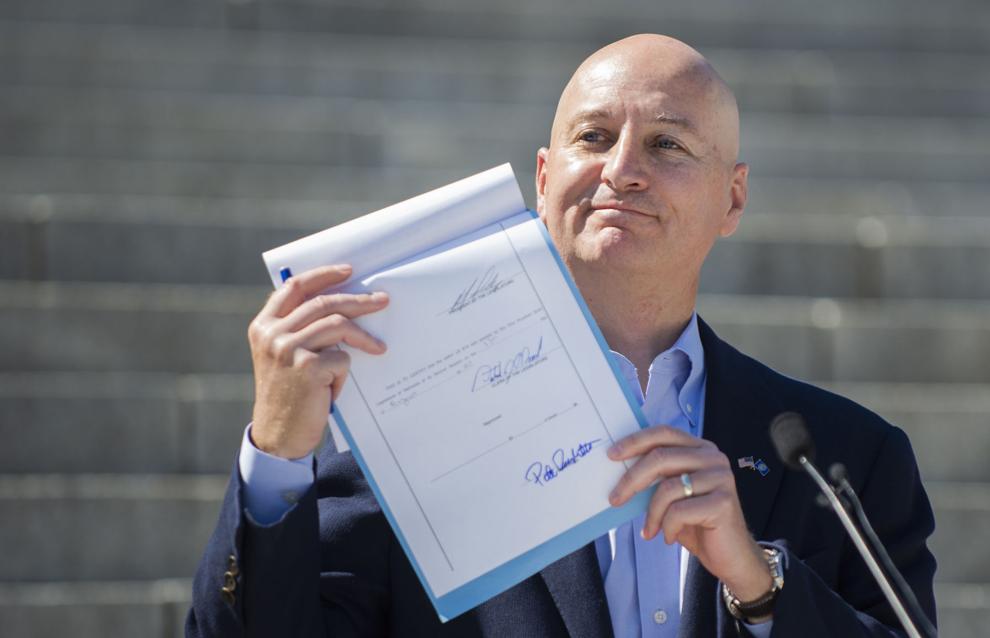 Abortion bill signing 8.15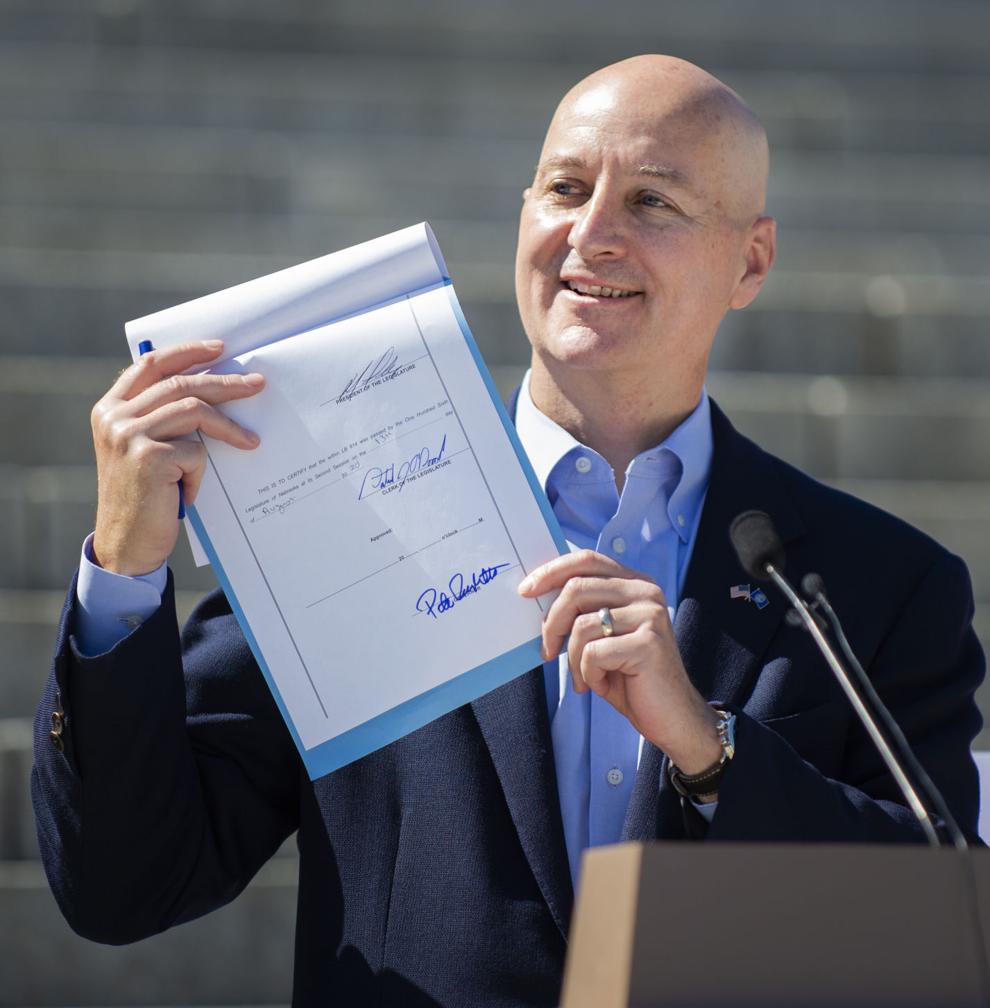 Abortion bill signing 8.15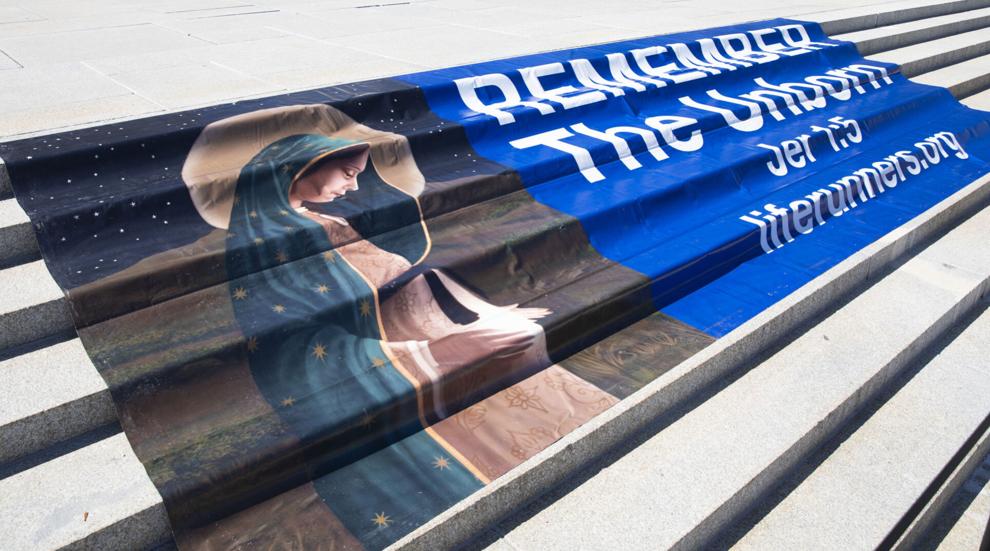 Abortion bill signing 8.15