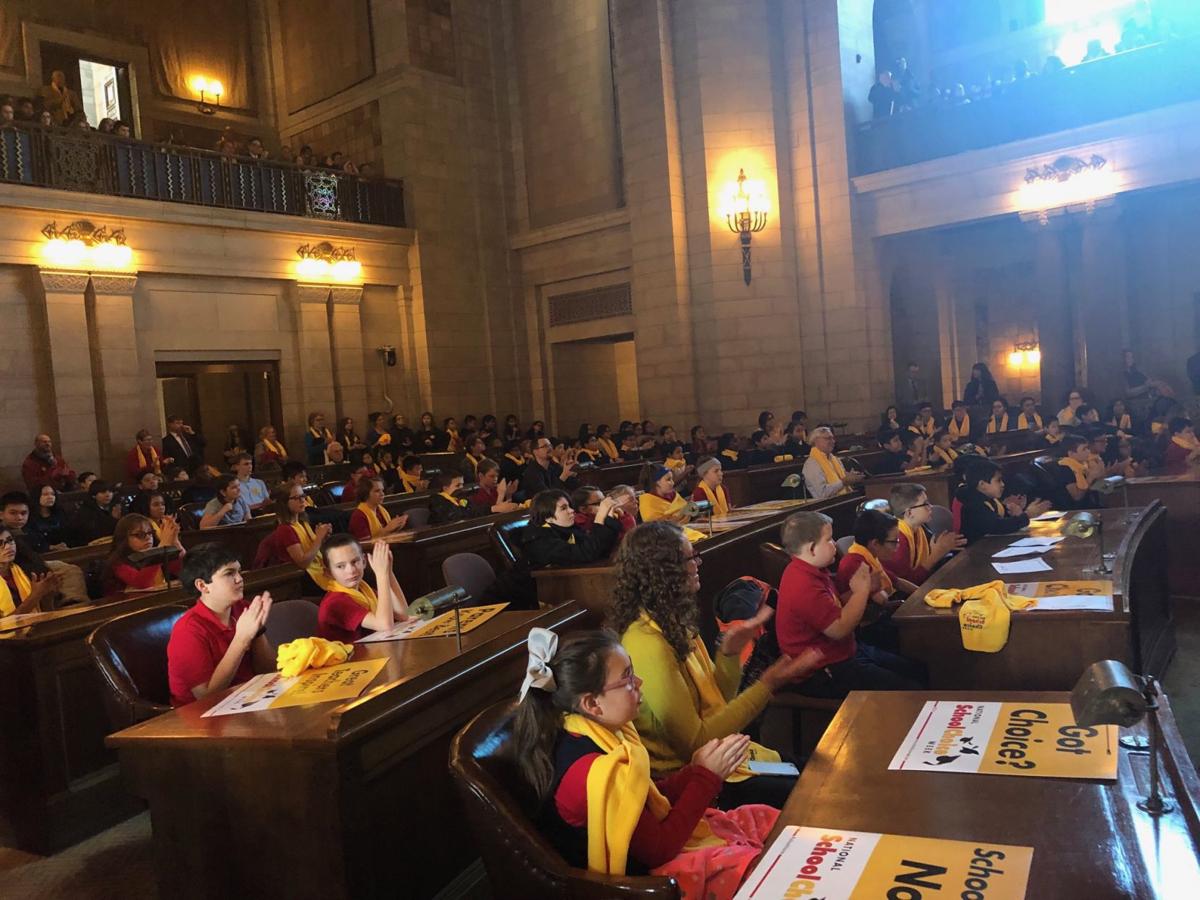 For the second year in a row, opponents of a bill creating a tax credit for Nebraskans who donate to a scholarship fund for private and parochial schools mounted a successful filibuster.
Under the Opportunity Scholarships Act (LB670) from Sen. Lou Ann Linehan of Elkhorn, individual and corporate taxpayers could receive a credit equal to their contribution to a state-approved scholarship granting organization.
Taxpayers could receive credits up to 50 percent of their income tax liability each year under Linehan's plan, with the scholarships going toward tuition and fees for low-income students who elect to attend a private school.
Linehan said her bill, which she gave priority this year, would "take no money away from Nebraska's public schools," and could, over time, reduce the state's spending on K-12 education if more students chose to enroll in private schools.
Senators have backed other tax credit proposals without questioning what they would mean for state funding for public schools, she said.
"It is disingenuous to claim LB670 would reduce school funding when similar concerns have not been raised regarding other tax credits," Linehan said.
But opponents to the bill, led by Sen. Rick Kolowski of Omaha, who introduced an amendment swapping out the word "opportunity" for "private schools" throughout the bill, said it would put place more pressure on the public school system by reducing the revenue collected by the state.
Kolowski, a retired school administrator, also questioned whether LB670 would be constitutional under Nebraska law. Public funding can only go to schools run or controlled by the state or a local political subdivision, he said.
"LB670 is an end run around these provisions," he added, using public tax dollars for private gain by reducing the amount of income taxes collected by the state to be used in the Tax Equity and Educational Opportunities Support Act, better known as TEEOSA.
Lincoln Sen. Kate Bolz also said she was concerned LB670 would have a significant effect on the state's budget, making it harder for the state to pay its obligations in the coming decade.
An analysis by the Legislative Fiscal Office estimated $10 million in tax credits would be claimed in LB670's first year. By 2030, the tax credits claimed would potentially rise to $93 million.
Linehan said she disagreed with Kolowski's view that the bill was unconstitutional, as well as Bolz's concerns over the fiscal analysis: "We are not giving private schools any state funding, it's the donors who are giving the money. We are giving a tax credit."
Several senators said they supported Nebraska's public schools, but believed parents ought to have more tools to provide the right educational opportunity for their children.
Education Committee Chair Mike Groene of North Platte said Linehan's bill "has absolutely nothing to do with public schools."
Nebraska's constitution says students will receive a free instruction provided by the state, Groene said. LB670 would not change that, he added, but would just give families seeking an alternative to public school more assistance.
Other senators said they believed in the right of parents to send their children to a private school, but disagreed with a plan they said amounted to diverting public funds for a private purpose.
Omaha Sen. Wendy DeBoer said Nebraska has cut or reduced spending to education and other public services over the last decade, but won't consider eliminating or reducing tax credits to individuals or businesses that drain revenue from the state's coffers.
Linehan's bill would put the state's long-term fiscal health in jeopardy, DeBoer said.
"This is pulling money from the general fund, because these are funds we would otherwise collect," she said.
Sen. Lynne Walz of Fremont said by 2030, the tax credit for private school scholarship donations would exceed the amount the state spent on community college funding, behavioral health initiatives, and a whole slew of other programs that help low-income school children.
Walz also said stripping money from the general fund would make it more difficult to offer property tax relief.
"If you really have any interest in reducing property taxes, you would agree LB670 is a step in the wrong direction," she said.
Sen. Curt Friesen of Henderson, one of the most active proponents of reducing K-12 schools' reliance on property taxes, said 170 public schools are already underfunded in the state because there isn't enough state aid for those districts.
"We are short of revenue, we can't get money put in our cash reserve, we want to keep making tax cuts because we are a high-tax state," he said, "but we keep finding ways to give away revenue."
Friesen said people who love private schools already have the opportunity to donate to them "out of the good of their heart" and not for a tax credit.
Debate crossed the three-hour threshold, and LB670 fell off the agenda this year, with Linehan promising she would bring the proposal back in 2020.
Be the first to know
Get local news delivered to your inbox!