The Nebraska Legislature had two women among its members when it became the second state in the nation in 1972 to ratify the Equal Rights Amendment.
The next year, with one female senator — Shirley Marsh — the Legislature voted 31-17 to withdraw that ratification, even with some question as to whether that withdrawal meant anything.
The hearing on the resolution to withdraw, sponsored by Speaker Richard Proud of Omaha, drew 1,000 people, mostly women. Proud told them the amendment would wipe out laws that protect women.
"No country puts women on a pedestal as the United States does," Proud said, and that status should remain. 
The national amendment died after 10 years without the requisite number of 38 states to ratify, as did the notion that women are on some sort of pedestal. 
And Nebraska has been working to get equal representation since the unicameral Legislature came to be. With the 2018 election, the state achieved a record number of 14 women becoming state lawmakers — still not equal — and it's taken 82 years to get there. 
The first woman, Nell Krause, joined 48 men in 1946, but then it took 21 more years to get to three. By 1981 six women were serving. And in 1997, the previous high of 13 was achieved, for four years. It fell back to as few as nine in the next 16 years and finally made it back to 13 in 2017-18.
Some might say Nebraska women's climb to equality in representation has been a slog.
But women are celebrating this year's record of 14 female senators, which reflects a diverse culture of women in Nebraska, if not based on race and ethnicity, at least in terms of economic status, age (22-63), sexuality, marital status and motherhood. 
They're all from the eastern one-third of the state, half of them from the Omaha area and four from the Lincoln area. 
It's unusual to have more than two women on each committee. But this year, half of the Transportation and Telecommunications Committee is female. Possibly a first. 
This session, women introduced at least 76 bills dealing with issues of interest to them: education, sexual assault or exploitation, health and mental health, civil rights, child hunger, breastfeeding, foster care, parental rights, family planning services, in vitro fertilization, abortion, adult protective services.
Sen. Carol Blood of Bellevue did some research and found hundreds of bills had been introduced, over time, by male senators, that had to do with governance of women's bodies. She didn't find any that had to do with governance of men's bodies, she said. 
"So we have a lot of people that are male making decisions about our bodies," she said. "If we're going to make decisions that pertain to women's bodies, women should be part of that vote."
Machaela Cavanaugh of Omaha has only two months of experience as a senator and already has brought unique attention to women's issues in Nebraska. She spoke back to a seasoned male senator — Ernie Chambers — who she believed was challenging women to wake up and stand up for themselves. 
"I thought, 'I am awake and I will stand up right now and say so,'" she said that day on the floor. 
There's a national shift on women feeling more empowered to speak out, she said. But there's truth in what Chambers said about women deferring to men and trying to make men feel comfortable, even when it makes women uncomfortable. She's done that in her career, Cavanaugh said.
"Over the last two years I've come to realize that's not my responsibility anymore," she said.
Cavanaugh, who has brought her infant son from Omaha on days she must stay overnight in Lincoln, and has nursed him at her seat in the chamber and brought him to hearings, discovered the Capitol isn't so nursing friendly. So she introduced a bill to require an infant nursing station for young mothers who work in or come to the building, she said, and need a private place to nurse their babies.
Nebraska's increase in female state lawmakers is riding the wave of an increase nationwide.
In all, 2,117 women are serving in the 50 state legislatures this year, according to the National Conference of State Legislatures, making up 28.7 percent of all state lawmakers nationwide, the most women elected at one time.
Nevada has the most representative legislature with women at 50.8 percent.
Sen. Sara Howard of Omaha, elected in 2012, would someday like to see Nebraska's representation equal to the state's population percentage of women, 50.3 percent. 
Representation matters, she said. The issues women think about and worry about are different than their male counterparts. 
Not enough women are willing to run in Nebraska, she said, because many have to consider how they will manage a home and at the same time do these enormous tasks in the Legislature, finding family supports not needed by men.
You have free articles remaining.
Still, women do well when they run because they are good listeners, said Lincoln Sen. Anna Wishart, elected in 2016.
"I do think there is a beauty in the fact that a lot of the women I know, from both political parties, are some of the best listeners I've ever met. So that's a strength that we bring to the Legislature," she said.
It's beneficial in team building, in finding a compromise, in putting people at ease and making them feel like they matter, she said.
"But I also think that it allows us to really synthesize what is going on, and to be able to come up with creative solutions that if we had just talked over each other that we would have never been able to figure out," she said.
Several said women have experienced things men don't, like sexism.
"I've encountered gender bias. I've encountered misogyny. I've encountered all of those things. So I recognize them when I see them," said Lincoln Sen. Patty Pansing Brooks. 
Most women know about being told to sit back, to be polite, to say less, not speak forcefully, she said.
"Somehow those of us here have grown beyond that and say, 'I have a voice. I can speak about my truth,'" she said. 
It allows women to be strong advocates for kids, she said.
While some people elected to serve in the Legislature are focused primarily on money issues, women can show compassion for children and people who are vulnerable and who have no voice, as well as concern about economic issues and how the state thrives, she said.
There is a tendency for women, no matter what party, to care about those issues, Pansing Brooks said. If women are not in the Legislature, those issues do not come front and center, she added.
Sen. Megan Hunt of Omaha is in her first year, a single parent, an atheist and the first LGBTQ in the Legislature. The 32-year-old is an entrepreneur by trade.
"You know, I'm used to experiencing sexism in a professional context," she said. "I think that's just what it's like to move through the world as a woman, where no matter what setting you're in, or context you're in, maybe you're a little bit more prepared for uncomfortable scenarios that men don't necessarily have to brace themselves for and go in prepared to deal with."
A woman's perspective is important, said Lincoln Sen. Suzanne Geist, elected in 2016. 
"We often arrive at the same solutions (as men), but sometimes through a different pathway. I think that that perspective strengthens the (Legislature)," Geist said.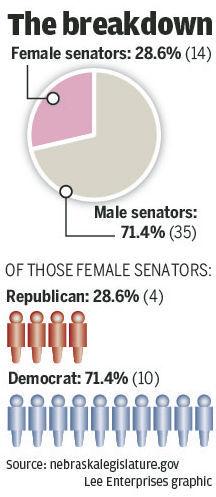 She is one of four conservative women in the Legislature. Sen. Julie Slama of Peru, 22, a law student appointed just before the session by Gov. Pete Ricketts, is another.
Slama said there may be fewer conservative women because many of those women have paid more attention to raising their families and establishing their careers before turning to politics. 
"We're starting to see a shift in that, and I'm excited to be part of it," she said. "I think I bring a fresh perspective. I'm the youngest member of this session. But I also represent the type of kid that left the state for college and then came back to her hometown to work and raise a family. I think I'm an embodiment of combating brain drain."
Two men in the Legislature, Speaker Jim Scheer and Appropriations Chairman John Stinner, said they, too, like the idea of a Legislature that matches the state's demographics. 
"I like diversity. I don't like group thinks," Stinner said. 
"There are points that ... women especially bring up, that I never think of," he said. "I don't approach it that way, so I think there's great value there."
Scheer said the Legislature looks more representative than it ever has and with each election he suspects it will begin to look more and more like the face of Nebraska.
While the numbers of women are growing, Omaha's Hunt said, the state has a long way to go to a Legislature that is diverse in race and religion. 
"That's when they really will be breaking boundaries," she said.