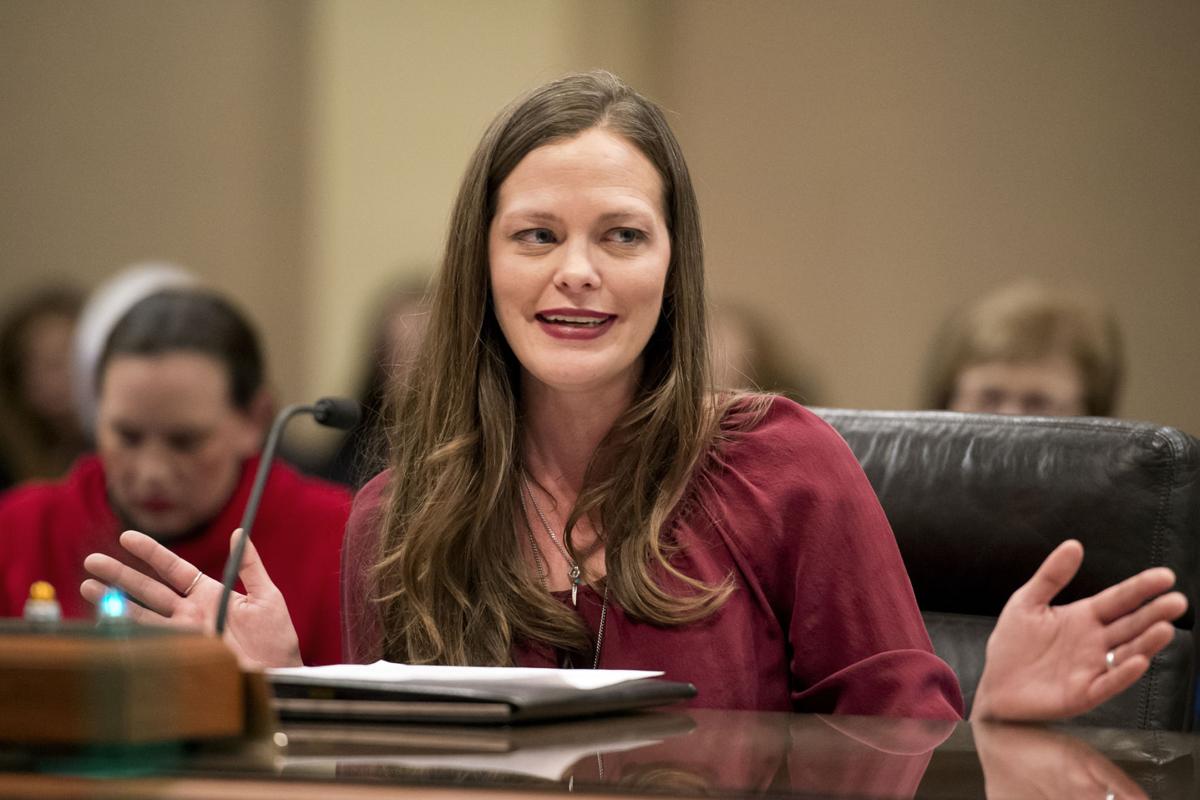 Twelve years ago, Katrina Thomas served six months in prison, thinking she would never be able to vote again because of a felony conviction.
She found out when she was released that the Legislature had passed a bill in 2005, the year she entered prison, that allowed her to vote two years after her sentence was complete. 
Now she is fighting for others to remove the two-year wait and allow them the right to vote as soon as their sentences are complete.
Thomas testified Wednesday in front of the Government, Military and Veterans Affairs Committee on a bill (LB75), introduced by Omaha Sen. Justin Wayne, that would repeal the waiting period. 
Before 2005, the state had a lifetime voting ban for those convicted of felonies.
Wayne, who intends to make LB75 his priority bill, told the committee the roots of disenfranchisement were racial, and the state cannot escape the context of that history. 
After the 15th Amendment to the U.S. Constitution in 1870 gave citizens the right to vote, regardless of race, states created disenfranchisement laws, using the word felons as the vehicle. In Alabama in 1901, for example, a state senator said he knew a white man who beat his wife would not be charged with a felony, but he couldn't say the same about a black man. 
"It's that type of history of prosecutorial abuse that disenfranchised many African-Americans," Wayne said. 
A compromise bill (LB53) in the Nebraska Legislature passed in 2005 allowed ex-felons to vote two years after their sentences were served, returning the vote to 50,000 Nebraskans. 
That was a huge step in the right direction, said Nicole Porter, of the Washington-based The Sentencing Project. But the two-year ban, she said in an interview, left the state on the list of the most restrictive states nationally. 
People who have completed their sentences are expected to rejoin society by being good citizens and paying taxes. 
"You lose people's participation if they don't have the right to vote, and their energy and enthusiasm may be impacted," Porter said. 
Other conservative states have repealed their post-sentence voting bans, including Texas and Nevada, she said. 
A study by Nebraskans for Civic Reform, "Removing the Wait: Disenfranchisement in Nebraska," released Wednesday, showed Nebraska is depriving more than 7,000 citizens who have completed their felony sentences of the right to vote.
The total number, including those in prison and jail, on parole or probation, is more than 17,500.
One of every 18 black Nebraskans -- 5.6 percent -- is deprived of the right to vote, compared to one of every 81 -- 1.2 percent -- total adults in the state.
Porter said disenfranchising people who have fully served a sentence offers no public safety benefit. 
The evidence shows that people with criminal histories returning to their communities with the right to vote have lower rates of recidivism, compared to people that don't. 
An article in the Berkeley La Raza Law Journal, on the violence of voicelessness, said the harms of disenfranchisement far outweigh its benefits, further alienating and isolating people when they are trying to re-integrate into society.
It communicates to the offender that total rehabilitation is impossible, and is thought to lead to more criminal activity.
"When we're in prison, we're just a number," Thomas said. "And then you tell us when we get out, you're still not a citizen."
People coming out of prison have so many concerns already, about finding a job, paying rent, reuniting with their children. 
"It's just so empowering if you are able to vote," she said. "I think it really helps you to be more conscious of the things that you choose to do. ... It keeps you in check."
Former Sen. Lowen Kruse, who co-sponsored the 2005 bill with Lincoln Sen. DiAnna Schimek and has met with inmates in the prisons over many years, told the committee his disappointment with that bill is that so many felons don't know they can vote after two years. 
He remembered a former felon he met going door-to-door during his campaign who told him, through tears, that he would give anything to be able to take his kids to see him vote so they would know he was like other fathers.
Shakur Abdullah, who was sentenced as a juvenile and released from prison after 40 years, and is still waiting to be able to vote for the first time, said his inability to vote makes him a second-class citizen, with a status of taxation without representation. 
"When you think of this as a faceless issue, I want you to remember my face," he said. 
Wayne told the committee voting rights of felons can no longer be a partisan issue.
"Today, 150 years later, we can no longer disenfranchise people who simply made a mistake in life. When they have completed their sentence they should be able to have one of the most precious things that many people have died for and to this day they are still fighting for," he said.
No one testified in opposition to the bill. 
Later in the day, the Government, Military and Veterans Affairs Committee voted 5-1 to advance the bill to the full Legislature for debate. Lincoln Sen. Mike Hilgers was present not voting and Sen. Carol Blood of Bellevue was absent.
Chairman John Murante voted against advancing the bill, saying the integrity of elections needs to be protected. 
"I can't support this bill unless I believe that the public confidence in our election integrity is helped by it," Murante said. 
Be the first to know
Get local news delivered to your inbox!