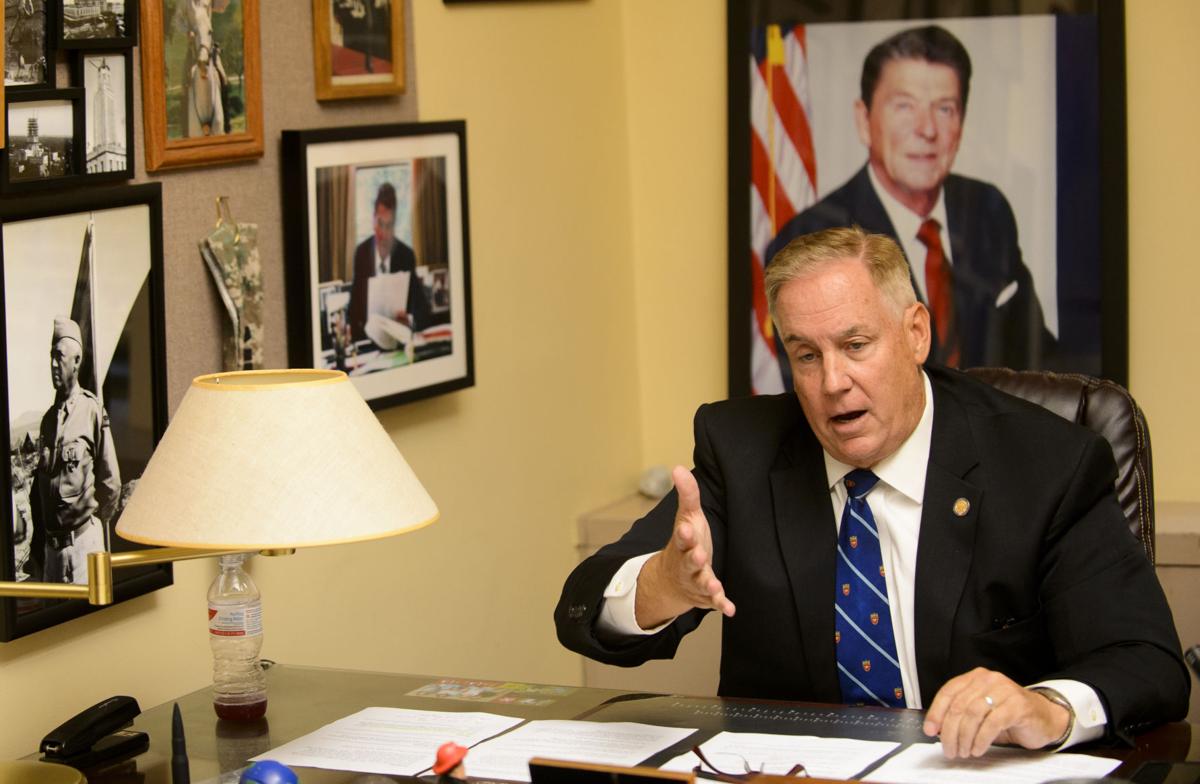 It appears members of the Legislature meeting this week can do more than just ask Sen. Bill Kintner to resign because he had cybersex on a state-owned computer last year. 
The Legislature's Executive Board chairman sent Kintner a letter Tuesday asking him -- again -- to resign before a Friday morning meeting of the board that supervises all legislative services and employees, including committees, commissions and task forces.
If he doesn't, the board could talk about taking away Kintner's office, parking, staff and other things that help him to do his job, said Chairman Bob Krist.
"All those things are provided by the Legislature for senators in good standing," Krist said Tuesday. "And from my perspective, that's a question right now."
If the board took away Kintner's office, Krist said, he could continue to get calls from constituents through a call bank that would provide him messages.
"This action would avoid further embarrassment to you, your wife, Lauren, whom I deeply respect, and to this Legislature," Krist wrote in urging Kintner to step down. "Your conduct has not been consistent with the standards of this Legislature or those who preceded us."
The board can also take away committee memberships. Kintner is a member of the Legislature's Appropriations Committee.
You have free articles remaining.
Unless he resigns before Friday morning, the Executive Board's nine members and one ex-officio member will meet in closed session to discuss the recent action of the Nebraska Accountability and Disclosure Commission, which fined him $1,000 for improper use of a state-owned laptop computer. 
Kintner, who represents District 2 in Southeast Nebraska, was out of state on a business trip when he used the laptop to engage in sexual activity via Skype with a woman in another country.  
Sanctions against him would require approval by Executive Board members but not the entire Legislature, Krist said.
Only invited people will be allowed to testify during the committee meeting on Friday, he said. If Kintner wants to speak, the board will arrange another meeting at which he could do so.
Members of the Executive Board are: Krist, of Omaha, and Sens. Dan Watermeier of Syracuse, Kathy Campbell of Lincoln, Ernie Chambers of Omaha, Colby Coash of Lincoln, Speaker Galen Hadley of Kearney, Dan Hughes of Venango, Tyson Larson of O'Neill, and John Murante of Gretna. Omaha Sen. Heath Mello is a nonvoting member.
Kintner was in his office Tuesday but would not comment on the letter except to say, "I was already aware of the Executive Board's planned August 19 meeting. Sen. Krist's individual view regarding my status as a senator is not new information."
He did have more to say on the "Kintner-grams" Chambers is writing and sending out around the Capitol.
His biggest concern right now, Kintner said, is that senators do not attack each other personally. Senators pride themselves on being civil. And even though he understands that Chambers is known for writing snarky poems about things that go on at the Capitol, he said, he has taken this to a new level. 
"Those are personal attacks," he said.