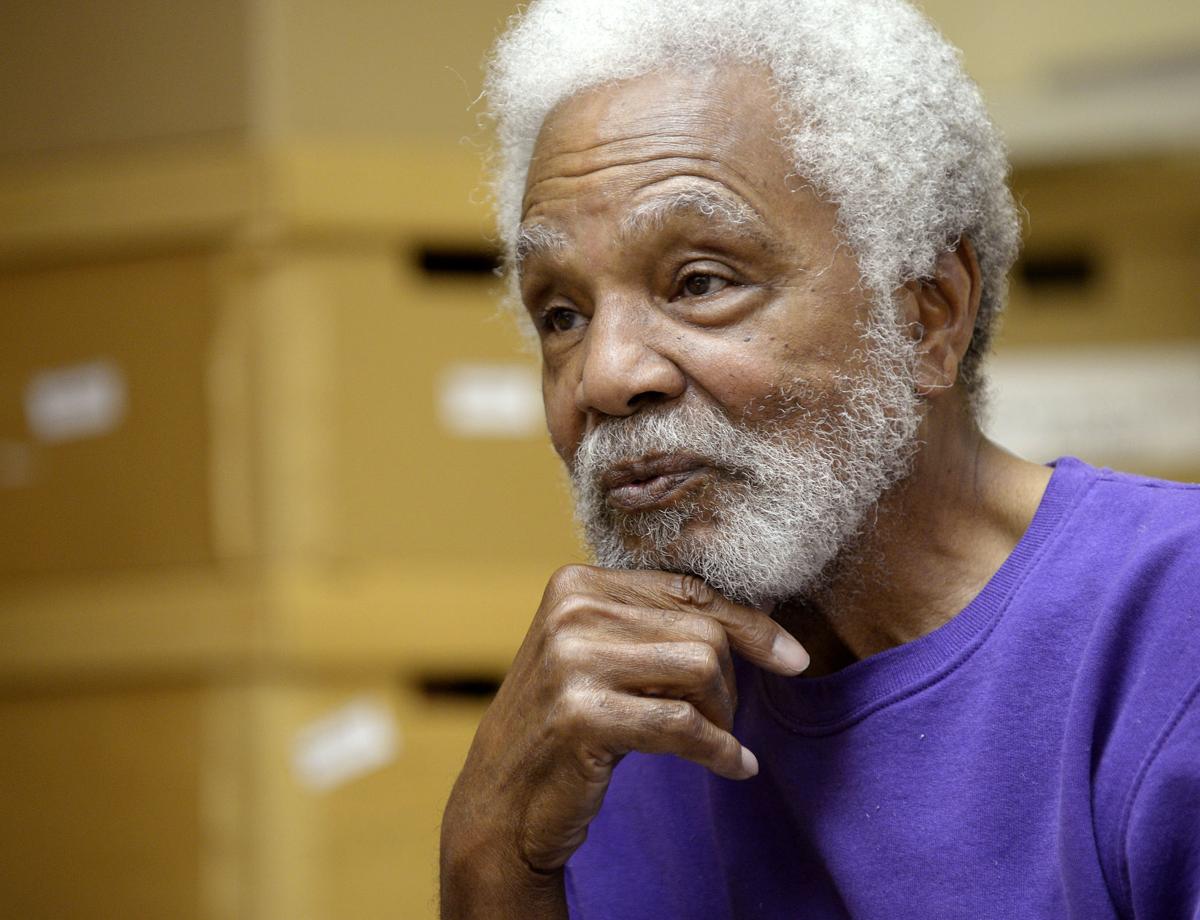 Ernie Chambers turns 80 on Monday, a milestone Nebraska's longest-serving lawmaker hopes to ignore. 
Some women from the Capitol ambushed the Omaha state senator with a party at the end of this year's legislative session, and the anonymous organizers behind a Facebook fan page dedicated to Chambers posted a call for people to flood his mailbox with birthday cards.
As for Chambers' own plans, he says, "I don't celebrate days."
Here's more from a recent, hourlong interview:
"It doesn't feel any different. It's something like birds that fly will cross all kinds of political boundaries, whether it's a county, a city or even that of a country, and it takes no note because the air is all the same through which it flies. And so nothing in my life changes because a certain day or date arrives."
Has he changed over the years?
"I hope that I'm smarter than I was. I hope I'm wiser than I was. If I'm not that means I have not learned, and at whatever age I stop — let's say that at 40, I stop — then now, I would just be an 80-year-old 40-year-old person. So I hope that I'm growing intellectually."
Joining the Legislature*
"They're in for a surprise. Everyone is."
— 1970, during his first campaign for Legislature
Popeye and I*
"Popeye and I have this in common: We are what we are and that's all that we are. And I yam what I yam and that's all that I yam, and I yam going to be that everywhere."
'I own this Legislature'*
"I own this Legislature. You all are my white folks. If a law must be passed, I will allow you to pass it. If I want to bring the Legislature to a halt, I will do it. And you know how I do it? Not with a gun, not by choking people. A loaded brain is more powerful than a loaded gun. I master the rules."
Microbes*
"Microbes in the ooze together schmooze."
'We must arm'*
"Now we will take up arms and scare the enemy. There will never be peace between the blacks and the whites, only absence of actual armed hostilities. This is the only thing the blacks can do to save their lives. We must arm."
Hunting
"I am a non-hunter. Never hunted anything in my life. I believe that if you are going to be a sportsman while you are hunting, the animal that you are trying to kill should have the same opportunity to do to you what you are doing to it. Otherwise, it is an unequal chance and is like a shooting gallery."
Meeting a cow*
"That's the first time I've ever been that close to those animals. They scare me."
— 1970, after a Neligh-area farmer encouraged Sen.-elect Chambers to climb his fence for a closer look at a cow
Longest-serving senator*
"I didn't stay in the Legislature all these years just to be the longest-serving person. And had I known at the time I started that I would be here this long, I never would have run for the Legislature. The only thing that might give significance to my having been here as long as I have is the fact that I've not sat here like a knot on a log. I have been active, forceful, and effective for all of those years. So anybody who has a kind thought toward me because of that, thank you."
— 2005, reacting to applause after he surpassed Jerry Warner as the longest-serving member in the Legislature's history
Like a brook*
"He's like a brook: He babbles."
— 2016, referencing then-Sen. Bill Kintner of Papillion
Bible babble*
"You say 'to-may-to,' I say 'to-mah-to,' you say 'po-tay-to,' I say 'po-tah-to.' But 'to-may-to,' 'to-mah-to,' 'po-tay-to,' 'po-tah-to,' let's call the whole thing off. You say 'Bible,' I say 'Bibble,' and mine is as correct as yours."
— 2007, responding to a fellow senator who chided Chambers for his pronunciation of "Bible"
'As long as I'm in the Legislature'*
"As long as I'm in the Legislature, I'm going to work for abolition of the death penalty in Nebraska."
Death penalty*
"The United States is the only western country, the only democracy, western, which retains the death penalty. The tragedy, I think, does not necessarily inhere in the types of countries and governments with which this country has aligned itself as far as the infliction of the death penalty, but the fact that over 150 people in the last few years have been taken off death row because they were innocent.
"I know there are people who want to believe that no innocent person has ever been executed in this country. But when you have this many people conclusively proved by DNA evidence to be actually innocent, there is no escaping the conclusion that innocent people indeed have been executed."
— 2015, during opening statement on bill to abolish Nebraska's death penalty. The bill passed, but was later overturned by voters
Tweeting
"Birds tweet; men speak."
Barber*
"I, as a barber, am often called upon by individuals who come into the barber shop to improve upon what nature has done to the top of their head. While I am down here in the Legislature, I am trying to make an improvement on what nature put inside of the head of some people."
Language*
"I speak panther. You all speak mouse. … I speak the language of the solitary dweller, like the mountain lion. You all speak the language of lemming."
Race relations*
"You can understand why Jews who were burned by the Nazis hate Germans, but you can't understand why black people who have been systematically murdered by the government and its agents — by private citizens, by the police departments — you can't understand why they hate white people?
"Black people doing ordinary, reasonable, peaceful things in this country are attacked by the police, and the police are praised for it. And you talk about giving the police more money and more power."
Cops are crooks
"My phone is full of calls where some cop stopped their child, made them lay down on the ground. And ya'll don't have it happen so you say it doesn't happen. There are cops who know it happens and they won't do anything about it. They're sworn to uphold the law when they see one of their fellows violating the law, they don't do anything to stop it.
"That's why I say the cops are gangsters, they're crooks and we see them as criminals. They violate the law and get away with it. They laugh about it. Caught on video."
ISIS
"My home is not threatened by ISIS. Mine is threatened by the police. The police are licensed to kill us, children, old people. They showed a guy on a highway — the highway trooper, he had this elderly black woman down on the ground, just beating the stew out of her, and nothing was done to him. That's what I see.
"Now suppose somebody told me somebody from ISIS did that. Then everybody is up in arms: See what cowards they are? They beat women in broad daylight. But when a cop does it, it's all right. I don't feel that way. And if I were going to do something — but I'm not a man of violence — I wouldn't go to Syria, I wouldn't go to Iraq, I wouldn't go to Afghanistan, I wouldn't go to Yemen, I wouldn't go to Tunisia, I wouldn't go to Lebanon, I wouldn't go to Jordan. I would do it right here.
"Nobody from ISIS ever terrorized us as a people, as the police do daily. ... And you know what they say, the racism of the cops is merely reflective of the racism in this society, and they accept the existence of racism to excuse the cop. But then when I say there is racism in the society, they say, you're playing the race card, your talking about it makes it happen. But when they want to justify the cop, they say, he's merely reflective of the community where there is white racism.
"You don't have to deal with that. You're privileged. You're free of that. You don't have to think about it every day. If I was going to carry a weapon, it wouldn't be against you, it wouldn't be against these people who come here that I might have a dispute with. Mine would be for the police. And if I carried a gun, I'd want to shoot him first and then ask questions later, like they say the cop ought to do."
Children*
"We have messed up your world pretty good. You have an obligation to do better. You ought to be the most important thing in the world to us."
— 1988, speaking to a group of elementary school children
Reverse aging
"If I were God, you know the way I would do it? I'd bring everybody into the world at 100 years old — bitter, mean-spirited, hateful, cynical, and all the things that happen as those delicate sensibilities that you have as a child are squeezed out of you drop by drop, shaved away bit by bit — and as people became younger, they would become better and better and better and better and better, then they would just disappear, and the world would be better off."
Governor Chambers
What would Gov. Chambers be like? 
Journal Star political writer Don Walton asked Chambers that question in 1994, for a story about his unsuccessful write-in campaign for governor. Chambers said he would've only served one term:
"A surgeon must obtain consent from the patient before surgery, but he does not have to follow the patient's instructions in performing it.
"If the public said 'cut taxes, cut taxes,' but at the same time said medical care expenses are rising and the state needs to help defray some of the costs, my task as a wise official would be to disregard the emotional insistence that taxes be cut and do all I could to see that essential services are made available to those who need them. When I opt for providing those services, as I would, and seek to raise taxes if that is necessary to pay for them, that would be the first nail in my coffin when the time came for re-election.
"When I made it clear that I would do all I could to restrain law enforcement from illegal stopping of motorists based on race, or unlawful search and seizure against the poor, the defenseless and the unpopular, and when I would speak strongly against discrimination in the courtroom and throughout the criminal justice system, I would hear the pounding of about six more nails in my coffin.
"When I would visit schools throughout the state and advise the students to question, question, question and take nothing at face value, two or three more nails. And so it would go until the coffin lid is nailed tight. 
"However, because I am such a vibrant, resilient spirit, I would say to the angry electorate: I'm just like Houdini. When you take the lid off, you'll not find me imprisoned within."
Having fun*
"I'm having so much fun, it has to be a sin."
Student-athletes*
"The football players are like gold, mined by others for the benefit of others. ... What is the value of a scholarship ? Nobody knows. What is the cost of a scholarship? Whatever the University says. Is there any correlation between the cost of a scholarship and the quality of the education? Certainly not.
"That scholarship is a sham. You shouldn't even talk about an athletics scholarship because it is a contradiction in terms. Athletics is not scholarship. It does not pertain to scholarship. Turner Gill, Irving Fryar and Mike Rozier, the stars, were all in academic trouble at a time they were here. But there were coaches, trainers and others trying to make sure they were on that football field, hurt or not, and Rozier played hurt most of the latter part of his career. Turner Gill had a hurt back when he went into the Hawaii game. Irving Fryar was injured. I think Turner had to wear a flack jacket at one point.
Do you think that the football element over there would say, 'Turner, Irving, Mike, since you are hurt, don't come to practice this week, go to class and make sure everything is all right.' You better believe they won't. You let him act like he wants to spend too much time in the classroom, they'll tell him, 'Your first obligation is out here on this field, you are a gladiator, you come on out here and knock some heads, that is what you are here for.'
There is no genuine concern about the level of their education. So the scholarship is a misnomer. Calling these individuals 'student-athletes' is the biggest hoax of all."
LGBT
"All that I need to have made clear to me is that we're dealing with human beings. Once that is established, every right, privilege, protection of a person should be extended; and nobody should be discriminated against, especially in the area of employment, because of sexual orientation."
'If I was a white guy'
"If I was up here I'd probably pick these books up and start throwing them around. If I was a white guy, I'd go get my semiautomatic weapon and come down here and mow everybody down."
— 2016, explaining why he stayed in his office for much of debate on a measure to prohibit job discrimination based on sexual orientation or gender identity
Freedom of expression*
"Freedom of expression was one of the ideas enshrined in the First Amendment to the Constitution and at any point, at any level, and at any time when assault is made against freedom of expression for anybody or any group, then those who believe that a constitution is designed to safeguard certain rights, should speak out.
"There are certain rights so fundamental that they are not granted by any governing body. The right to expression is not granted by the government. The government cannot grant such a right. You have that right as a human being. All that the government can do is protect your exercise of that right."
Suing God*
"Plaintiff, despite reasonable efforts to effectuate personal service upon defendant, 'Come out, come out, wherever you are,' has been unable to do so."
Ricketts' 'crickets'
"Ricketts said to his "Crickets," thou shall not chirp. And they said (chirping sound). In cricket that means, 'Yes, master.' And he is your master."
— 2017, referencing senators who accepted campaign money from Gov. Pete Ricketts
Legislative Branch*
"There is a necessity in a tripartite government, which is what Nebraska is supposed to be, that the Legislature be restored to parity with the executive and judicial branches. And the only way that can be done is for the senators to demand respect for themselves as people and for the Legislature as an institution."
Fight with the rules*
"In the street, if someone comes to me with fists, I will respond with fists. If they use the rules to discriminate, then I will use the rules."
Knowledge*
"Knowledge is like money. You don't have to have any to talk about it."
Never wanted to quit*
"On occasion, I have felt like blowing up the Legislature, but I have never felt that I wanted to quit."
Bomb threat
"I don't believe in bomb threats, but if there was a genuine threat to the building, like a captain and his ship, the Legislature should go down with the chamber."
— 1980, after refusing to leave the Capitol during a bomb threat, then teasing fellow lawmakers that he'd single-handedly killed a bill and advanced two others
Memory*
"My brain cells, rather than having Velcro, are developing a large degree of Teflon, so some things, rather than sticking, are slipping. So I will do the best that I can, speak as accurately as possible because I don't want to mislead."
— 2013, as he prepared to list off his ideas for amendments to a proposal that would have enshrined the right to hunt in the Nebraska Constitution
(For those interested, here's the list ...)
"Some examples: to hunt for the wreckage of Amelia Earhart's airplane; to run — this is ... all these things would be protected in the Constitution — to run, jump and sweat. This shows how seriously I took what they were doing: Protect the right creating, recreating, conversating and procreating; fishing and hunting for an end to religious strife and intolerance; hunting for and trapping moonbeams and daydreams; hunting for Noah's Ark. And these are important things. They don't just pertain to people in Nebraska or even to people in the United States but people all over the world in some instances and in other worlds, if there be people located on other worlds. Hunting for the link between Noah's Ark, Joan of Arc and Archimedes; hunting for the Holy Grail; hunting for the secret, if there be a secret, behind the enigmatic smirk of Mona Lisa; hunting for weapons of modest destruction; hunting for a little peace and quiet; hunting for the mathematical formula to square the circle; hunting for the solution to the mystery of the Bermuda Triangle; to protect laughing, crying, sneezing, coughing, sleeping, waking, creeping, quaking, walking, talking, donating, pronating, singing, sighing, buying, baking, itching, scratching, combing, boating, bloating, mining, smithing, stirring, raking, shirring, grazing ... oh, gazing! I forgot to put gazing. We would want to protect the animals' rights too. But anyway: shirring, gazing, lazing, farming, ranching, welding, barbering, butchering, banking, lawyering, lounging, scrounging, dancing, jogging, lunching, munching, arguing, reading, writing, and being oneself; hunting for the "Seven Cities of Gold," fishing for compliments, trapping up a storm, and hunting for the sweetest apple in the orchard; hunting for and trapping liberal Nebraska Republicans are a valued part of the heritage of conservatives of all stripes and will be a right preserved forever for conservatives of all stripes until the 12th of never, subject to reasonable restrictions as prescribed by law; hunting for world peace; hunting for and seeking to trap Bigfoot; hunting for the "Fountain of Youth"; trapping the morning mist; hunting for Osama bin Laden; hunting for lunches is a valued part of the heritage of politicians and will be a right forever preserved for politicians, subject to reasonable restrictions as prescribed by law; hunting for a cure for cancer; trapping the "Man in the Moon" and hunting for liberal Martians; fishing for anglers, trapping trappers, and hunting hunters."
Sweetened disposition*
"I snack on razor blades, washed down by hydrochloric acid. That sweetens my disposition."
Prison life
"I don't see how anybody comes out of that prison without being filled with an unreasoning, bitter hatred which would lead him to lash out destructively against a society which degraded him to the level of a subhuman being."
— 1971, after visiting the Nebraska State Penitentiary
No puppet*
"When I act, let this be clear, I am not the subject of a puppeteer."
Apartheid*
"We are talking about human rights now, human beings who are denied even the right to hold a job, even the right to seek a job, where it is illegal for them to be in an urban area without permission from the government in a country of which they are the indigenous population. There are about 27 million people in South Africa, about 20-point-something million are black. The white population in South Africa make up about 16 percent of the total population, yet they control the economy, they control the politics, they control the churches, the schools — everything that could relate to a higher, more decent standard of living, the very things that America prides itself on offering citizens and saying that it is fighting against the Communists to maintain. We are not just talking about grain, we are talking about human beings."
— 1982, asking fellow senators to support a resolution calling on the Reagan Administration to impose sanctions against South Africa in response to apartheid. The Nebraska Legislature had previously passed a resolution against state investments in South Africa, at Chambers' urging, in 1980.
Humans and rivers
"All rivers and most humans are crooked because they follow the path of least resistance."
— 2002, during debate on a constitutional amendment that would allow casino gambling
More than politics*
"I've found that the things that mean the most to people are the day-to-day ordinary things. Nobody is interested in politics all the time."
On our minds
"I bet if you cut the average man's head off, out would tumble a million female vaginas, that's what would tumble out of their head, if you cut the top of it off. ... The same thing if you cut the tops of the heads off women. That's what America is about: The children know it, the old folks know it, everybody knows it."
Governor as executioner*
"He's the logical executioner. The governor wants the death penalty. He wants electrocutions."
— 1973, proposing an amendment to make then-Gov. J. J. Exon the state's personal executioner. Also the first year Chambers proposed abolishing the death penalty.
Sigh of relief*
"My mountain lion friends heaved a collective sigh of relief now that I can focus on them."
— 2015, following vote to abolish Nebraska death penalty
Law degree
"My primary view of attaining a law degree is to have one more arrow in my quiver. For me, the degree is not an end in itself. It is a means to an end. I do not think of the law as an income-producing occupation, although it very well could be."
— 1974, while attending law school at Creighton University.
Old coat
"I'll keep this coat as long as anything is left of it. Having brought me safely, though at times uncomfortably, through the bitter winters of '78 and '79, I cannot turn my back on it. The day will be sad, indeed, when my old faithful coat retires to the Goodwill in the sky. But I'll get along somehow. After all, this coat is more than a coat. It is a friend."
Paul Douglas
"I say drive the harpoon deeper and twist it and lift him out of the water and hold him up and show the young people what happens when one of those given a position of trust violates that trust for his own personal enrichment."
— 1984, after the Nebraska Supreme Court failed to convict then-Attorney General Paul Douglas for allegedly lying about his dealings with the Commonwealth Savings Company. Chambers introduced the original resolution to impeach Douglas, who resigned later after being convicted of felony perjury by a Lancaster County District Court jury.
Arguing*
"We are not arguing in a tavern. We are not arguing on a street corner. We are supposed to be informed and knowledgeable people."
Abortion
"When there is a conflict between the woman, her welfare and the fetus, the woman wins every time in my lexicon. ... If Jesus came down and said, 'That's not so,' I'd say, 'With all due respect, that's what I believe and that's what I will hold to."
— 2016, during a hearing on a bill which would have prohibited dismembering a living fetus in an abortion procedure
Economists
"If you took all the economists in the world and laid them end to end they couldn't reach a conclusion. ... But if they did, it would be wrong."
King cobra
"The king cobra wastes no venom on dead things. So why am I here now? Sometimes I will attend a funeral."
Term-limited
"When I leave this Legislature, I will not look back toward Lincoln. I will shake the dust off my feet. I will never come this way again for anything. When they had these old-time, old-fashioned senator days for people to come back who have got nothing to do with their time, and they come here, I won't be among them. And as I've stated, if I have occasion to fly west and the airplane is going to fly over Lincoln for any reason other than to annihilate it, I will fly a different airline."
Running, but not running
"There's nothing I'm afraid of enough to run from. And there's nothing I want so badly that I'd run after. So there's no running that I do. So I will stroll for this office."
'They're politicians; I am a statesman'
"They're tall; I'm short. They're old; I'm young. They're white; I'm black. They talk slowly; I talk rapidly. They think slowly; I think rapidly. They're politicians; I am a statesman."
— 1974, comparing himself to fellow gubernatorial candidates, Democratic incumbent Gov. J. J. Exon and Republican nominee Richard Marvel
Intelligent people*
"To all the intelligent people who are watching, I wish you were here to vote."
— 2004, addressing those viewing the Legislature over TV and online
Whiteclay*
"There's an area of this state known as Whiteclay, and when you look at the amount of liquor sold and the amount of damage done, in some instances it might seem there would be justification in revoking all licenses in various geographic locations."
War*
"You don't cry about the hundreds of thousands dying in Vietnam. When you go to church and pray for victory, you don't think about the fact that you are asking for these people's homes to be destroyed, their children to be made motherless, women to be made into widows, children into orphans."
Status quo*
"The status quo in Nebraska is backwardness. It requires a tremendous amount of sustained effort to produce the tiniest amount of forward movement."
School board elections*
"For this once, a group of men who are often compared to a flock of sheep behaved like a pride of lions."
— 1975, after lawmakers passed a bill requiring Omaha school board members to be elected by district, rather than citywide 
Donald Trump
"Donald Trump is an undercover Democrat. ... He is the bomb that is within the Republican Party destroying it."
Modern politics*
"This is a modern era. We're on television. We're on the computer. The old days of doing things in the back room and then leaving it there and making the deals should be over with. The people are demanding it. That's why Trump is where he's at. That's why Sanders is where he's at.
"We need to start debating these issues, boring as they are. It seems that nobody in elected office wants to fix the potholes anymore; that's too boring. Fix the sanitation system; that's boring. They want to be venture capitalists and have ... make sure a company comes to town. We want to talk about hunting mountain lions or we want to talk about prostitution and or we want to give free stuff away in food stamps. But when it comes to the boring stuff of debating a budget, no, nobody wants to do that. Let's just get it over with so we can get back to the more romantic stuff, the more fun stuff. And, therefore, Trump gets votes; Sanders gets votes. That's the way I see it."
'Oatmeal Brigade'
"The 'Oatmeal Brigade' struck. ... They are too cowardly to confront me face-to-face, so a secret ballot gives them the opportunity to throw their stones anonymously."
— 1975, after losing his chairmanship of the Legislature's Government, Military and Veterans Affairs Committee. Chambers had earlier asked the Legislature to elect its officers through an open vote.
Cornrows
"Perhaps spiders wove it in the middle of the night."
— 1979, after arriving at the Capitol with his hair braided in cornrows
Neckties*
"Have you ever seen anything more useless or funny looking than a necktie? Looks preposterous, but they all wear them. And somebody who's going to wear a necktie is going to dictate your life to you? That should be enough for you to turn against everything they bring to you. Wearing a necktie, pshaw."
'I represent myself'*
"I don't represent Nebraska, I represent myself. You're an old fool."
— 1979, responding to an Omaha businessman who chided him for interrupting a national security briefing by President Jimmy Carter and National Security Adviser Zbigniew Brzezinski
Jimmy Carter
"All my contacts with (President Jimmy) Carter have been negative. He sends me a Christmas card every year and I send it back."
$20 speeding ticket
"Sure, it's costing me far more to fight this than it would just to plead guilty and pay it, but my name is Ernie and I have to march to the music Ernie hears."
— 1980, on a $20 speeding ticket he appealed to the Nebraska Supreme Court, arguing an officer's stopwatch wasn't a valid way to measure his speed. The ticket, for going 69 mph in a 55 mph zone on Interstate 80 near Waverly, was upheld. 
Nothing drives him*
"I hate for people to ask me what drives me. ... I'm not a car. Nothing drives me. I think it through, then my intellect guides me. Leads me. Goads me and bleeds me."
Theology vs. politics*
"As an elected official, I know the difference between theology and politics. My interest is in legislation, not salvation."
Legislative chaplain*
"I don't believe in God. I don't acknowledge Christ. I should not have to be part of a religious ceremony."
— 1980, commenting on his successful lawsuit to eliminate the paid position of legislative chaplain.
Aid-in-dying
"When it comes to the most significant and portentous decision in a dying person's life, no third party, including the government, has the right to interfere with, impede, or countermand the wishes of the person.
"Pointless, needless pain, wholly useless pain, agony and suffering and the loss of personal dignity is neither 'good' or 'ennobling,' nor does it comport with the concept of human dignity. For the government to withhold from such a person the right and means to carry out his or her final decision is totally unjustified, inexcusable, unacceptable. For a person so situated to be deprived of the right to face death in the manner of his or her choosing because others find the decision to 'not set well with them,' is not only insensitive and wantonly cruel, it constitutes moral perversion."
— 2016, during hearing on his proposal to allow people with terminal illnesses to choose their time and manner of death
No trendsetter*
"I'm not a trendsetter. I'm not a pace setter. I'm just a lonely guy in the heart of the city."
Size of government*
"I get sick and tired of all these hypocrites running around here, talking about the federal government is too big, reduce the size of the government, then who do they go to with their hand stuck out all of the time? If there's a drought in Nebraska, who are they going to go to? Not Ghostbusters. Not to the tea party."
Republican*
"Turning this elephant around is going to be one of the hardest jobs of my political life."
— 1989, while briefly registered as a Republican instead of an Independent.
Ernie Chambers Appreciation Day*
"There are enough people here to have a funeral and, as you know, the main character at a funeral does not speak. If he did, everybody would run out screaming."
— 2001, speaking to the crowd during an Ernie Chambers Appreciation Day event at Park Middle School
Rehearsal
"If a hearse was driving down the road and was in the intersection and somebody ran the red light and T-boned that hearse, and the body flew out on the street, what would they call it when they put that body back in the hearse? A rehearsal, obviously, right? They re-hearsed the body. See, when you got a mind that's active, you think of these things."
Email and Al Gore
Chambers: "Do you realize that, even though I don't use the gadgets, all the mail that I get by whatever method is "E" mail, Ernie mail?"
Sen. Burke Harr: (Laugh) "Yeah."
Chambers: "I just want—and mine was before the—before—who was that guy who created the Internet rhythm?"
Chambers: "Algorithm — I mean Al Gore, who didn't have rhythm."
Harr: (Laugh) "Yeah, you know, and ..."
Chambers: "So if you have — you know, an 'Al Gore rhythm' is a guy trying to dance who doesn't have coordination. I just thought I'd let you know."
Undertaker's convention*
"There would be more liveliness at an undertaker's convention than you've got here. And I never went there again and I felt like a stranger in a strange land, so I left the 'Repelican' Party and resumed my honorable status of being an Independent."
— 2015, recounting his brief stint as a Republican and attending a party gathering
Terrorism in Nebraska*
"I don't know of anything worthy of being attacked in this state by a terrorist."
— 2006, during debate on a bill to create a state Office of Homeland Security.
Aging*
"While I'm still here, I want to say to those elderly ones, the fact that you reach a certain age does not mean that you have to shrivel up, dry out, vegetate, or go away or blow away. As long as you have breath in your body, your mind is clear, continue to live literally until you die."
Sweatshirts*
"When you go to a store that sells those short-sleeved sweatshirts, buy 100 of them. Because they're not going to always make them. That's the regret."
— 2013, asked if he had any regrets or advice for his younger self
Favorite place in the Capitol
"I spend a lot of time in the (Legislative) Research Office, not nearly as much up in the law library as I used to because I get trapped in there. There are so many directions I want to go, so many books are available, and you can read something about a case and then you can go right to the book where that case is, and you get caught up. At least I do. I get trapped in a different world.
Why he doesn't use the internet
"I do not mess with what I call the gadget because frankly I don't trust myself to be able to enter that world and exit it to do the things that really I have an obligation to do. I even have to be careful when I'm looking up words in the dictionary. ... Well now, if I can be distracted when I'm looking up a word in the dictionary, I can be led astray when I'm reading a case in the law library, that gadget is like entering a world where there are a thousand doors across a path that you're walking, and if you enter any one of those doors, behind it would be a numberless group of doors, and the farther I would get from where I started or where I want to go. And it's not to say I wouldn't learn things, but it would take me from what I need to focus on."
"When I first was term-limited out (of the Legislature) and people were talking about a legacy, I said no, I can't even talk about an ankle-acy, maybe we could talk about a foot-acy or a sole-acy but certainly not that high on the anatomy that it would be referred to as a legacy.
"After I croak, there might be things people wish I had addressed while I was alive, but from my point of view, I won't know anything. ... The thought might go through my mind — How will I be remembered? — but since I won't be here, it doesn't matter.
"I know that there are things that I've done that other people will credit as having value, but there are other things that I would rather have accomplished with the years that I've spent down here in this Legislature. But that's life."
"The split that develops in my mind, when I allow it to, is: Should I be in this white organization, in effect wasting time, or should I be somewhere else doing what a conscious, offended black man ought to be doing? All of us are going to die sometime — at least that's what we all believe, and we haven't seen anything else to the contrary — so should I let my life drain out of me as I've done all these decades, battling with these white people when I know they're not going to change? I know they have no respect for me. They have no respect for the people of whom I am a part. Yet somebody has to confront them. Somebody has to be in their face. Somebody has to be unrelenting, unafraid, undaunted every single day and never be weak no matter what the circumstances are. So I've got a foot in the world where I live as a black man and probably should be spending my existence, and a foot in the white world, where I really have no business being given the kind of person that I am. So that's the split in my mind."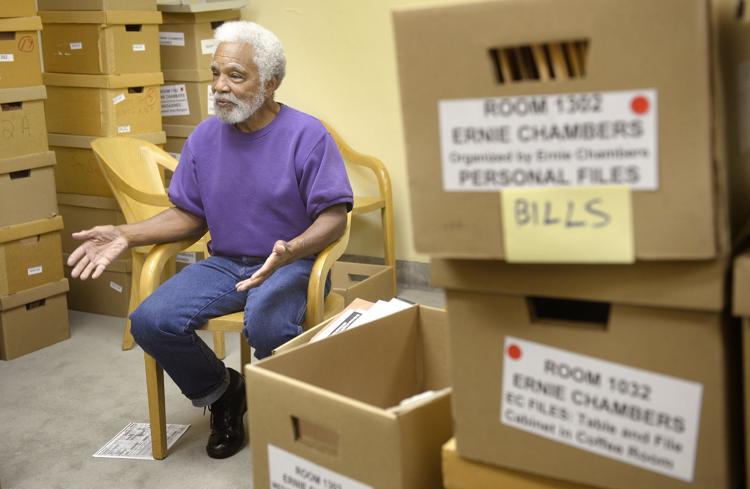 "There are certain experiences all of us (black people) have had and so we understand things. There are some ideas that we don't even have to express in words and we have a total and complete understanding of each other. And that won't happen with me and any group of white people or any white person — it cannot. 
"I could never understand thoroughly a shark. I'd have to be able to live where the shark lives, do what the shark does and experience what the shark experiences."
"I actually diminish myself whenever I'm functioning in that Legislature. I'm like a bird whose wings have been clipped. ... Who could you talk to up there about anything like that? They won't even read the bills that we're supposed to deal with. And how is a legacy going to be built in an environment like that? It'd be like me being in an insane asylum trying to talk philosophy to the inmates — who are what they are and where they are through no fault of their own, and certainly not by choice — but it's a waste of my time to try to speak to them about things when they lack the capacity to understand.
"I know I'm not going to change these people. That's what I know intellectually. But I don't know everything, just like I didn't know that the death penalty bill would pass when it did. So I have to work as though things will be achieved."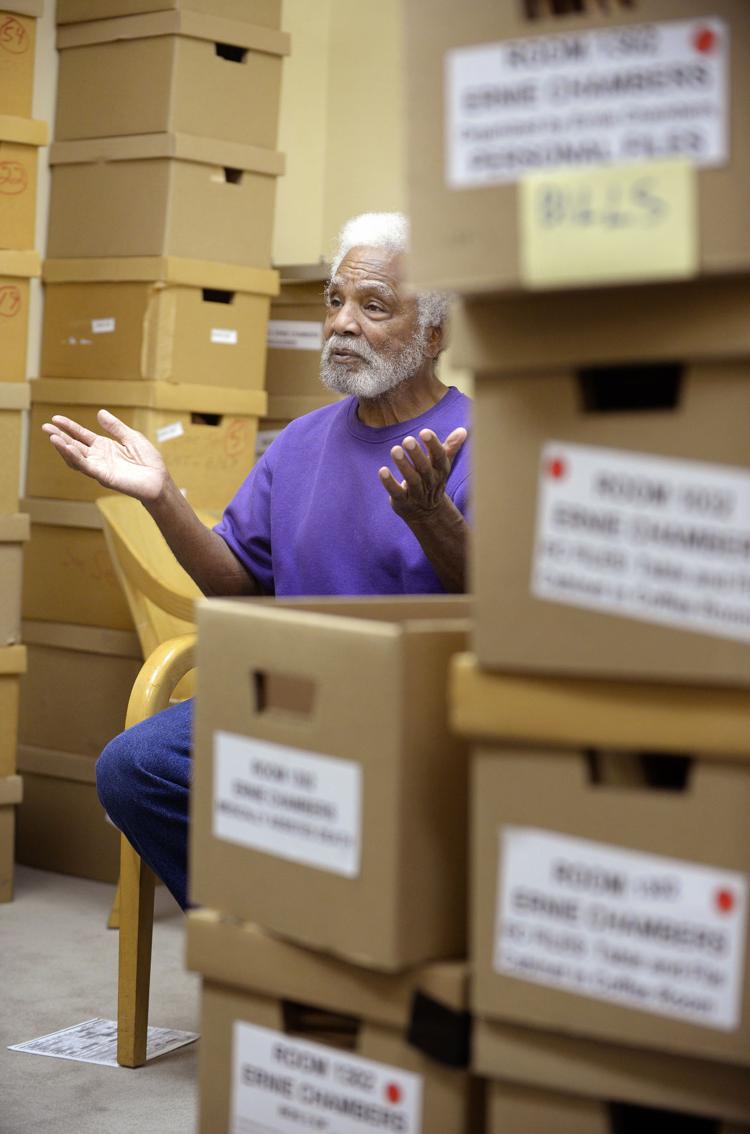 On getting the ball rolling
"We have to do what we think ought to be done, we have to say what we think ought to be said, because we don't know whether or not something we do or say will inspire somebody who can take it and do more with it than we could do with it. ...
"The one who really does the job is the one who can create tools that make tools. No man or woman could build some of the types of machines that exist now without the assistance of other machines. ... So the machines that make machines are almost magical, but one who makes the machines that make the machines is the magician."
Be the first to know
Get local news delivered to your inbox!