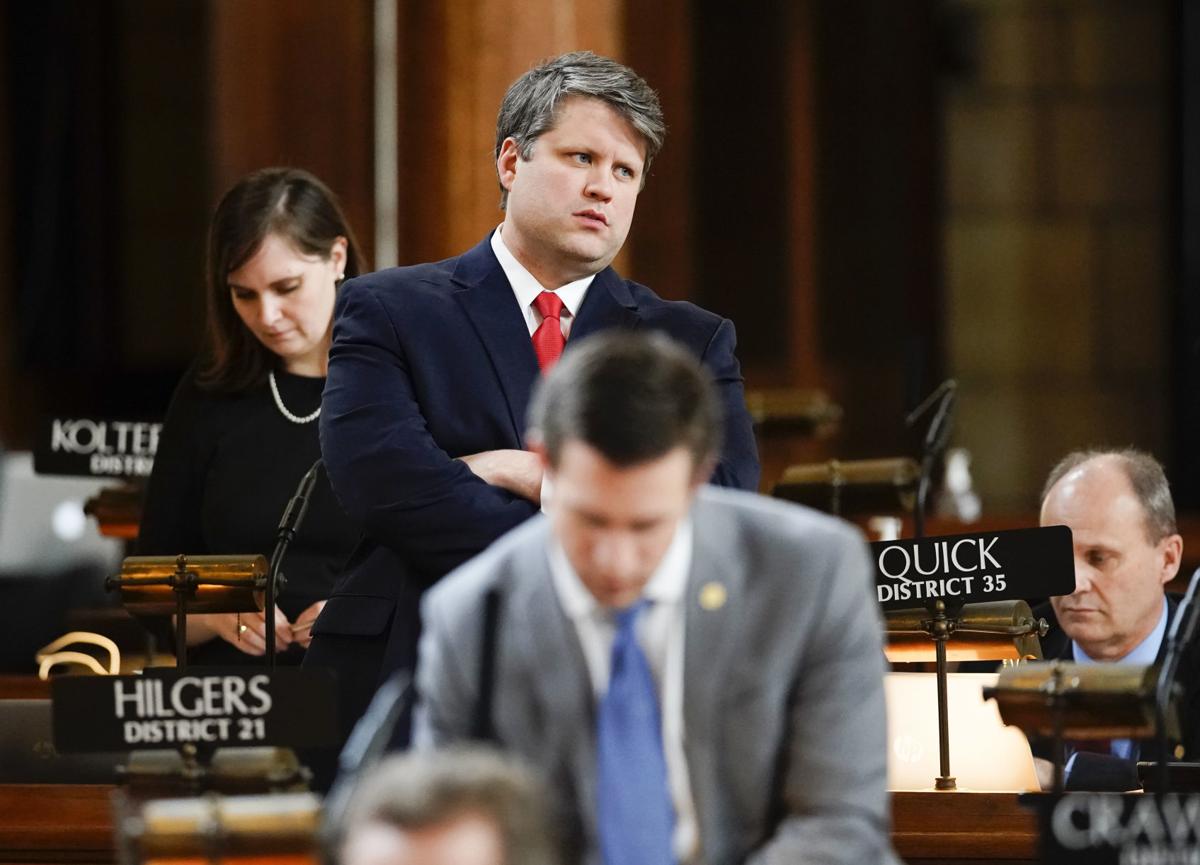 Rounding the curve and heading into the home stretch.
A legislative session that has been more sound than fury is ready to enter its final eight days.
Day 53 of the 60-day session convenes on Tuesday with the tax reform plan co-authored and negotiated by Gov. Pete Ricketts and Sen. Jim Smith ready for prime-time floor debate. 
Meanwhile, the mainline budget bill is also on the agenda for a final vote on the same day.
And the Government, Military and Veterans Affairs Committee will hold a hearing on Sen. Ernie Chambers' resolution to petition federal officials to launch an inquiry "to determine whether the actions and conduct of President Donald Trump establish that he is unable to discharge the powers and duties of his office" and therefore should be removed from the presidency.
At the same hearing, senators will consider a resolution introduced by Sen. Robert Clements that would encourage Nebraskans to recite a new pledge to the state.
And that's not even counting guns, Willa Cather and Chief Standing Bear, all of which, or whom, are on the Legislature's Tuesday agenda.  
Hey, if you like variety, you've come to the right place.
Too early to judge this legislative session; that won't come until the governor receives the Legislature's appropriations package, applies any line-item vetoes, returns the bill to the senators and they determine whether to accept or override what would likely be spending reductions.
In other words, the University of Nebraska is not off the hook yet.
So, OK, here the senators come chugging around the curve and the "smart money" says no tax reduction package enactment, partly because it has no funding mechanism to replace, or at least ease, the loss of state revenue resulting from the use of refundable state income tax credits to fund property tax relief.
Initial funding would come out of an already-stretched state cash reserve fund.   
However, you've always got to hedge your bet a little, especially when there's a four-day recess and everyone disappears from view.   
You have free articles remaining.
And when Smith, an accomplished negotiator, is working the room. 
Smith pushed the right buttons at the last moment to gain legislative approval of a motion to override Ricketts' veto of a state gas tax increase in 2015 without a vote to spare. 
In this case, you hedge just a very tiny bit as they head, huffing and puffing, toward the wire. 
After all -- and here comes a throwback tie-in to wrap up all this horse racing analogy -- who would have bet Ak-Sar-Ben ever would have given up its king, its queen and its kingdom of Quivira?
Finishing up
* It's beginning to look a lot like Christmas.
* Three Lincoln senators were heavily engaged in the budget bill negotiations over Title X language issues. Two other Lincoln senators voted against advancement of the brokered bill.   
* Ernie Chambers, who quotes the Bible perhaps a hundred times more than every other senator combined, told his colleagues last week: "I'm God's surrogate."
* Jim Smith, Bob Krist, Burke Harr, Paul Schumacher, all deeply engaged and vocal on the floor of the Legislature in recent days, and perhaps even a little nostalgic as the clock ticks down on their legislative careers. 
* Three four-year terms would be a much wiser term-limit policy for state senators than two terms, far more in the public interest. And nearly every senator will tell you that he or she would not want to serve more than 12 years. 
* Scott Pruitt is posing as an "environmental protection" agency director.
* Donald Trump's Easter morning messages: "No more DACA deal" and a threat to Mexico: "I will stop their cash cow, NAFTA." Uh, Mr. President, that's Nebraska's cow.  
* Nebraska politicians increasingly and repeatedly refer almost by rote now to serving the interests of "hard-working Nebraskans." Hey, still wondering, how about the rest of us?
* Looked to me like Tim Miles' Huskers played more like a team this season; the next challenge is reversing recent history and caring enough to be part of that same team again next season. Anybody who gets an NBA opportunity excused, of course.
* Goodbye for now, CNN. Baseball is here.
* And suddenly, poof, unexpectedly, the kingdom, the royalty, the crowns, the king's goofy costume all gone. Gnizama! (That's amazing spelled backward.)