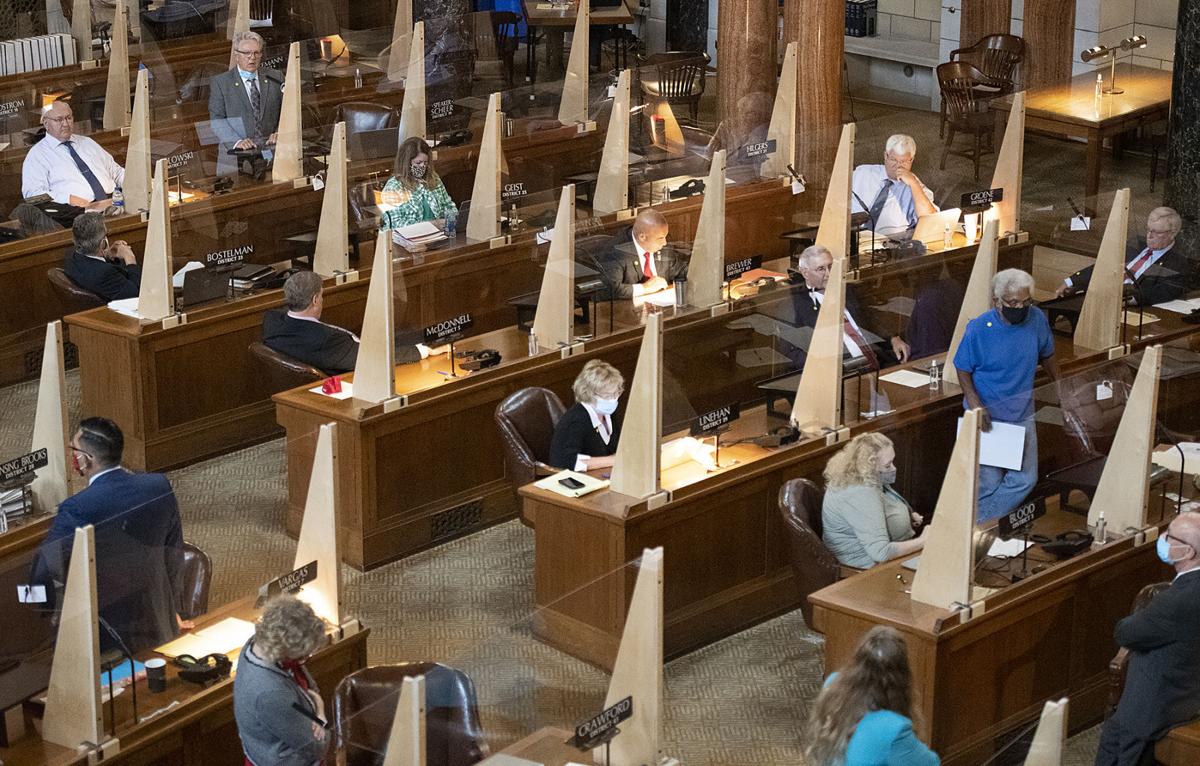 The Legislature is back in town, and it's looking a lot like the meeting at the O.K. Corral.
Shots are being fired. Collegial is not the operative word. Maybe toxic.
Insults and spitballs, and even some personal gestures, flew through the air in the legislative chamber this past week.
But everyone is still standing and feisty after all the slingshots and a couple of stink bombs.
Property tax reform, the creation of a new business development tax incentives program, a state commitment of $300 million in funding support to help the University of Nebraska Medical Center try to land federal designation and funding for an all-hazard disaster response center to join hands with creation of a state-of-the-art academic medical center facility.
That last item is a $2.3 billion project.  Yes, that's a 'B.'
So, a big-time legislative agenda is pending with the clock ticking down. 
If you're a gambling man, you put the house and the car and your football tickets on a bet that those big goals won't be accomplished.  
Maybe, just maybe, senators make some pandemic-prompted adjustments to the state budget, throw a little more into the state property tax credit fund, add a year to the state's current business incentives package and call it good.  Well, at least done.
And then head for home, tires squealing. 
But there are some determined and skilled legislative leaders still trying to make this work. They have not given up. There is talent at work.
There are strong arguments to be made for each of those big-time items.
And everyone, or at least almost everyone, wants something, and that always means the game ain't over.
So let's not count this legislative session cooked and done just yet.
Results of an interesting poll are making the rounds at the Capitol.
First of all, let's stipulate that the poll was reportedly shaped by Revenue Committee Chairwoman Lou Ann Linehan, which also helps determine how the questions are framed. 
This was a July 14-17 survey of 509 likely Nebraska voters conducted by WPA Intelligence in Washington.  
Google WPA to measure political affiliation and bias, and you won't learn much. But there's a hint of largely Republican clients.
Here are some results from the survey:
* 77% support for the legislative proposal to steer $520 million in state funding to public schools over three years while reducing local property taxes.
* 74% opposition to "tax breaks for large corporations."
* 59% opposition to a $300 million commitment of state funding for the UNMC project after first telling respondents that the university receives "more than half a billion dollars of taxpayer money per year."  
And here's a glance at a proposal that's brewing in the Legislature: 46% would oppose taking the $225 million in state tax breaks for Nebraska businesses over the next three years triggered by the federal coronavirus relief package and using that money for property tax relief.
Thirty-eight percent of respondents would support that idea.
Participants in the survey were 48% Republican, 49% "total conservative," 52% Trump voters in 2016 and 49% living in the Omaha media market. 
Make of it what you will.
* Hope Street of Siouxland, a sober-living house for Native Americans in Sioux City, Iowa, will be renamed "Frank LaMere's Hope Street of Siouxland" with a formal dedication next month. LaMere, a Winnebago Tribe member who led and won the Native battle against alcohol in Whiteclay, died last year and was buried in Winnebago to the sound of a distant drum.  
* Baseball's back, but it's not the same.
* Personal advice: Do not have your air conditioning go out during a heat wave on a weekend.
Concerned about COVID-19?
Sign up now to get the most recent coronavirus headlines and other important local and national news sent to your email inbox daily.