OMAHA — A former Nebraska Teacher of the Year-turned-legislative candidate — along with his opponent — have objected to a campaign mailer that attacks his teaching.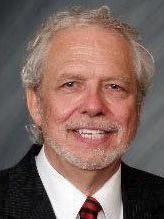 Tim Royers, who taught social studies at Millard West High School and is seeking the Legislature's District 31 seat, said the mailer sent out by the Nebraska Republican Party last week is "lower than I thought they would go.
"This to me was a personal attack on my integrity as an educator," he said Friday. "It was an attack on my integrity as a person, not as a candidate."
His opponent, Rich Pahls, a former Millard Public Schools administrator, said he "unequivocally denounces" the mailer and called for attacks on Royers' career as an educator to stop. He said he had nothing to do with the mailer and had not seen it until Thursday.
"While Tim Royers and I disagree on the issues, any attacks discrediting his service to (the) Millard Public Schools is distasteful and untrue," Pahls said. "I have never run a negative campaign and I will not have any part in negative campaigning this time around."
At issue is one side of the mailer that says: "Tim Royers has a history of teaching students to hate their country," followed by a partial quote from a 2018 essay that Royers wrote.
In the essay, titled "Let's Teach American Exceptionalism for What It Is," Royers argues that public school curriculums need to move away from the traditional view of American exceptionalism but not reject it entirely. That traditional view says that the United States is uniquely virtuous among nations. Royers said there has been both good and bad in America's history and both need to be taught.
"The challenge with the traditional American Exceptionalism theory is that the more you learn about United States history, the harder it is to defend," he wrote, referring back to the traditional theory.
The mailer, however, used only the last part of the sentence: "The more you learn about United States history, the harder it is to defend." It also claimed that Royers "spent his time in the classroom teaching historically inaccurate anti-American propaganda" and said he had slammed the Founding Fathers.
In a statement, Ryan Hamilton, executive director of the state GOP, said the mailer quotes Royers directly and said he "should have to answer as to whether or not he supports anti-American educational propaganda.
"I believe we adequately represented (Democratic) candidate Tim Royers' views and cited the article's full URL so interested voters can read it for themselves to make a determination on their own," Hamilton said.
On Thursday, the Douglas County Republican Party tweeted that the county party and the Pahls campaign "denounce this behavior and this mailer." The tweet has since been taken down.
The 2020 Journal Star General election Voter's Guide
The 2020 Journal Star general election Voter's Guide
Your guide to Lincoln-area and statewide races and ballot questions that will appear on the Nov. 3 general election ballot. Click on a race name to see the candidates and learn about their views on the issues.
Be the first to know
Get local news delivered to your inbox!