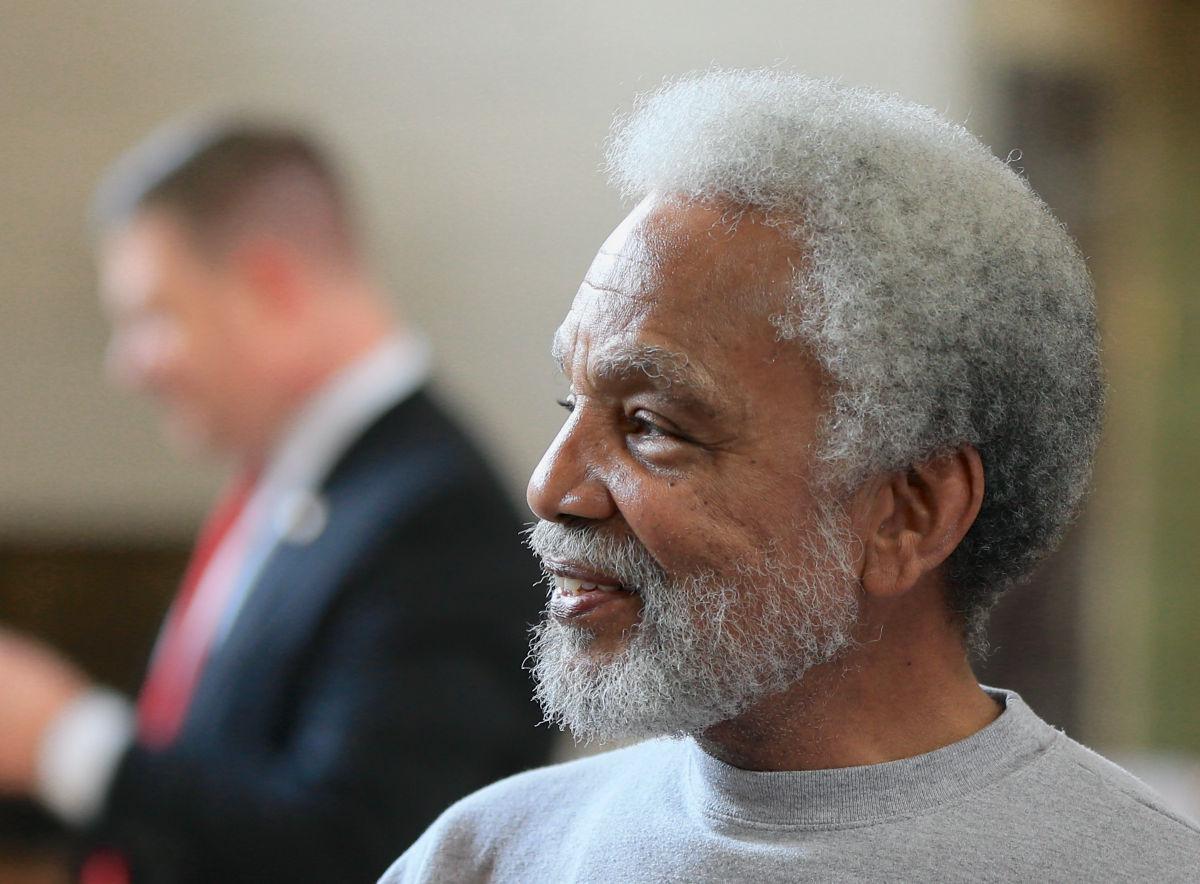 Following a solemn debate that flashed fiery at the end, the Legislature passed a landmark bill Wednesday to abolish the death penalty in Nebraska with sufficient support to override a gubernatorial veto.
The bill (LB268) sponsored by Sen. Ernie Chambers of Omaha was approved on a 32-15 count following a 34-14 vote to end a last-minute filibuster by opponents.
Thirty votes eventually will be required to override a promised veto by Gov. Pete Ricketts.
Wednesday's historic vote may have signaled the end of a long journey for Chambers, who has been attempting to eliminate the death penalty for four decades.
"This is it," he said as he entered the legislative chamber to begin the debate.
The historic significance of the event attracted legislative staff members who lined the sides of the chamber when it came time for the roll call vote. 
In 1979, Chambers won legislative approval of death penalty repeal, but the bill fell victim to a veto by Gov. Charles Thone.
Chambers told his colleagues they were on the cusp of writing history, and it was a marked change of position among conservative legislators that made the difference.
"Nebraska will step into history" if the death penalty is eliminated here, he said. "It would be the first so-called conservative state to do so."
Near the end of Wednesday's two-hour debate, a couple of conservative senators scolded their colleagues with unusually sharp rhetoric.
Sen. Mike Groene of North Platte said legislative constituents are "appalled at what's going on," and he promised to personally work hard to politically oppose any senator who cast a vote to invoke cloture to end the last-minute filibuster while not supporting the bill itself.
"That's disgusting," Groene said. "Collegiality out the window."
Earlier, Sen. David Schnoor of Scribner accused some of his colleagues of trading votes on other issues with the death penalty bill and criticized them for aligning themselves with Chambers.
"This is a chance to redeem yourself" by voting to sustain the filibuster and trap the bill, Schnoor said.
Thirty-three votes were required on the cloture motion to end Wednesday's filibuster, one more than the bill was able to garner on the vote for passage.
Sens. Tyson Larson of O'Neill and Ken Schilz of Ogallala voted for cloture, but neither cast a vote on passage of the bill.
Sen. Jim Smith of Papillion did not vote on the cloture motion, but voted against enactment of the bill.
One switch from a week ago was Sen. Mike Gloor of Grand Island, who voted against advancement of the bill from second-stage consideration, but sided with the majority in supporting passage of the measure on Wednesday.
Ricketts weighed in before the debate began with a statement "reminding senators that a vote for cloture on LB268 is a vote to repeal the death penalty and to give our state's most heinous criminals more lenient sentences."
The governor said there is "overwhelming support for keeping the death penalty in Nebraska."
LB268 would replace the death penalty with a life sentence.
"Under current Nebraska law, a sentence of life imprisonment is effectively life imprisonment without (the possibility of) parole," Attorney General Doug Peterson assured Sen. Colby Coash of Lincoln in a letter responding to his request for an opinion.
Coash was among a number of senators who rose to support the bill after Sen. Beau McCoy of Omaha filed a last-ditch motion to shelve the measure, arguing that any vote for cloture was tantamount to a vote in favor the bill.
"This is not a conservative/liberal issue," Sen. Tommy Garrett of Bellevue said. Rather, it's "a matter of conscience," he said, and for him, a pro-life issue.
Sen. Bob Krist of Omaha said he is guided by his pro-life commitment "from conception to natural death."
Sen. Adam Morfeld of Lincoln said the death penalty represents "vengeance, not justice."
"Just as no individual has the right to take the life of another individual," he said, "nor should the state have the power and the authority to take a life."
Sen. Jeremy Nordquist of Omaha, another supporter of the bill, said senators need to "show political courage and moral courage" in casting their votes.
After it was over, Chambers said: "My mountain lion friends heaved a collective sigh of relief now that I can focus on them."
Chambers said he is confident the Legislature will override a gubernatorial veto.
The last execution in Nebraska occurred in 1997.
After the Nebraska Supreme Court ruled in 2008 that use of the electric chair was an unconstitutional application of cruel and unusual punishment, the state adopted lethal injection as its form of capital punishment.
The state has had difficulty acquiring lethal injection drugs, but Ricketts recently announced that it has purchased such drugs in preparation for renewal of executions.