OMAHA — The coronavirus killed Tony Vargas' father.
So the state senator from South Omaha, one of the hardest-hit parts of Nebraska, can honestly tell families struck by COVID-19 that he feels their pain.
Vargas has consoled. He has received consolation. But he would rather help people avoid the sickness, death and grief that the pandemic has brought to so many families. Even though it hurts to revisit his own grief, he uses his family's experience to persuade people to take the virus seriously and take precautionary measures.
On social media, on Spanish-language television and radio, in English-language news outlets, in Zoom meetings and in person at food distribution and COVID-19 testing sites, Vargas has become one of the main faces of wearing a mask, social distancing and being tested. The senator has advocated for more testing sites and capacity, and for more protection for workers in meatpacking and other jobs that have been struck by outbreaks.
"He's putting himself out there to prevent others from the pain," said Andrea Skolkin, CEO of OneWorld Community Health Centers. "He has a very compassionate heart, and he is trying to use that for good, and doing what he can as a senator and as an individual."
The threat of the coronavirus is far from over now. It's hard to imagine, but the threat seemed far away five months ago when Antonio and Lidia Vargas came from Long Island, New York, to Omaha to celebrate the first birthday of Tony and Lauren's daughter, Ava. They all got together with Lauren's parents and hung out. They strolled through Lauritzen Gardens. Took a walk downtown. Sat in the kitchen and talked. Laughed when Ava dove in for a fistful of frosting.
It was Feb. 14. Little Ava was a Valentine's Day baby. On that weekend, she was kind of Grandpa's valentine, as tends to happen with toddlers and grandparents.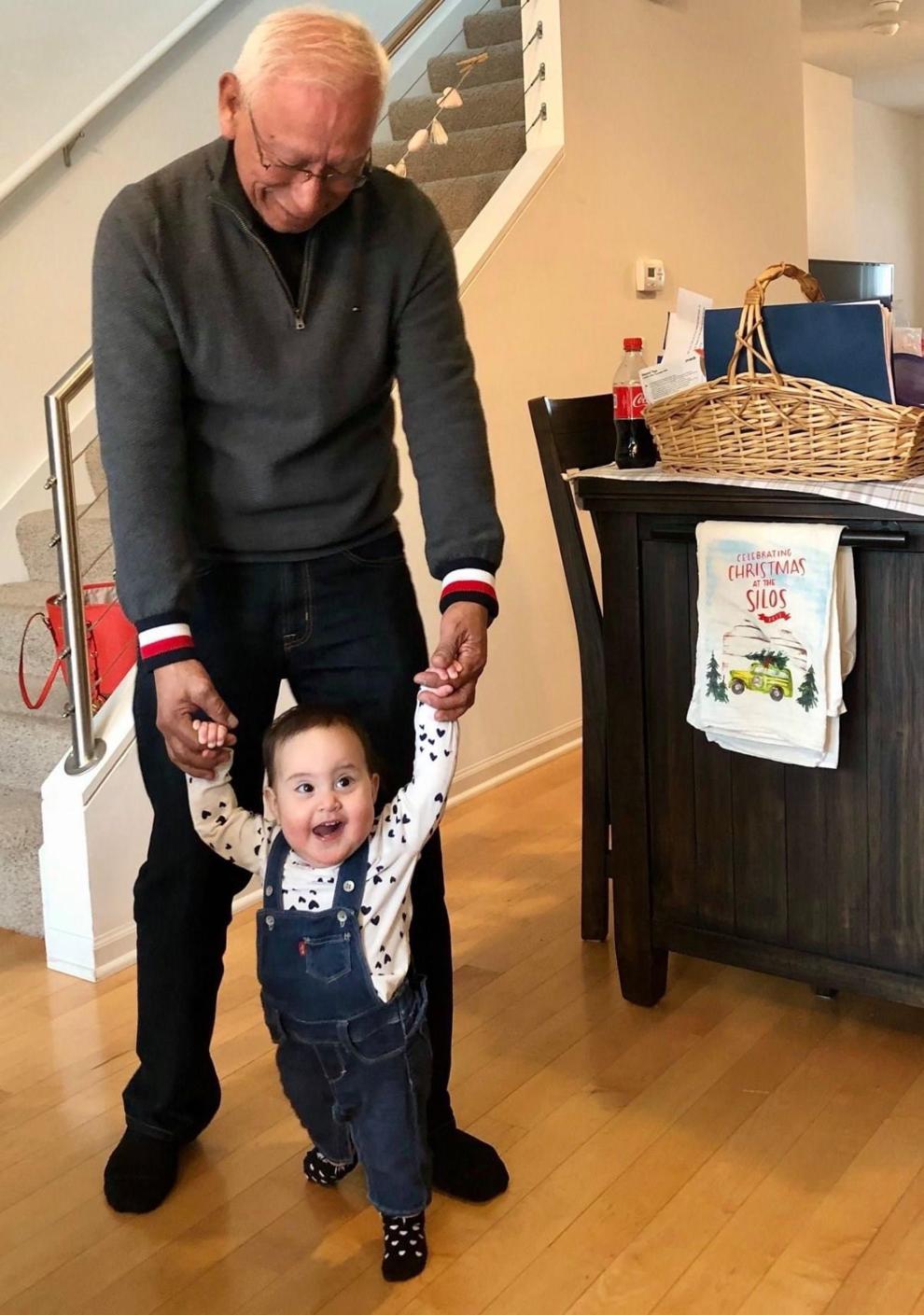 "My daughter at that time was really just starting to walk," Tony Vargas said. "And she would not let go of my dad's hand. She just kept on wanting to have him help her walk through the house and walk around places. My dad, I've never seen him so happy. He was just beaming."
Vargas keeps going back to pictures of the two.
"My daughter's just looking up at him smiling, and he's looking down," he said. "And he just has this big, big smile, you know, like the world is perfect."
Vargas imagined that his parents might soon retire. His father, who loves soccer, would have time to visit and watch Ava's soccer games, attend her school events, celebrate more of her birthdays.
But not long after they returned to Long Island, the coronavirus hit New York. Vargas and his brothers worried about their parents. While healthy, they were in their early 70s. Lidia Vargas worked in customer service at a community bank. Antonio worked as a machinist, in one big room surrounded by lots of other machinists.
Vargas urged them to consider not going in to work, but that was a hard sell.
"My parents came from Peru to this country and they worked every single day, multiple jobs, for me and my two older brothers growing up, to put food on the table," he said. "All they know is you work hard and you don't complain and you fight through things, because the opportunity we have, we're not going to let up, we're not going to give up on it."
Vargas' mother got sick first. She developed a fever and a cough in mid-March. She stopped going to work. Vargas' father kept going to his job for a while, but then he developed symptoms, too. Although his symptoms weren't that bad at the time, the couple's sons persuaded them to be tested for COVID-19. Both came back positive.
His mother had to be hospitalized, but only for a day. Antonio Vargas' condition worsened. Tests showed inflammation and buildup in one lung. A couple of days later, Tony Vargas got an early morning call from a doctor at the hospital with a daily update.
"About three minutes into it, the doctor said, 'I have to go,'" Vargas said. "I said: 'Is everything OK?' He said my father was going into cardiac arrest."
The hospital called back 15 minutes later. Vargas' father had stabilized. But he couldn't breathe on his own. He needed to be put on a ventilator. That was the beginning of 31 days in a medically induced coma.
"I just kept thinking to myself, why him?" Vargas said. "At that time, my dad was one of about 10,000 positive cases in New York, and one of the few on ventilators across the entire state."
Vargas wanted to go to New York to help. But there wasn't anything different he could do there than he could do by phone from Omaha. Plus, he had his own family here. The coronavirus was beginning to appear in Nebraska, and Vargas, as a state legislator, had responsibilities to the community.
Vargas talked with family members, and they decided to let people know. He and Lauren posted a video on Twitter on April 9.
"We decided to tell everybody what we're going through because it's just too hard to not (tell them)," he said. "I also hope that people can then understand that this is a real thing. It's not fake. It's real and people are being hurt by it. It's not just the flu. To some people, it's life or death."
For the next three weeks, as his father fought for his life, Vargas was on the phone constantly.
"When I wasn't on the phone with my family, I was on the phone with people from all across the state that were contacting me, talking with families in Grand Island, here in Omaha, Latinos, young people like me who are trying to figure out how to navigate this process with their families and their communities."
Vargas continued an effort he had launched in mid-March to try to get people information in a language they understand. Early on in the pandemic, not much information was going out in languages other than English, even though the coronavirus was hitting Latinos and other communities of color harder than white people. To date, he said, people in his district make up more than one-third of the coronavirus cases in Douglas County.
In mid-March, Vargas organized a video meeting with Dr. Armando Rosales from the University of Nebraska Medical Center, Omaha Public Schools Superintendent Cheryl Logan, Latino Center of the Midlands Executive Director Albert Varas and other leaders to discuss messaging in Spanish. They put together the first all-Spanish language video that went out in Omaha.
That inspired the dissemination of more information in more languages, OneWorld's Skolkin said. And it has made a difference — as has Vargas' telling his personal story and sharing information on multiple social media platforms, Telemundo and Radio Lobo, and showing his masked face at key events.
It made a big difference in people's trust to have Vargas promote testing and be present when the National Guard and State Patrol helped at testing sites, Skolkin said.
"Seeing someone who looks like you is comforting," she said.
Vargas has become a role model in mask wearing and social distancing, Skolkin said, not only for South Omaha and Latinos, but also for Omaha and Nebraska.
That will continue to be important, she said.
"This is not over," she said. "We have a lot of work left to do."
Antonio Vargas died April 29. The senator announced his father's death on social media. Vargas hasn't had time to grieve in the usual way. These are extraordinary times, and he is in the middle of the maelstrom.
"Tons of people have reached out, and I've told them, I appreciate your condolences, but what I really want you to do is to continue spreading the message that this is serious and we need to protect each other," Vargas said. "It's one thing to have condolences. It's another thing when I see that person share out a message, that they had conversations with their parents, or their aunt and uncle, about this issue, and that changed how they thought about it."
For Vargas, those are the condolences that matter most.
"That's how I've been grieving," he said.
The Nebraska Legislature will reconvene soon, and there will be policy to be debated, such as funding for public health departments and community health centers, equal access to health care and protections for meatpacking workers. Vargas will be in the middle of that, too.
Monday morning found him helping at a produce distribution site outside Omaha South High School. It's something that he does at least every other week. He was with medical students who were handing out masks. Vargas talked to Spanish-speaking families in Spanish, explaining to them why and how they should wear the masks.
"I think it puts people at ease," he said. "When people see me and they recognize me, and they see me with a mask and I'm telling them, this is an important behavior practice that we can do to protect each other, more people see it as normal, and it's not invasive, and it's gonna help our community."