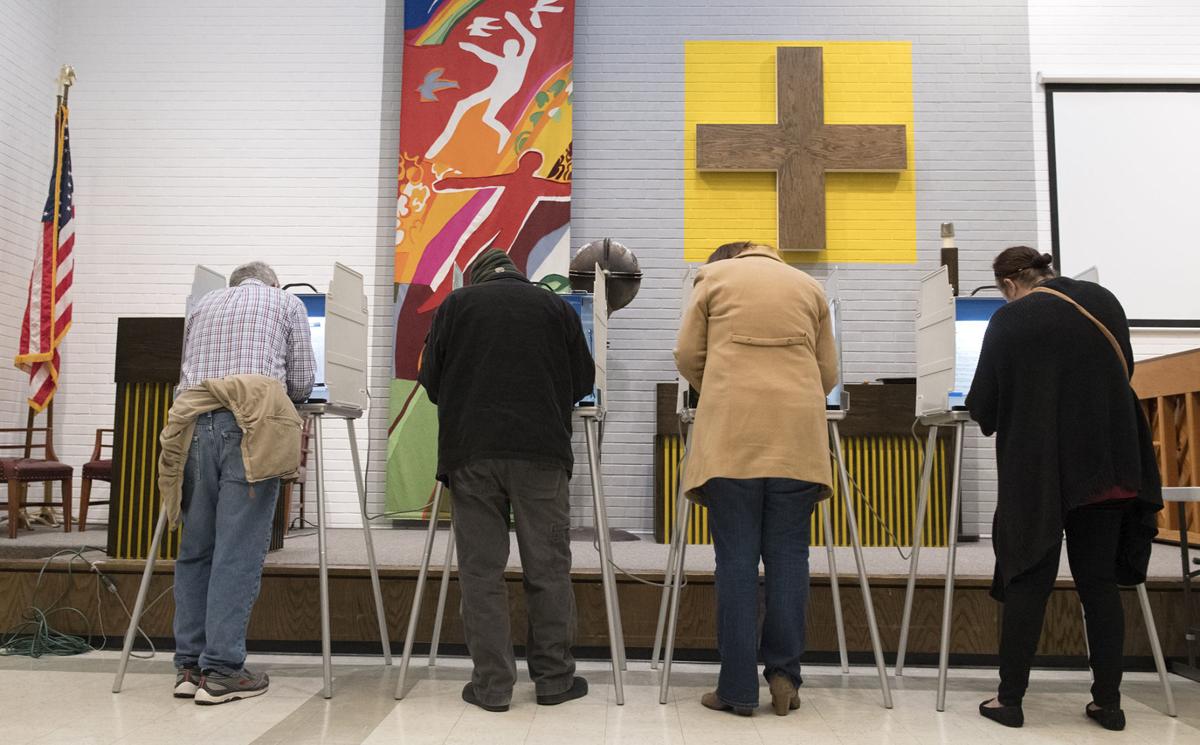 Voters in Nebraska's District 32 legislative race swapped incumbent Sen. Laura Ebke Tuesday for farmer and livestock feeder Tom Brandt, who emphasized the need for lowering property taxes.  
It also seemed to matter to many of them to try again to send a Republican to the officially nonpartisan Legislature to represent them. 
They did that in 2014 with Ebke, but she switched parties to become a Libertarian in 2016, after Gov. Pete Ricketts called out fellow Republicans who didn't always vote along party lines. Ebke said that was just one reason for the change. 
Brandt, 58, campaigned on broadening the sales tax base to decrease property taxes, especially for the agriculture sector. 
"I think the people are very frustrated," Brandt said Tuesday night. "Particularly in our district the issue is property taxes. And if you can solve the schools' finance problem, you can solve the property tax problem. ... We've got all these schools in the legislative District 32 that have no equalization." 
Ebke, who has a doctorate in political science, had four years of experience in the Legislature. But along with that came a voting record she had to defend, Brandt said.
Brandt calls himself a moderate Republican and during his campaign also pushed the idea of improving broadband coverage in rural areas and reassessing the state's school aid formula. 
He also complained that the district suffered from a lack of leadership in Ebke. 
The Legislature returned its other Lincoln and Lancaster County incumbents for a second term, including Matt Hansen, 30, a registered Democrat who defeated Bob Van Valkenburg, 82, a registered Republican in District 26. Two local incumbents — Patty Pansing Brooks from District 28 and Adam Morfeld from District 46 — were unchallenged. 
But at least a couple of other incumbents in the state were in trouble. 
In District 12, former Sen. Steve Lathop appeared well-positioned to return to the Legislature from Omaha, in place of incumbent Merv Riepe, a Republican and retired hospital administrator from Ralston who is chairman of the Health and Human Services Committee. 
Lathrop, a Democrat and Omaha attorney, served eight years in the Legislature before bumping into the constitutional limit of two consecutive terms. 
The showdown between the two spawned a flood of negative TV ads and direct mail targeted at Lathrop and funded by the national Republican State Leadership Committee.
Riepe had been a dependable legislative supporter of the governor. Ricketts pumped $19,000 into Riepe's campaign.
In Omaha's District 6, incumbent Sen. Theresa Thibodeau, an appointee of Ricketts, was challenged by Machaela Cavanaugh, who had a slight lead late Tuesday which could trigger a recount depending on the final vote separation.
Cavanaugh, a registered Democrat, campaigned on the idea of putting problem-solving over partisanship in the Legislature.
Thibodeau, a registered Republican, was appointed by Ricketts in 2017 to replace Joni Craighead, who resigned. Ricketts contributed $20,000 to her campaign.
District 30, which includes Gage County and parts of southern Lancaster County, including portions of Lincoln, Republican Myron Dorn bested Democrat Don Schuller, 62, a farmer and conservation surveyor from near Wymore. 
Dorn, a 64-year-old farmer from near Adams, is on the Gage County Board. He had campaigned on the idea of raising sales taxes in order to lower property taxes, and had called for a comprehensive review of tax exemptions. 
District 24, incumbent Sen. Mark Kolterman, 67, a registered Republican from Seward, won handily, defeating Stephanie Nantkes, 69, a registered Democrat also from Seward.
District 42 in North Platte: Incumbent Mike Groene easily bested challenger Judy Pederson, who was a write-in candidate in the primary. Groene and Pederson are both Republicans.
Groene, a fertilizer equipment salesman, has said he's respected for his blunt approach in the Legislature and willingness to speak his mind. He is chairman of the Legislature's Education Committee, responsible for overseeing the state's public education system. He says he's not a cheerleader for public schools, but looks at them like any other taxpayer service.
District 2: Rob Clements, a Republican appointed by Ricketts in 2017, defeated challenger Susan Lorence. 
Clements serves on the Appropriations Committee. He is an advocate for reducing government spending and reducing taxes, including property and income taxes. Clements also supports reduced regulations.
District 16: Ben Hansen, a chiropractor from Blair and a Republican, defeated Chuck Hassebrook, a Democrat from Lyons who ran for governor against Ricketts in 2014 and who previously served as a University of Nebraska regent for 18 years. 
Hansen is a small business owner and was appointed to the Blair City Council in 2015. 
Voters returned other incumbents to the Legislature, including Robert Hilkemann in Omaha's District 4, Brett Lindstrom in Omaha's District 18, John McCollister in Omaha's District 20, Dan Hughes in western Nebraska's District 44 and John Stinner in western Nebraska's District 48.
Election results
Election results for all statewide and Lincoln-area races
Medicaid expansion
| Position | Vote totals |
| --- | --- |
| For Initiative 427 | 345,837 |
| Against Initiative 427 | 304,253 |
Congressional races
| Race | Candidates | Vote totals |
| --- | --- | --- |
| District 1 | Kate Bolz | 116,120 |
| | Jeff Fortenberry, R | 179,557 |
| | Dennis Grace, L | 8,452 |
| District 2 | Donald Bacon, R | 162,087 |
| | Kara Eastman, D | 146,992 |
| | Tyler Schaeffer, L | 9,423 |
| District 3 | Mark Elworth Jr., D | 49,771 |
| | Dustin Hobbs, L | 10,723 |
| | Adrian Smith, R | 222,363 |
| | | |
Lincoln mayor term limits
| Position | Vote totals |
| --- | --- |
| For amendment | 51,720 |
| Against amendment | 46,053 |
| | |
Lancaster County races
| Race | Candidate | Vote totals |
| --- | --- | --- |
| County treasurer | Matt Schulte (R) | 52,186 |
| | Rachel Garver (D) | 58,146 |
| County clerk | Dan Nolte (D) | uncontested |
| County assessor | Rob Ogden (R) | uncontested |
| County sheriff | Terry Wagner (R) | uncontested |
| County attorney | Pat Condon (R) | uncontested |
| Public defender | Joe Nigro (D) | uncontested |
| Clerk of district court | Troy Hawk (R) | uncontested |
| County engineer | Pam Dingman (R) | uncontested |
Lancaster County Board
| District | Candidate | Vote totals |
| --- | --- | --- |
| 1 | Tim Duey (R) | 4,556 |
| | Sean Flowerday (D) | 11,423 |
| 3 | Deb Schorr (R) | uncontested |
| 5 | Todd Wiltgen (R) | 11,462 |
| | Rick Vest (D) | 12,274 |
| | | |
Legislature
| District | Candidate | Vote totals |
| --- | --- | --- |
| 1 | Janet Palmtag | 5,577 |
| | Julie Slama | 11,899 |
| 3 | Rick Holdcroft | 8,582 |
| | Carol Blood | 8,779 |
| 5 | Mike McDonnell | 6,559 |
| | Gilbert Ayala | 3,777 |
| 7 | Tony Vargas | 6,819 |
| | Jorge Sotolongo | 1,919 |
| 9 | John Cavanaugh | 8,003 |
| | Marque Snow | 6,690 |
| 11 | Fred Conley | 3,330 |
| | Terrell McKinney | 5,820 |
| 13 | Justin T. Wayne | 11,010 |
| 15 | David Rogers | 6,210 |
| | Lynne Walz | 9,157 |
| 17 | Joni Albrecht | 7,343 |
| | Sheryl Lindau | 3,576 |
| 19 | Mike Flood | 15,200 |
| 21 | Mike Hilgers | 9,895 |
| | Brodey Weber | 8,132 |
| 23 | Bruce Bostelman | 11,287 |
| | Helen Raikes | 6,868 |
| 25 | Suzanne Geist | 16,147 |
| | Stephany Pleasant | 8,104 |
| 27 | Brenda Bickford | 5,448 |
| | Anna Wishart | 9,923 |
| 29 | Eliot Bostar | 10,927 |
| | Jacob Campbell | 9,622 |
| 31 | Rich Pahls | 10,197 |
| | Tim Royers | 9,093 |
| 33 | Steve Halloran | 12,756 |
| 35 | Raymond M. Aguilar | 6,570 |
| | Dan Quick | 5,688 |
| 37 | Mercadies Damratowski | 4,098 |
| | John Lowe Sr. | 12,774 |
| 39 | Allison Heimes | 11,457 |
| | Lou Ann Linehan | 14,554 |
| 41 | Tom Briese | 15,804 |
| 43 | Tom Brewer | 10,628 |
| | Tanya Storer | 7,691 |
| 45 | Susan Hester | 7,671 |
| | Rita Sanders | 8,835 |
| 47 | Steve Erdman | 14,901 |
| 49 | Jen Day | 12,125 |
| | Andrew La Grone | 11,873 |
Public Service Commission
| District | Candidate | Vote totals |
| --- | --- | --- |
| 1 | Dan Watermeier (R) | 72,956 |
| | Christa Yoakum (D) | 69,230 |
| 3 | Tim Schram (R) | 94,743 |
| | Mike Forsythe (D) | 57,929 |
NU Board of Regents
| District | Candidate | Vote totals |
| --- | --- | --- |
| 1 | Tim Clare | 92,526 |
| 2 | Jack A. Stark | 96,770 |
State Board of Education
| District | Candidate | Vote totals |
| --- | --- | --- |
| 5 | Patricia H. Timm | 36,803 |
| | Maris Bentley | 21,707 |
| 6 | Maureen Nickels | uncontested |
| 7 | Robin R. Stevens | uncontested |
| 8 | Pat McPherson | 30,501 |
| | Deborah Neary | 43,528 |
SCC Board of Governors
| District | Candidate | Vote totals |
| --- | --- | --- |
| At-large | Timothy R. Cerveny | 81,405 |
| | Neal Stenberg | 82,575 |
| 1 | Chuck Byers | 17,329 |
| | Jeanne H. Stec | 15,268 |
| 2 | Kathy Boellstorff | 20,349 |
| | Chad Aldrich | 15,415 |
| 3 | Edward C. Price | 32,588 |
| 4 | Kristin E. Yates | 25,167 |
| 5 | Arlyn Uhrmacher | 41,327 |
| | | |
Lower Platte South Natural Resources District board
| Subdistrict | Candidate | Vote totals |
| --- | --- | --- |
| 1 | Don Jacobson | 11,941 |
| 2 | Ron Nolte | 12,778 |
| 3 | Mike DeKalb | 6,243 |
| | Kenneth Vogel | 6,177 |
| 4 | Gary R. Aldridge | 9,201 |
| | LeRoy W. Sievers | 9,199 |
| 5 | John Yoakum | 4,402 |
| | Greg Osborn | 2,618 |
| 6 | Anthony Schutz | 10,257 |
| 7 | Chelsea Johnson | 8,933 |
| 8 | Christine Lamberty | 7,807 |
| | Christy Eichorn | 4,505 |
| 9 | Milt Schmidt | 4,712 |
| | Lisa Lewis | 7,518 |
| 10 | Ray A. Stevens Jr. | 6,528 |
| | Bastienne Salners | 5,268 |
| | | |
Seward County sheriff
| Candidate | Vote totals |
| --- | --- |
| Joseph O. Yocum (R) | 3,059 |
| Mike Vance (D) | 3,868 |
| | |
Retention of judges
| Judge name | Yes | No |
| --- | --- | --- |
| Stephanie F. Stacy | 75,767 | 17,747 |
| Julie A. Martin | 420,928 | 113,161 |
| James Michael Fitzgerald | 395,604 | 130,312 |
| Lori A. Maret | 64,891 | 20,225 |
| Susan I. Strong | 69,033 | 16,152 |
| Robert R. Otte | 65,830 | 19,367 |
| Holly J. Parsley | 68,969 | 15,895 |
| Thomas E. Zimmerman | 64,248 | 18,907 |
| | | |
Charter amendment questions
| Ballot question | For | Against |
| --- | --- | --- |
| Gender-neutral language | 50,325 | 15,449 |
| Raising city bid threshold | 43,488 | 18,442 |