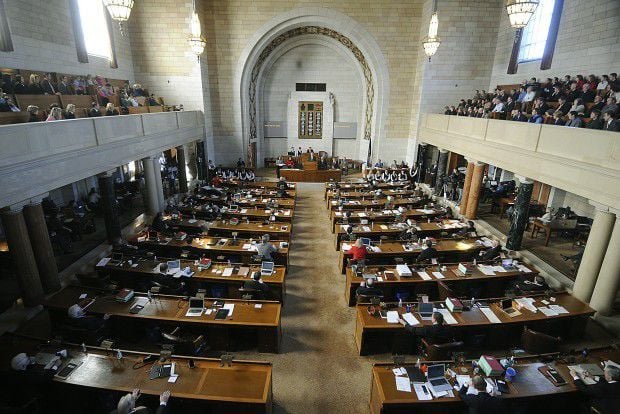 These bills were among those introduced Thursday by Nebraska lawmakers.
* ABORTION: A bill (LB300) by Sen. Bob Krist of Omaha would require four-dimensional ultrasound images of human fetuses to be posted on a state website. So-called 4-D ultrasounds take images of the fetus from several angles, showing things such as facial features and capturing movement. Nebraska's Informed Consent on Abortion law was passed in 1993, before 4-D ultrasound images were available. The law would require informed consent information to be posted on the Nebraska Department of Health and Human Service's website. The pro-life group Kansans for Life says the use of 4-D ultrasound images on the Kansas state website appears to have helped decrease the number of abortions there. Nebraska's informed consent law also requires, among other things, that providers of abortions tell women of the medical risks of the procedure and that they cannot be forced to have abortions. The national abortion rate has been falling since the early 1980s, according to the Guttmacher Institute. Nebraska Right to Life pushed for the bill.
* ESCORT SERVICES: A bill (LB314) by Sen. Mark Christensen of Imperial would require escort services to be licensed. The bill is aimed at stopping what Christensen has called the "adverse secondary effects" of the businesses: lewdness, public indecency, prostitution, potential spread of disease, illicit drug use and drug trafficking, personal and property crimes, negative effects on surrounding properties, blight, litter, sexual assault and exploitation. He has introduced similar legislation before.
*MASSAGES: Christensen also introduced a bill (LB315) that would require massage therapists to be licensed.
* FINGERPRINTS: Police would be able to submit the electronic copies of fingerprints of criminals to the State Patrol for use in the FBI database electronically under a bill (LB318) by Sen. Amanda McGill of Lincoln. Current law requires them to use paper forms.
* CONCEALED WEAPONS: It would be illegal for a person with a permit to carry a gun to bring the weapon onto property leased by the state or other political subdivision, under a bill (LB319) by McGill. State law now applies only to property owned by the state or a political subdivision.
* SCHOOL AID: A committee would be formed to monitor how state aid to schools is distributed and used under a bill (LB323) by Sen. Ken Haar of Malcolm. The School Finance Review Committee would consist of four members of the general public appointed by the governor; four school administrators or officials appointed by the State Board of Education; four school board members appointed by the chairman of the Legislature's Education Committee; three members of the Legislature appointed by the Executive Board of the Legislative Council; a representative of the governor appointed by the governor; and the state property tax administrator, who would be a nonvoting member. Haar said the committee is needed because term limits keep turning out lawmakers after they master an understanding of how the school funding formula works.
* PHARMACY TECHNICIANS: Pharmacists would not need to supervise pharmacy technicians in person under a bill (LB326) by Sen. Sara Howard of Omaha. The bill would allow such supervision to be done remotely via computer with a real-time online database and a real-time audio and video communication system.