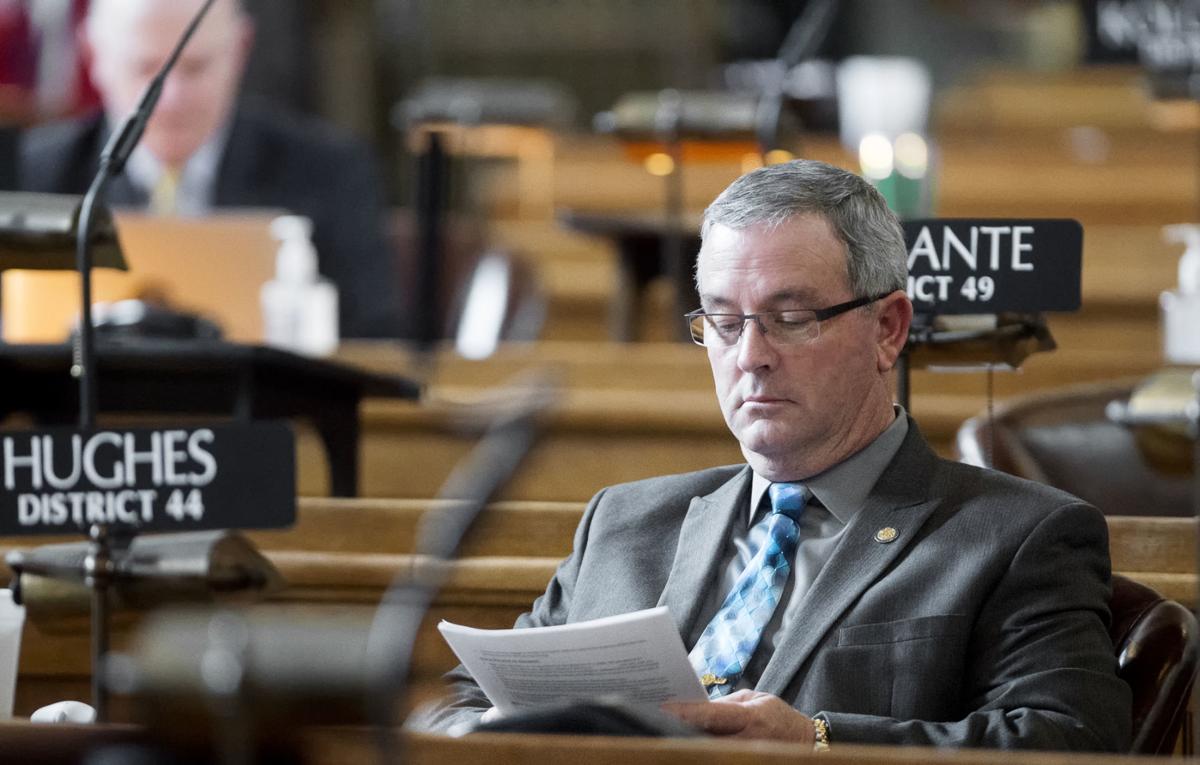 An incident involving Cambridge High School students, doughnuts and alleged intimidation has led a Nebraska state senator to attempt to broaden the state's hazing law.  
The bill (LB710), introduced by Sen. Dan Hughes of Venango, grew out of a case in which Cambridge upperclassmen reportedly hazed younger students during a wrestling camp at Hastings College. 
The older boys placed doughnuts on their genitals and made the younger boys eat the doughnuts while others watched, according to multiple sources. 
Hughes said similar incidents have occurred both in the state and around the country. It seems hazing incidents are growing in number, he said, although that's hard to document, because young people don't like to testify against, or "rat out," their friends.  
Nebraska's hazing law now applies to postsecondary organizations, such as fraternities and sororities, and does not include sexually related incidents in the definition of hazing.
Hughes said Adams County Attorney Donna Fegler Daiss told him she did not feel Nebraska law allowed her to prosecute the Cambridge case, and so she did not. 
"That's why I decided we'd take a look at the law and try to expand it to give law enforcement an opportunity to prosecute to make hazing incidents a civil case for high school-age students, or for younger students," he said. 
The current law says hazing activities include whipping, branding, forced and prolonged calisthenics, prolonged exposure to the elements, forced consumption of food, drinks, drugs or harmful substances, sleep deprivation or brutal treatment. 
With the bill, activities would broaden to include sexual penetration, exposing one's genitals in order to intimidate or alarm another person, or lewd fondling or caressing of another person. 
You have free articles remaining.
In the Cambridge incident, students were disciplined by the school. 
Hughes said his intent is to protect kids rather than to punish them. 
Virginia Moon, representing the Nebraska Council of School Administrators, said schools see the horrible effects of hazing and cyberbullying that goes on in schools, or off grounds. Sometimes situations meant to be funny or harmless turn dangerous, or cause humiliation some students never really recover from in their high school careers, she said. 
School personnel are torn or confused about what they can or cannot do to intervene, because the law does not apply to younger students.
Bobby Truhe, attorney with KSB School Law, also said schools struggle to deal with incidents of hazing, which can include such activities as forcing students to eat hot peppers, chug water until they throw up, strip naked and dance against each other, or "goose" each other.
The questions schools consider are whether they have the authority to impose consequences on those students and whether the incidents should be reported to law enforcement. 
Hughes said the Cambridge Public Schools superintendent, who was to be his star witness at Thursday's hearing, could not testify because the school district is being sued by parents of one of the students disciplined in the alleged hazing incident. 
The other boy accepted the school's sanction, he said.
The lawsuit, filed in Furnas County District Court, says the teen "engaged in immature conduct" and the event wasn't school-sponsored. The parents are asking the court to make the school district take the expulsion off the student's record and to not bring any more sanctions against him.
The court documents said, "at no time did the student engage in public indecency, assaultive, threatening or coercive behavior nor sexual contact as defined by law."
No one showed up at the hearing to oppose the bill or testify in a neutral position.