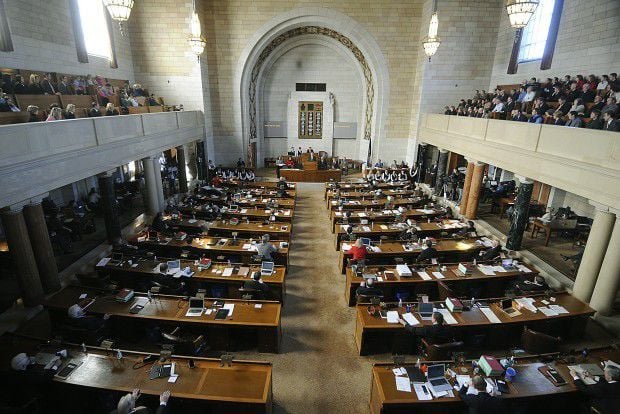 A bill that would help to ensure the public can access government records and data at a fair cost jumped its first hurdle Monday in the Legislature.
But it took the promise of a compromise to advance the bill to a second stage of debate on a 35-1 vote.
The bill (LB363) would close a loophole in the public records law that some public entities took advantage of and made public records so expensive to acquire that they, in effect, discouraged public access, said Lincoln Sen. Bill Avery, who introduced the bill.
It proposes that a public agency or political subdivision can charge a fee for making copies of public records, but it can't exceed the actual, reasonable cost of making the copies.
No charge for searching, identifying and copying the records can be added to the cost until the time would go beyond six hours. And no charge can be added for legal review of the public records when seeking a reason to withhold the requested information.
Some senators said during debate the bill would be a hardship for smaller agencies and communities with limited staff to accommodate public records requests.  Avery said he would be willing to compromise, reducing the amount of time to four hours for staff to spend gathering and redacting information before charges start to accumulate.
Omaha Sen. Ernie Chambers supported the bill but did not believe a compromise on the charges was needed.
"Either when we put something into the statutes we mean it or we don't," he said. "The public is the one contemplated by that word preceding records. Public records. They don't belong to the custodian (the government office)."
What some public officials are doing when they charge exorbitant fees for public records is a total contempt, disrespect of and disregard for the Legislature, he said.
Sen. Kate Sullivan of Cedar Rapids said she was concerned about the effect of the bill on smaller counties, especially those that got requests for large amounts of information from for-profit businesses.
"It has the potential to provide yet another challenge for them when they're already cash-strapped and have limited staff to deal with," she said.
There are a lot of offices that are being reasonable in the fees they charge and are trying to serve the public, she said.
Sullivan said she had a problem with the six hours of free research or staff time required in the bill. Sen. Tyson Larson of O'Neill offered an amendment to allow only one hour of free research and copying time but later withdrew it.
Sen. Al Davis of Hyannis said the bill could be looked at as an unfunded mandate to small governmental offices. But Avery said the bill provided safeguards to smaller offices.
No one came to oppose the bill during its public hearing Feb. 6. Four people representing the University of Nebraska, the Nebraska State Historical Society and the state attorney general's office testified in a neutral position.
During Monday's debate, Sen. Paul Schumacher of Columbus told of an insurance agent in his community who had asked for a few documents from a government agency he felt would take 20 minutes to produce. The agency told him it would cost $10,000.
If an agency wants to circumvent public access to records, it only has to put an outrageous figure on it, Schumacher said.
"If we just had a world where everybody acted in good faith, we wouldn't have these tough questions. But we don't have that, and that's why we get the big bucks to call the shots here," he said.
Accountability in government is essential, Avery said. Without it, institutions of government lose their credibility.
The public's right to these documents must be protected, he said.