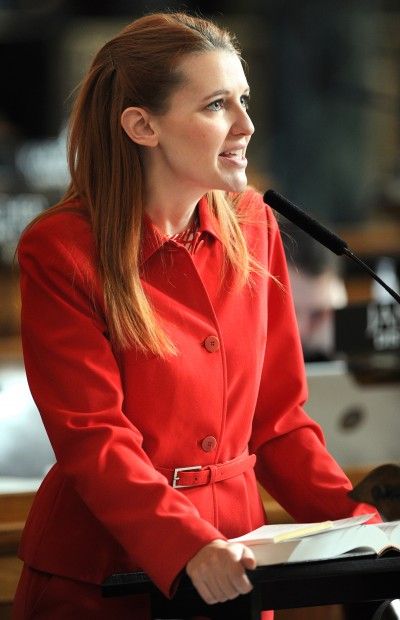 Amanda Huxoll lived in foster care for nine years and after high school graduation enrolled at McCook Community College.
The 23-year-old worked part time, and between work and studying was exhausted, she said. When she found she couldn't make enough to live on, she had two choices -- quit school or live in her car.
She opted to eliminate education.
Mickey Alder, 22, a former state ward and social work student at the University of Nebraska at Omaha, also faced challenges she never anticipated when she aged out of the system. Those included financial hardship, homelessness, no support when she needed it, she said.
Both of the young women spoke Thursday morning in support of a bill (LB216) that would provide financial and other assistance for young people transitioning from state care to independent adulthood.
In addition to Medicaid and housing and living assistance, it would provide an advocate to fight for them when they need it, Alder said. 
The biggest obstacles coming out of state custody can be having someone to guide you through those small life decisions such as buying car insurance, knowing what to do when things go wrong, setting up medical  appointments, they said.
When kids in foster care are moving from one home to another, trying to stay emotionally afloat, they don't have the time or energy to focus on learning the skills that will help them as adults, Huxoll said.
"Being in foster care means we've seen firsthand the ugliest sides of life in this world," she said. "But we are survivors. That becomes one of our biggest inspirations for success."
There are too many problems for young people who age out of the foster care system in Nebraska at  19, said Sarah Helvey, with Nebraska Appleseed.
As the state moves forward with reform of its child welfare system, improving the lives of young people who are making the often difficult transition from foster care to independent adulthood is a key part of that, she said.
Approximately 300 people a year would be eligible for the program. It would replace the Former Ward Program, which helps pay for a dorm room or apartment while in college, and certain other living expenses and the possibility of Medicaid coverage to age 21.
State spending on the Former Ward Program was $527,000 in fiscal year 2010-11. About 10 percent of youths who age out of care take advantage of the program, according to the Department of Health and Human Services.
A more comprehensive program of assistance is allowed under the federal Fostering Connections Act of 2008, which would provide for federal matching funds, according to the bill's sponsor, Lincoln Sen. Amanda McGill.
The new program covered in LB216 would be voluntary. It could include Medicaid coverage, housing and education assistance, case management and other services.
A cost analysis by Mainspring Consulting showed the cost to the state would be about $2.8 million in each of the first two years, when voluntary use of the program could be lower, and $4 million in each of the three years after that.
Beginning in 2014, Nebraska would be mandated to provide Medicaid coverage to all youths who age out of the system up to age 26 as a provision of the Affordable Care Act.
A department official said the Mainspring estimate of state spending was a gross underestimate and could result in the program being underfunded and producing a deficit in the children and family services budget. 
Written testimony by Thomas Pristow, director of the division, said the department calculated costs in the 2013-14 fiscal year to be $11.5 million of state general funds. That does not include potential Medicaid funds, he said.
In its calculation, HHS assumed a 50 percent participation rate by former state wards. The program has fewer eligibility restrictions and more benefits than the Former Ward Program, he said.
In addition, Pristow said, the consultant's projections did not include funding for youths who were adopted or were appointed legal guardians after age 16. Those approximately 228 youths would be eligible for the extension of benefits under the bill, he said.
Pristow also tacked on $1.1 million for salaries, benefits and operating costs for administrative and legal staff costs. 
"I remain committed to supporting youth in their efforts to plan for a healthy and successful transition to adulthood," Pristow said in the written testimony.