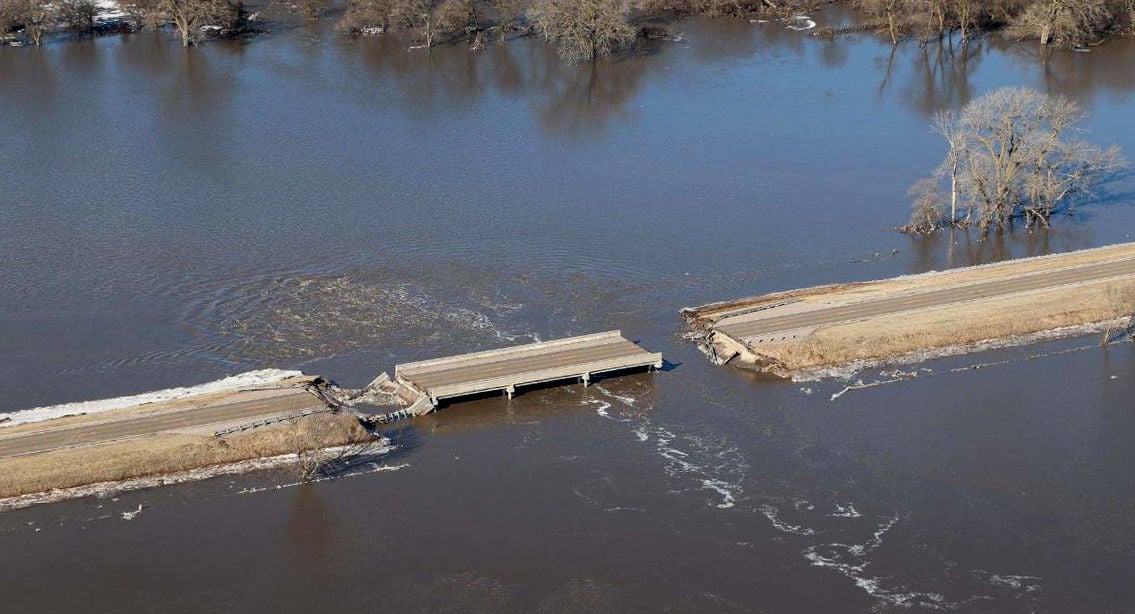 The director of Nebraska's Department of Transportation has had a lot to worry about regarding the effects of the double hit on the state from a blizzard and flooding. 
But Director Kyle Schneweis told the Legislature's Appropriations Committee on Thursday that even with the demands on money, equipment and workers to fix the damage to a minimum of 200 miles of Nebraska roads and 15 bridges known to be in trouble, there are some long-planned projects to which he remains committed. 
At the top of his list is the Lincoln South Beltway project, which has been "a high-wire act for 18 months," he said.
People have been asking for the road, and the department has been trying to get the South Beltway done for 40 years, he said. And it's almost there, with the department set to let bids in December.
"It would be hard to take if we can't get there in December," Schneweis said. "So that's my goal is to get there. … We've almost been there before, and then you don't maybe get another chance. So it's time."
Department spokeswoman Vicki Kramer said any talk of a delay in the project would be premature. In the next two weeks the department will be assessing flooding damage to determine the federal reimbursement cost, then two to three weeks after that officials will have a better idea of cash flow and the timing of federal emergency funding. 
For the work that needs to be done to damaged roads, contractors are in place, Schneweis said. The department is also in touch with suppliers and they are ramping up. 
He told the committee flooding caused the closure of 2,000 miles of Nebraska highways and the blizzard caused another 1,300 miles to shut down. As of Thursday, 290 miles remained closed, and those will take some time to reopen. 
At least eight bridges will need to be replaced, he reported. The approaches to seven bridges are gone. And the department has been unable to get to two bridges, and is using drones to try to see some inaccessible areas.
Schneweis said Nebraska has had flooded roadways in the past, but the scale of this is different.
"Trying to manage so much at one time is one of the challenges," he said. "But we're doing it."
Transportation is taken for granted until the system is closed, he said, and then you realize how hard it is when mobility is restricted, when you need to get doctors to hospitals, emergency and rescue crews to people, and it's just not safe. 
You have free articles remaining.
Usually operation costs for materials and overtime in responding to weather events is around $26 million for the department, he told the committee. But it's been a hard year, and so it was up to $36 million even before last week. 
"We're now making daily inquiries into how much we're spending on overtime," he said.
The department is talking to the Federal Highway Administration about emergency repair work to restore essential travel, which is given in the first 180 days after a disaster occurs and may be reimbursed at 100 percent. It has also asked for $40 million to $50 million in quick release funds, cash rather than reimbursement. 
Major Gen. Daryl Bohac, director of the state Military Department and the Nebraska Emergency Management Agency, told the committee the agency has sufficient resources in its budget to respond to immediate operational demands through June.
It has asked for $3 million to $5 million for next fiscal year, and would work with the committee to refine that number. 
As the floodwaters recede and the snow melts in the Panhandle, and the state begins to fully assess the damage, the agency has initial estimates of $439 million in infrastructure losses, $440 million in crop loss and $400 million in livestock loss.
During his meeting with the Appropriations Committee, Bohac learned President Donald Trump had approved Nebraska's request for federal disaster aid. The state requested 90 percent support for allowable costs, he said. If granted, that would leave the state to pay 5 percent and local governments to pay 5 percent of those costs. 
Lincoln Sen. Anna Wishart asked if there were counties that were so devastated they could not come up with their match, and if there would be other options. Bohac said there are other resources. 
Larry Dix, executive director of the Nebraska Association of County Officials, said a number of county budgets are tight, especially in northeast Nebraska. Three of the counties that will suffer the longest are Nance, Boyd and Knox, he said. 
"We're scratching our heads trying to figure out how do they come up with a match," he said.
Nance County alone has reported $230 million in damage to infrastructure. 
Latest flooding and relief photos, videos