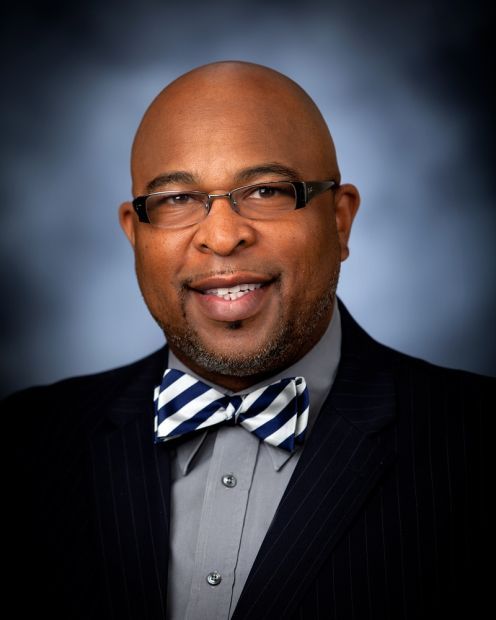 "All that you and I have to concern ourselves with is today," John Leonard Harris is saying into the camera. His eyes are afire. "Some people spend most of their time wringing their hands about things they did in the past or things they have yet to do in the future. What you really can do is what you can do today."
Harris is president of Encouragement Unlimited, a Lincoln-based nonprofit corporation serving the Lincoln community, and he is speaking into his cell phone camera for a segment called "Encouragement Word of the Day," which he posts on YouTube. The video series is one of the many hodgepodge activities of this do-everything community-focused organizer.
If there ever was someone who practices what he preaches – and yes, he is a preacher, too – it is Harris. He exudes the mission of Encouragement Unlimited, an organization that he founded in 2002, predicated on a simple concept: hope. Working with young people at City Impact before starting Encouragement Unlimited, Harris started asking himself a simple question: What do these families really need?
"Often it was just someone to help them navigate," he says, "to help them believe that times were going to get better. It was hope, really."
He started the organization to do anything he could: give away school supplies, start scholarships, help families navigate bureaucracies, get food donations from the Food Bank to needy individuals, all with the idea of being "a constant, persistent person of encouragement in somebody's life."
He also started sending postcards, little bits of inspiration – quotes, scripture verses, notes, "anything that we think will inspire" – and has since sent more than 12,000. His Encouragement Word of the Day videos are like the Internet version of the postcards.
Encouragement Unlimited has also developed a highly successful suit giveaway program, helping men and women looking for jobs to be prepared to make a good first impression. To date, Encouragement Unlimited has given away more than 750 suits.
Whatever he was doing, it was all about mobilizing people and resources: It was about "building an army of people who endeavor daily to make encouraging and inspiring others a way of life," he says. "Not something special or something random, but something intentional."
All along, Harris himself has been motivated by his faith. Originally from St. Louis, he graduated from the University of Missouri before obtaining a master's degree from the University of Nebraska-Lincoln. He worked in UNL administration as a special assistant to the vice chancellor for student affairs, and then at City Impact, before his faith challenged him to do more for the community. It challenged him to "live a different life" than the one he had been living.
"Some people think you should preach first," he says. "I think we should serve first, and offer them service and love them that way. Love them and then lead them, if that's the journey that they're on. Let people see the tangible power of God." For this pastor at Christ Temple Mission Church, Encouragement Unlimited is just another way of showing his faith through his works.
Whatever Harris has done, he has inspired fans. Evelyn Kelly, who owns Total Image, a retail outlet on O Street, has known Harris since his days working at City Impact. He recently gave a "very powerful, inspiring and motivating speech" at a fundraiser for Kelly's mentoring program, Strong Courageous Girls. Kelly jokes that when she grows up, she wants to be just like Harris.
"As a black male in this community," she says, "he is one of my best mentors and role models. The impact he has had on my life has been very positive, very inspirational. There is nothing bad that I can say about him. I have nothing but praises for him."
As he has provided so much help to others, Harris is quick to point out the help he has himself received – from his pseudo-staff, his wife Charlene and their four children. "This probably would not have happened without them," he says.
Although Harris is particularly focused on today – on what can be done right now, this moment, to help someone in need – even he can't help but think a little bit about the past, back to the day he decided to leave his job at the University of Nebraska and start his journey toward helping young people at City Impact and then with Encouragement Unlimited.
"To think I would have stayed at the university and missed this," he says, sighing. "It's unthinkable now. It gives me reason to keep going."