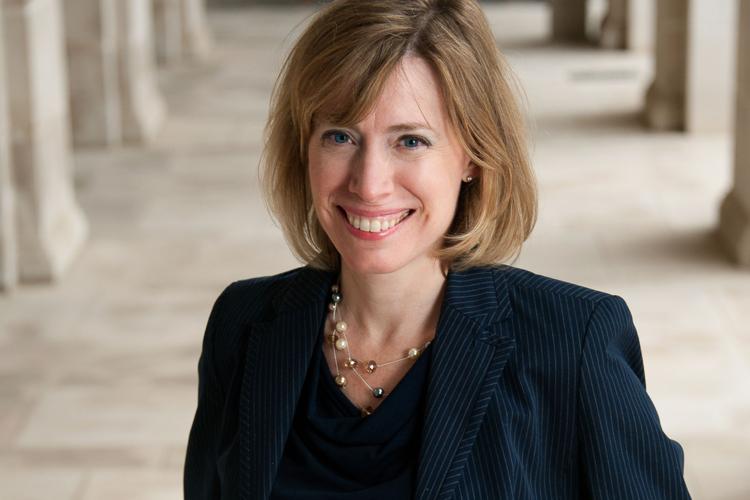 As associate director at the University of Nebraska Public Policy Center since 1998, Shan served as the center's acting director from September 2014-August 2016. She also holds a research associate professorship at UNL, has served on multiple grant review panels and provided strategic facilitation for a wide variety of groups both locally and nationally. • Project manager, UNL Center on Children, Families and the Law, 1995-1998 • Special projects director, UNL College of Business Administration, 1993-1995 • Deputy director, Lincoln Action Program, 1991-1992 • Public information specialist, City of Lincoln, 1990-1991.
Research: Much of her research focuses on technology adoption, interoperability for information sharing between organizations, information and referral, economic and community development, organizational systems and behavior, human services systems, and water and natural resources.
Community Service: Lied Center Grow-A-Show, 2014-present. • UNL Women's Club, 2007-present. • Child Advocacy Center board, 2009-2014. • eHealth Council, Nebraska Information Technology Commission, 2007-2014. • National Human Services Data Consortium board of directors, 2006-2014. • North American Alliance of Information and Referral Systems, 2003-2010. • YWCA board, 1998-2004 (president 2003-2004). • Star City Holiday Parade Board, 1996-1999. • Nebraska Repertory Theater Board, 1995-1999.
Who has inspired you?
I am inspired by people who move from identifying gaps or challenges to deciding how they, personally, will be part of addressing the issue. So many women and men in our community inspire me that I could not list them all. A few people who recently have inspired me are: Barb Bartle, Lincoln Community Foundation president, who has an amazing vision for the power of community-wide collaboration; Leirion Gaylor Baird, Lincoln City councilwoman, who recently spoke at an event and challenged us to make decisions that will lead to living extraordinary lives; Dr. Donde Plowman, executive vice chancellor and chief academic officer, University of Nebraska-Lincoln, whose challenge to "Start Something" really resonates; Dr. Marjorie Kostelnik, University of Nebraska Central Administration, who demonstrates how to combine great intellect with great kindness; Angie Muhleisen, president and CEO of Union Bank and Trust, who runs an amazing organization that also makes significant contributions to the community; and finally my husband, Bryan, who inspires me with his kindness; and my son, Cole, who inspires me with his zest for challenge.
What does leadership mean to you?
Great leaders are those who see what the future should be. Then, they are able to communicate that vision and identify others who endorse it. Great leaders also help others see how their actions help bring that future about.
What is your favorite quote or motto?
"Do all the good you can, by all the means you can, in all the ways you can, in all the places you can, at all the times you can, to all the people you can, as long as ever you can." Though the quote can't be found in his writings, it is a paraphrase of the teachings of John Wesley, the reluctant founder of Methodism. As a lifelong Methodist, I continue to be challenged to live up to this heritage.
How would you describe a great day at work?
When I've learned something new that helps me think about the world in a new and useful way; when what I know has helped someone else think about the world in a new and useful way.
What's the best advice you've ever received, and who gave it to you?
A colleague once counseled me to refuse to carry the burden of what other people think I should be.
What's the highlight of your career (so far)?
I have loved being a part of starting the University of Nebraska Public Policy Center, now almost 20 years old. The center has steadily grown in size and scope. We bring into the state millions of dollars in research funds, but perhaps more important is the work we do in areas that help our local, state and federal governments work effectively. Just some of what we are currently working on: improving the state's behavioral health workforce, assessing citizen views on the use of drones, helping Nebraska's first responders deal with the psychological impacts of their work, tracking data to support the biannual publication of Lincoln Vital Signs, piloting how rural areas may counter violent extremism, supporting Prosper Lincoln's strategic vision, creating a toolkit for regional drought planning, evaluating drug courts, assessing wraparound services and housing for homeless persons, supporting Nebraska's Citizen Corps and Medical Reserve Corps programs, and participating in a new traineeship for UNL students interested in studying resilience and vulnerability in agricultural landscapes. Cool stuff, but the center doesn't do any of it alone. Our strength is the public and private partners across the state and U.S. who work with us and provide expertise and funding to bring the best science and process to public policy challenges. I've been personally gratified by how Lincoln Vital Signs reports have been used by people and organizations throughout Lincoln, and even the state, to better understand where Lincoln stands now in comparison to the past and to other communities. The focus on early childhood, employment skills and innovation through Prosper Lincoln has been a wonderful journey in visioning how everyone plays a role in addressing complex issues.
How have you changed over the course of your career?
I think I have a more realistic perspective of what it takes to make lasting community change: it takes a long time, a lot of people and great commitment. Lincoln is fortunate to have many grassroots and grasstops leaders who understand this!