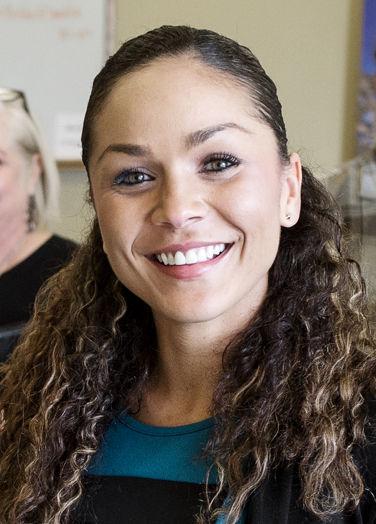 • United States Department of Defense, USAF
• Airman and Family Readiness Manager, 155th ARW
• Board of Directors, NeighborWorks of Lincoln
• Board of Directors, Youth M.O.V.E. National, Vice President
Who has inspired you?
People who have experienced pain yet continue striving forward. They are not only fighting to survive, they are fighting to overcome, and that is so powerful. My experiences growing up in poverty, the foster care system, experiencing domestic violence and other traumatic events have had a significant impact on my life. Hearing the stories of others who have also lived through traumatic experiences drives my desire to make a positive difference in the lives of others and break generational and systemic cycles.
Whom do you hope to inspire?
I hope to inspire people who feel as if they do not have a voice. People who feel that life's circumstances are so dire that they are not sure which way to turn. Helping people find their voice empowers self-discovery and personal transformation that can change the course of a life. When we share our stories, it creates systemic change, moving us toward a stronger and more resilient community that embraces others, regardless of their experiences.
What does leadership mean to you?
Leadership is not a position that is given to you, but one that must be both learned and earned. In the government system, effective leaders direct systems that uphold the common good of the people. They are collaborative and define success based on collective benefit, rather than personal agendas. Leadership means carrying the voice of the people you serve every day and in every decision you make.
What is your favorite quote or motto?
2 Corinthians 12:9-10. It reads: "But He said to me, 'My grace is sufficient for you, for my power is made perfect in weakness.' Therefore I will boast all the more gladly about my weaknesses, so that Christ's power may rest on me. That is why, for Christ's sake, I delight in weaknesses, in insults, in hardships, in persecutions, in difficulties. For when I am weak, then I am strong."
How would you describe a great day at work?
The most rewarding days at work are when I see our efforts positively impact someone's quality of life. They remind me of why I chose the field of human services. Those are the days when someone shares a story of overcoming obstacles and I had a part, whether large or small, in helping shape their journey of resiliency. Many times in human services we do not get to hear how our work has impacted the lives of others, so when we do, it is a big source of encouragement.
What's the best advice you've ever received, and who gave it to you?
That it is OK to fail. My mentor, Lisa Bickert, shared this with me when I was in high school. She empowered me to explore and learn through trial and error, and was always there to help me process "mistakes" and shape them into a learning experience.
What's the highlight of your career (so far)?
My work in becoming part of a legislative bill, and subsequently seeing that bill passed into law. In 2017, LB 417 passed and gave DHHS the statutory authority to set standards for peer support services, training and credentialing. During this time, I also worked with the Division of Medicaid & Long Term Care on a State Plan Amendment that would allow reimbursement under Medicaid for peer support services in Nebraska. Those efforts were also successful. As of July 01, 2017, Medicaid now reimburses peer support services. Getting on the political agenda does not happen overnight; however, the impact it can have in moving a system forward is monumental. These changes, made on the executive and administrative levels, will lead to an increased quality of care for Nebraskans, access to services, cost effectiveness, employment opportunities, a stronger workforce, better health outcomes and people living healthier, happier lives for many years to come.
How have you changed over the course of your career?
I have strengthened my commitment to increasing the time I dedicate to myself and my family. It is important to be protective of that time and to establish boundaries so that emotional and physical well-being remain priorities. Maintaining that balance can be difficult, but when we have a balance, it allows us to be at our best when we are at both home and work.