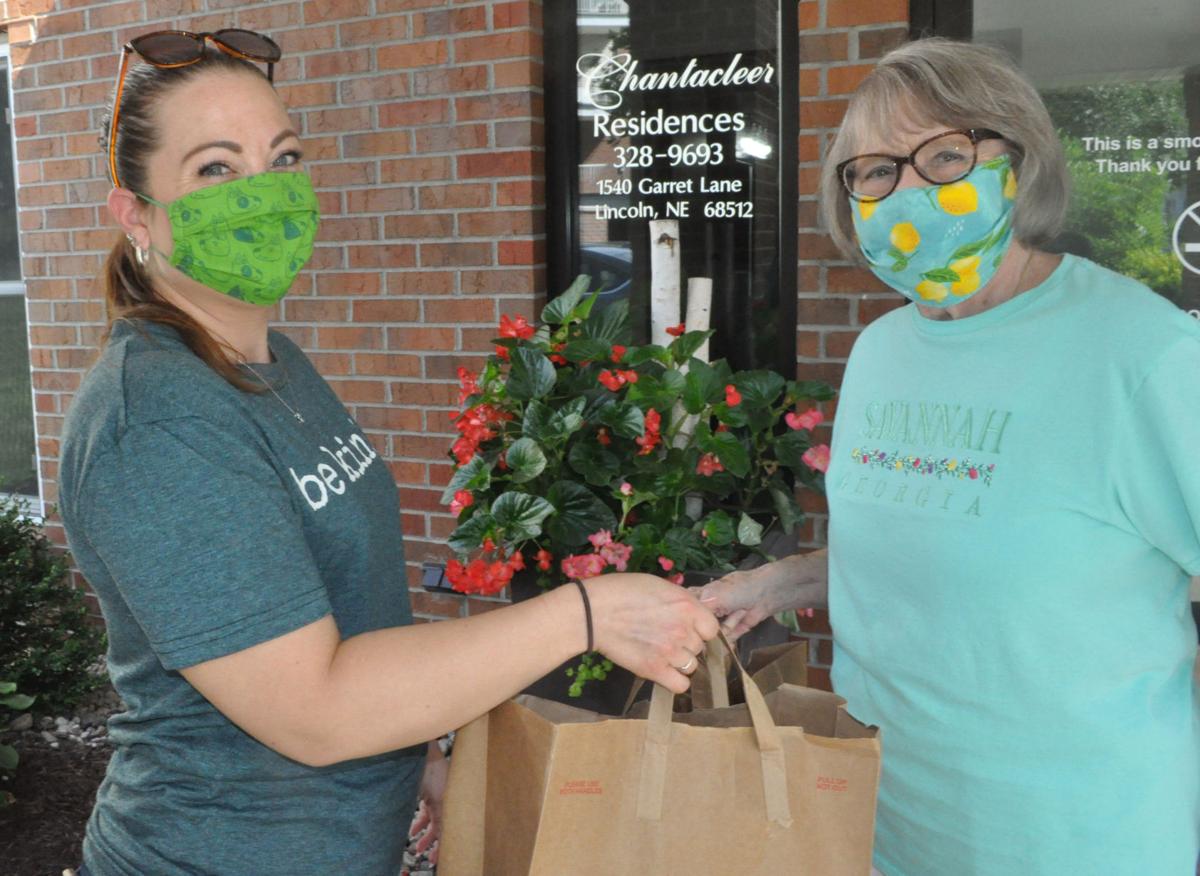 Jill Mickey, 33, loves the positive attitude shared by many seniors her grandfather's age.
Karen Stork, 77, is in relatively good physical condition, but is homebound and seeks additional support.
Last spring, both listened with interest as Lincoln Mayor Leirion Gaylor Baird, and spokespeople for Aging Partners, the Seniors Foundation and ServiceSpace outlined the details of NeighborLNK, a new program designed to facilitate personal connections.
The objective: to link volunteers with seniors (age 60 and over) or persons with disabilities who are homebound and seeking additional support as a result of the COVID-19 crisis. The additional support provided by volunteers may include food or medication pickup, as well as phone or video calls to foster a deeper connection.
About four months after its launching, NeighborLNK had 54 active volunteer/service recipient pairings on the books as of early August, including a pairing that matches Mickey, a legal assistant, and Stork, a retiree who worked nearly 30 years for the University of Nebraska-Lincoln.
Errands, phone chats
"I'm in good shape, for my age, but I have no family here," said Stork, a lifelong Nebraskan. "It's nice to have a caring person such as Jill to run errands for me and for weekly phone chats."
Mickey helps care for her maternal grandfather at his Beatrice home on weekends. She and her mother spend many Saturdays making the out-of-town trips to care for their loved one.
"I love forming connections with people, which is why I was instantly interested when I saw the NeighborLNK opportunity," said Mickey.
Her interest in NeighborLNK grew earlier this year following the death on March 25th of Ruth Dalke -- mother of the best friend of Jill's mom. Jill said the positive attitude exhibited by "Mama Roo" paralleled her grandpa's outlook on life. Jill and her mother included visits with Dalke during their trips to Beatrice.
Volunteers lauded
NeighborLNK officials are grateful for their dedicated volunteers.
"We in Lincoln have the power to reach out and let our seniors and other homebound neighbors know that just because they live alone, they needn't feel alone," Mayor Gaylor Baird said at the time the program was introduced.
Those words hit home with Stork. The timing of her application coincided with Mickey's paperwork. It's a match that has worked very well.
"The program has been very helpful," Stork said recently as she chatted, socially distant, with Mickey after the volunteer delivered groceries to her southwest Lincoln apartment. "I really appreciate volunteers like Jill."
The NeighborLNK program allows face-to-face discussions as long as facial coverings are worn and social distancing is observed.
"I love the fact that the older generation always seems so positive," Mickey observed. "Connecting with Karen has been very rewarding."
Multiple sources
Carol Ulberg, 64, called Aging Partners representative Jean Holt "a sweetheart" for helping steer her in the direction of NeighborLNK.
In her professional role, Holt helps Ulberg with health-related paperwork. Holt also felt that her client checked all the boxes for NeighborLNK assistance, which eventually led to Ulberg's connection with NeighborLNK volunteer Jackie Kehl.
"My husband is on Medicaid; my mother, who's 93, is my only other family member," said Ulberg. "I'm disabled, and my needs are high. I really appreciate the assistance provided by Aging Partners and the NeighborLNK program."
Dual benefits
"NeighborLNK provides a service for seniors in Lincoln to assist them in protecting in place and increasing their safety, while also providing them with a new relationship and increasing their well-being through a friendly call or video chat," said John Croghan, president of the Seniors Foundation Board.
"My hope is that the connections fostered by this program last well beyond COVID-19," added Lincoln City Council member Tammy Ward, a former Seniors Foundation executive director. "Regardless of COVID-19, it's important that we create ties within and between our senior population and the rest of the community."
How to get involved
"We're excited about this program and what it can offer all parties involved in a direct-service relationship," said Aging Partners director Randall Jones.
"This is a great way for us to stay connected and prevent physical isolation from becoming social or emotional isolation. It's also a wonderful way to serve your neighbor in a meaningful and safe manner."
The program is free to volunteers and participants. Volunteers may receive ongoing support from ServiceSpace, a volunteer-run organization that leverages modern technology to support building deep relationships.
Be the first to know
Get local news delivered to your inbox!