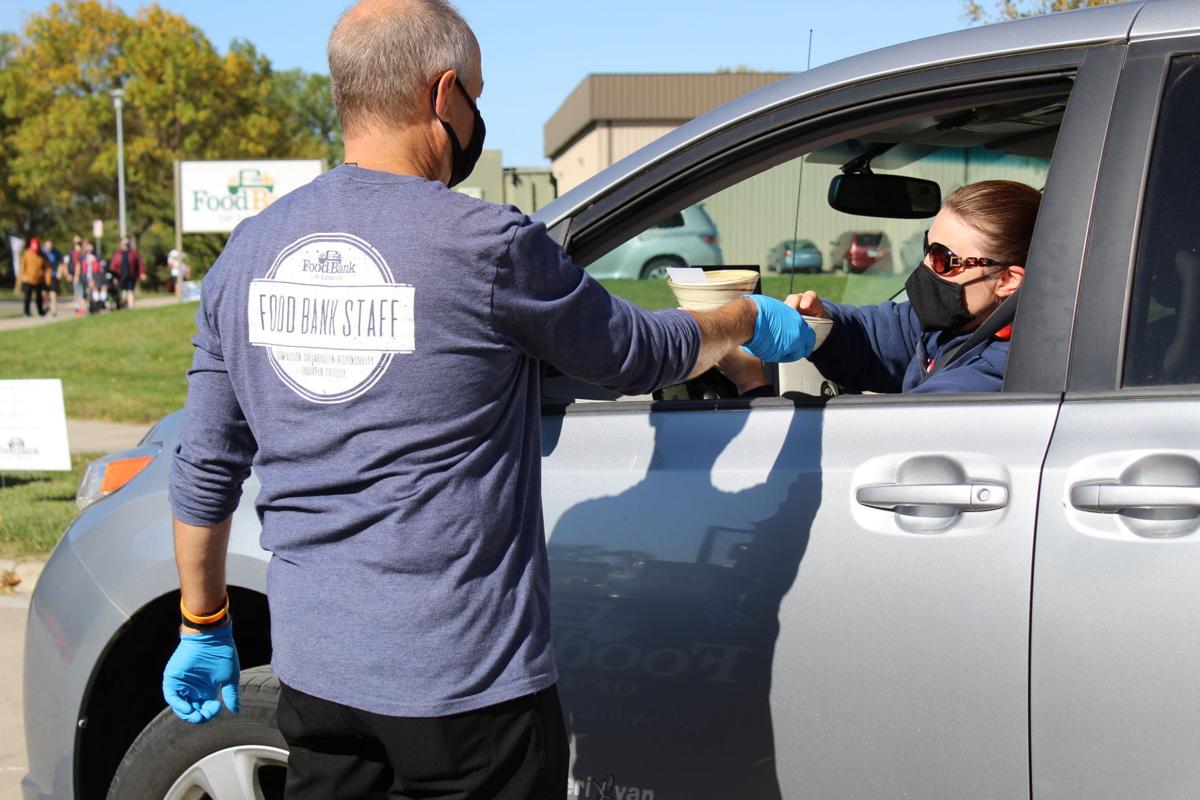 Nearly 400 bowls were distributed at the 18th annual Empty Bowls to Go event Sept. 30 at the Food Bank of Lincoln.
Ticket sales, sponsorships and individual donations combined for more than $64,000, enabling the Food Bank to provide an estimated 192,500 meals to neighbors experiencing hunger in its 16-county service area in Southeast Nebraska.
As a result of the pandemic, this year's event was modified to a drive-through format. Event guests remained in their vehicles as they received a handcrafted bowl from Down Under Pottery and an individually wrapped cookie from The Cookie Company.
In previous years, attendees sampled soups from different local restaurants and voted on their favorites. This year soup was not served, but each guest received a coupon for a free bowl of soup from one of the event's previous award winners in recent years: FireWorks Restaurant (2015), Embassy Suites Bar & Grill (2016 and 2019), Wham Bam Meal in a Pan (2017) and La Paz Mexican Restaurant (2018).
"The Food Bank's Empty Bowls event is a great traditional friend-raiser in our community, and we are glad to have been able to adapt to our pandemic circumstance," said Food Bank of Lincoln Executive Director Scott Young. "Thanks to Down Under Pottery and all our sponsors for once again bringing our community together to connect to the increasingly challenging issue of hunger in southeast Nebraska."
In its 18-year history, the Food Bank estimates the Empty Bowls event has raised $1.2 million, totaling more than 3.6 million meals. Local artist and owner of Down Under Pottery, Kathleen Grossman, along with her students, donated all of the handcrafted bowls for the event. To date, Grossman has donated 14,800 bowls for this event, which serve as a symbol for all the bowls that have been filled and all the bowls that still need to be filled in our community.
The Food Bank of Lincoln thanks the sponsors, organizations and individuals that generously contributed to this year's event.
Since 1982, the Food Bank of Lincoln mission has been to alleviate hunger in southeast Nebraska. Nearly 60,000 people in the Food Bank's 16-county service area are food insecure. Of that number, more than one-third are children. To learn more, visit www.lincolnfoodbank.org.
Be the first to know
Get local news delivered to your inbox!