Boys basketball preseason ratings, 11/29
With the high school basketball season ready to begin, the Journal Star's Ron Powell gives his take on the boys prep basketball ratings. 
CLASS A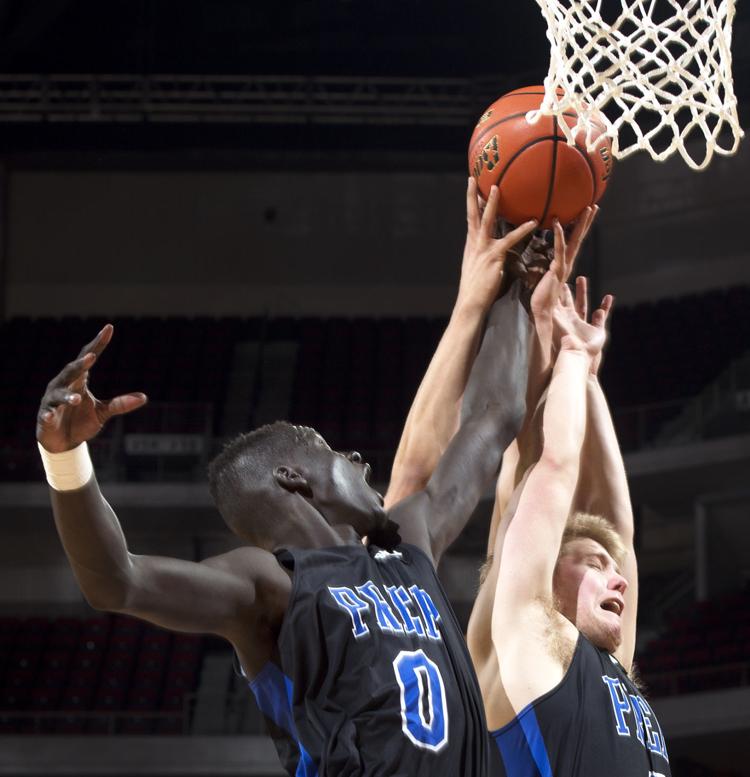 Team ('17-18 record) | RS
1. Bellevue West (20-7) | 3
2. Creighton Prep (26-1) | 2
3. Millard North (12-12) | 4
5. Omaha Central (24-3) | 3
6. Omaha Westside (11-13) | 3
7. Omaha Bryan (20-6) | 3
8. Lincoln North Star (12-13) | 2
9. Lincoln East (24-2) | 1
10. Elkhorn South (12-13) | 1
Contenders: Lincoln Southwest, Omaha Burke, Omaha South, Gretna, Millard West, Papillion-La Vista, Papillion-La Vista South.
Case for No. 1: Bellevue West brings back a number of key players from last year's state runner-up team, including one of the best backcourts in the state in sophomore Chucky Hepburn and senior Nico Felici. Hepburn, a multi-talented point guard, has a Nebraska scholarship offer in hand. The Thunderbirds also have size inside with 6-foot-8 junior John Shanklin, a returning starter, and 6-8 senior Deng Jal.
Prep still a force: Creighton Prep will make a run for a repeat title behind 6-6 Super-Stater and Nebraska recruit Akol Arop and 6-3 senior off-guard Thomas Faber, who missed the last part of last season because of injury. The Junior Jays lost standout senior point guard Jaylin Hunter when his father, Kenya Hunter, left his Nebraska assistant coaching job last spring to take a similar position at Connecticut.
Back from injury: Kearney senior Shiloh Robinson will be playing his first high school basketball this weekend since his sophomore year because of a wrist injury that sidelined him for his entire junior season. The 6-8 Robinson, a Liberty recruit, averaged 13 points and eight rebounds as a sophomore.
Right off the bat: The annual Class A four-team pods to start the season kick things off Thursday with a number of high-powered matchups on opening night — Bellevue West at Kearney, Omaha Bryan at Omaha Central, Lincoln North Star at Omaha Westside and Millard North at Lincoln Southwest.
Akol Arop, Creighton Prep, 6-6, sr., 16.0 (ppg), 9.7 (rpg)
Wes Dreamer*, Lincoln East, 6-6, sr., 22.2, 10.5
* C-2 all-stater at Elmwood-Murdock
CLASS B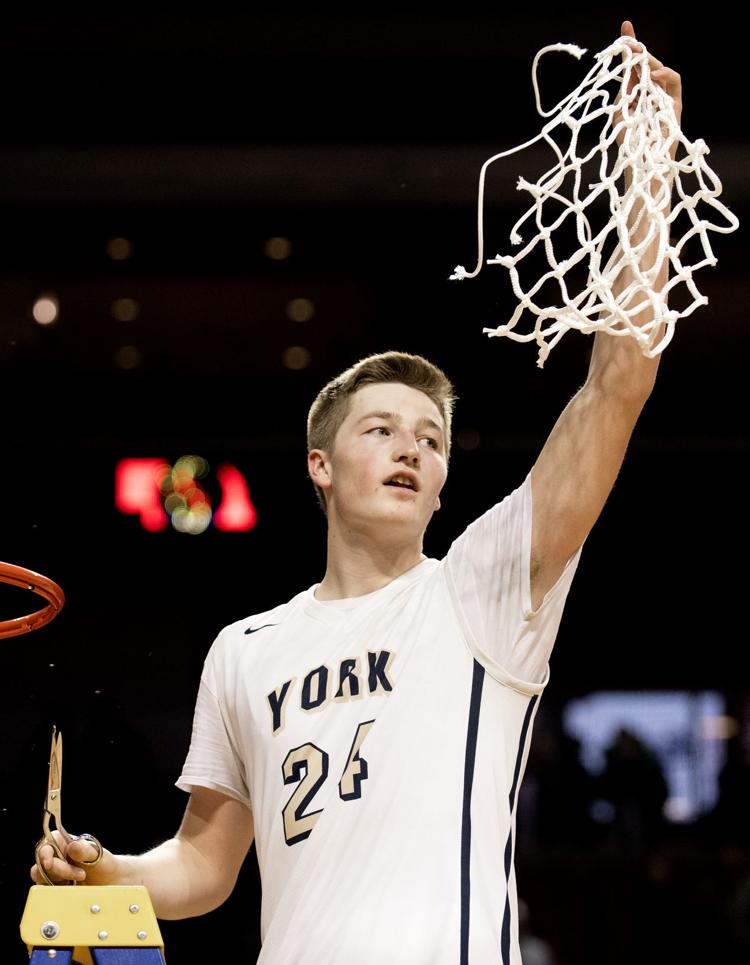 Team ('17-18 record) | RS
1. Omaha Skutt (25-4) | 3
3. Lincoln Pius X (16-9) | 2
7. Omaha Roncalli (19-6) | 4
8. Scottsbluff (18-9) | 2
9. Mount Michael (17-8) | 4
Contenders: Alliance, Lexington, Hastings, Norris.
Case for No. 1: The SkyHawks return three starters from a team that was on the cusp of winning a state title, holding a nine-point lead with just over a minute to play in regulation against eventual champion York in the finals. Junior guard Tyson Gordon and 6-6 senior post TJ Skradski, mainstays on Skutt's football state championship squad, are returning starters for the SkyHawks.
Pius X takes a step back to Class B: Lincoln Pius X is in the Class A scheduling matrix and just moved into the Class A Heartland Athletic Conference this year. But instead of opting up to Class A to fit their new profile, the Thunderbolts elected to stay in Class B where the NSAA placed them this boys basketball season based on their boys enrollment. The Bolts, who have been in Class A the past three seasons, will get two bonus wildcard points for every game they play against Class A schools. Pius X will start the season with at least 40 more wildcard points than the rest of the schools in Class B, who are locked out of the A scheduling matrix. Pius X becomes the first Heartland Conference school to play boys basketball in Class B. Lincoln East was slated to be in Class B in the mid-1990s, but chose to opt up to Class A in every sport.
Football injuries: A broken bone in his lower leg will sideline Nebraska football recruit and York senior Garrett Snodgrass until later in December. Among the four starters back for the defending state champion Dukes is all-state senior guard Brady Danielson, a Northern State commit. Roncalli senior quarterback/guard Jack Dotzler broke his arm earlier this month in a quarterfinal playoff game at Scottsbluff and will miss the beginning of basketball season as well.
Right off the bat: Aurora, fresh off its C-1 state basketball title, will open on the road at C-1 No. 2 Adams Central on Thursday and at C-1 No. 4 Wahoo on Friday. Mount Michael is at Omaha Skutt on Thursday.
Brady Danielson, York, 6-3, sr., 17.0, 5.3
Baylor Scheierman, Aurora, 6-6, sr., 16.1, 6.0
Cooper Prososki, Bennington, 6-2, sr., 16.1, 4.2
CLASS C-1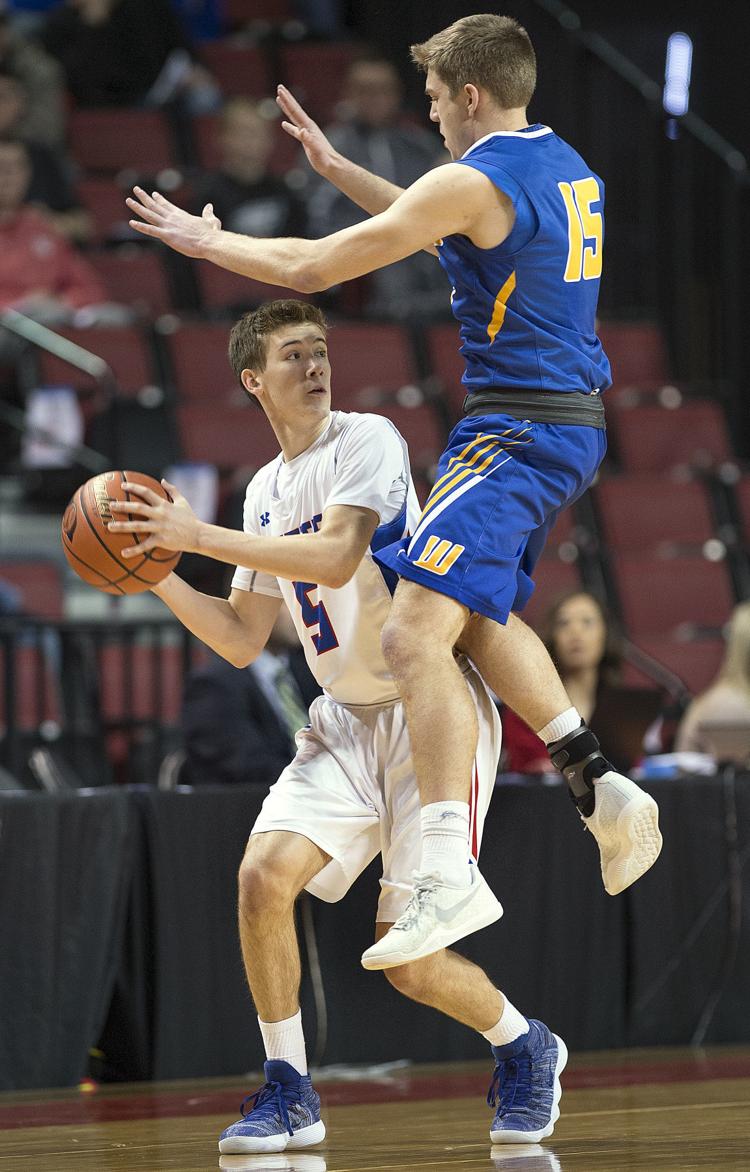 Team ('17-18 record) | RS
1. Lincoln Christian (20-8) | 3
2. Adams Central (15-10) | 4
3. Bishop Neumann (14-10) | 3
5. North Bend Central (22-4) | 4
7. Grand Island CC (20-7) | 3
Contenders: Ogallala, Winnebago, Kearney Catholic, Milford, Broken Bow, Boone Central/Newman Grove, Aquinas, St. Paul.
Case for No. 1: Christian returns two of its main scorers from last year's team that finished third at the state tournament — first-team all-state junior Justin Bubak and senior Caleb Canfield. A tough regular-season schedule should prepare the Crusaders for postseason play in February and March, just like it did last season.
Wahoo still in the mix: The defending state champion Warriors graduated every starter, but they'll reload with Nebraska-Kearney recruit and 6-5 senior Winston Cook, and senior guard Blake Lacey, the younger brother of graduated all-stater Brendan Lacey.
Right off the bat: Wahoo is not easing into the season at all, playing at B No. 4 Bennington on Thursday before returning home to host B No. 6 Aurora on Friday. Lincoln Christian is at C-2 No. 5 Freeman on Saturday before hosting B No. 5 Seward this next Tuesday.
Justin Bubak, Lincoln Christian, 6-5, jr., 16.6, 6.5
Ben Nannen, Syracuse, 6-2, sr., 17.5, 5.6
CLASS C-2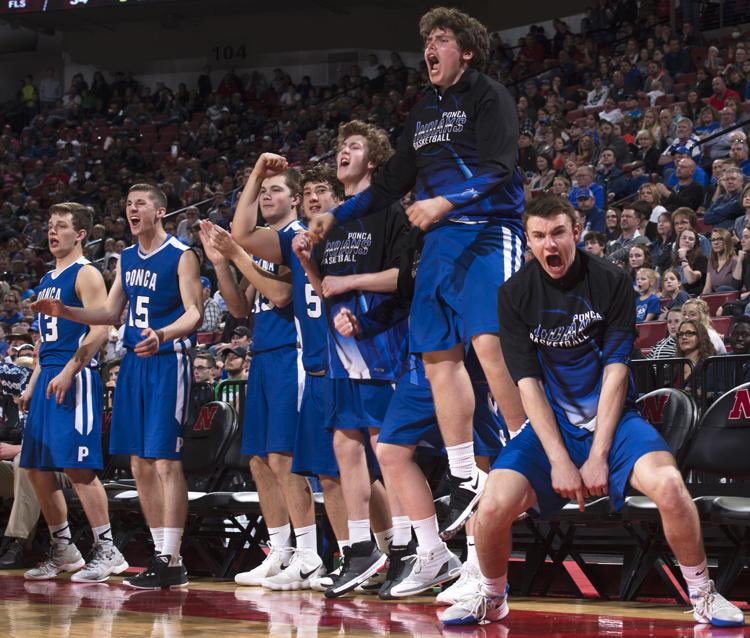 Team ('17-18 record) | RS
7. Hastings SC (24-4) | 1
9. Oakland-Craig (16-10) | 3
10. Laurel-C-C (14-10) | 4
Contenders: Arcadia/Loup City, Hartington Cedar Catholic, Lutheran High Northeast, Omaha Nation, Yutan, South Loup, Cambridge, Wisner-Pilger, Wakefield, Battle Creek.
Case for No. 1: Ponca is the defending two-time state champion and the Indians will remain No. 1 until someone knocks them off. Just one starter returns, but Carter Kingsbury is one of the top players in Class C-2, so he provides a solid base to build on.
Jackson Hirschfeld, Centennial, 6-0, sr., 17.2, 6.3
Noah Schutte, Laurel-C-C, 6-4, jr., 23.0, 11.0
CLASS D-1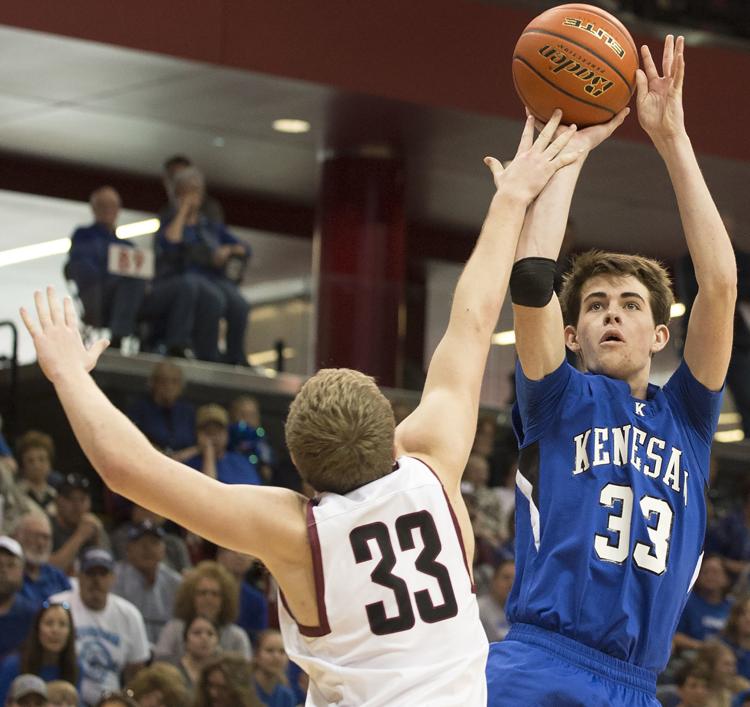 Team ('17-18 record) | RS
3. Archbishop Bergan (11-13) | 3
4. Clearwater-Orchard (16-8) | 4
8. North Central (15-8) | 4
10. Humphrey/LHF (14-11) | 3
Contenders: Deshler, Wilcox-Hildreth, Ansley-Litchfield, Heartland, Arapahoe.
Case for No. 1: The Warriors had just one senior on last year's state tournament team and return all five starters, a group led by junior guards Brandon Rasmussen and TJ Dubas. Inside, Fullerton features 6-foot-4 state track champion Brent Wetovick, who led the Warriors in rebounds, steals and blocked shots a year ago.
Going for four: Three-time defending state champion Lourdes Central Catholic will have a completely different look this season after graduating seven seniors and its six leading scorers from a year ago, including 6-8 all-stater Quinten Vasa. Coach Joe Tynon says, however, that the cupboard is not bare and that the Knights could once again be a contender by the end of the season.
Braden Kizer, Overton, 6-2, sr., 20.6, 7.7
Blake Brewster, Paxton, 6-9, jr., 16.4, 8.1
Sam Mailloux, Pender, 6-5, sr., 16.4, 12.9
CLASS D-2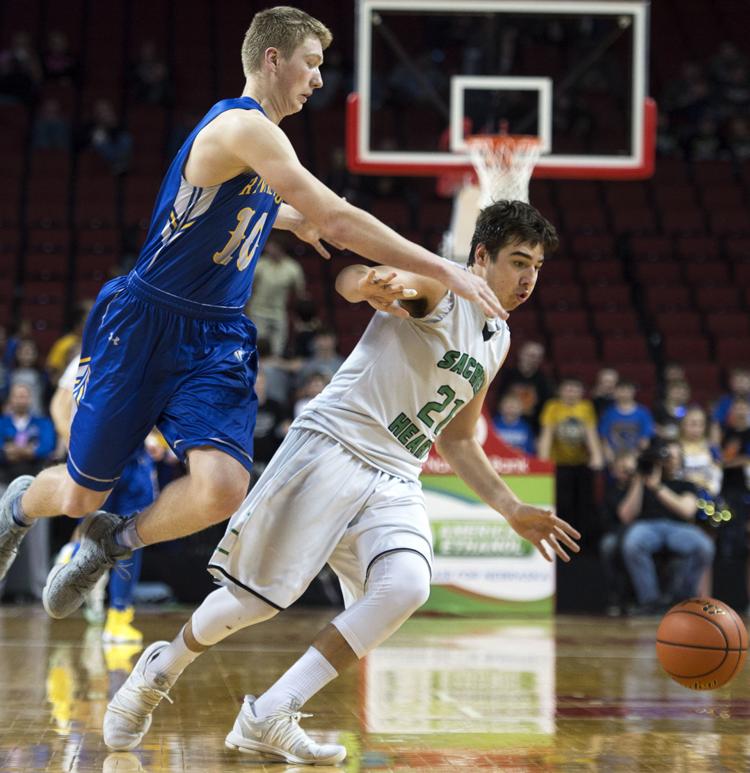 Team ('17-18 record) | RS
1. Johnson-Brock (24-6) | 3
2. Falls City SH (25-3) | 2
5. Humphrey SF (18-8) | 1
7. Parkview Christian (13-10) | 2
Contenders: Exeter-Milligan, Stuart, Hay Springs, Randolph, Giltner.
Case for No. 1: Johnson-Brock, the D-2 state football champion last week, is just as formidable on a basketball court. Junior Ty Hahn is a returning all-stater and sophomore Kaden Glynn (15.4 ppg as a freshman) is another all-state caliber player. Last year's third-leading scorer, senior Cole Fossenbarger (11.4 ppg) is also back. The Eagles took third at last year's Class D-1 state tournament.
Not far behind: Defending state champion Falls City Sacred Heart brings back a pair of all-staters in Drew Bippes and Tyler Witt, as does last year's state runner-up, Riverside, which has Tredyn Prososki and Joseph Bloom returning.
Right off the bat: Riverside hosts Humphrey St. Francis in a matchup of rated teams Dec. 6. This Friday, D-1 No. 5 Overton is at Loomis.
Ty Hahn*, Johnson-Brock, 6-2, sr., 17.0, 5.5
Keaton Timmerman*, Osmond, 6-4, jr., 18.2, 10.5
Drew Bippes, Falls City SH, 6-0, dr., 11.6, 3.8
Tredyn Prososki, Riverside, 5-10, jr., 19.3, 2.3
Joseph Bloom, Riverside, 6-6, dr., 16.5, 8.4
Tyler Witt, Falls Cith SH, 6-1, jr., 12.9, 6.9
Rashad Wood, Parkview Christian, 5-10, dr., 15.1, 3.8
* D-1 all-staters last season