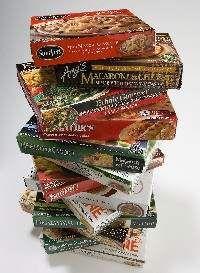 In 1896, 17-year-old Carl A. Swanson borrowed enough money from his sisters to travel from his native Sweden to Omaha. Without knowing a word of English, he began working on a farm near Wahoo, then moved to Omaha, where he continued studying English, business and accounting.
While working in a grocery store, he met John Hjerpe, who sold produce for farmers on a commission, and in 1898 went to work for him. After saving $125, Swanson put his nest egg into a partnership with Hjerpe and Frank Ellison for a net capital of $456.
Although the enterprise was intended to be called the Hjerpe Commission Co., the sign painter accidentally eliminated a letter and the firm was spelled Jerpe from that day forward.
In 1905, the partnership became a corporation with $10,000 in capital and within a decade moved from a commission firm to paying cash for all purchases. With Ellison's death at the beginning of World War I, the corporation assumed his stock and began moving seriously into butter production and, a short time later, into poultry in general. Swanson bought out Hjerpe's interest in 1928 but retained the name Jerpe.
About 1923, Clarence Birdseye developed fast-freezing as a method of not only preserving food but also retaining fresh flavor, which had not worked well with conventional freezing. As the Depression lessened, Jerpe Co. became a distributor for Birdseye, which was purchased by General Foods and inexplicably named Birds Eye.
By the beginning of World War II, Jerpe's had grown to the point where Swanson was known as the "Butter King," one of the four largest creameries in the United States.
During the war, production again was diverted, with the firm becoming one of the largest suppliers of poultry, eggs and powdered eggs to the military. At the end of the war, the firm's name was changed to C.A. Swanson & Sons, its major brands being called "Swanson Ever Fresh."
With Carl Swanson's death in 1949, management was assumed by sons Gilbert and Clarke, who had been apprenticing for the position for some time. A year later, after considerable experimentation with crust recipes, the company introduced a frozen chicken pot pie using some of Birdseye's techniques.
Although some of the story of frozen dinners may be apocryphal, it is simply too good not to repeat. Two ill-fated versions of the idea, the Frigi-Dinner and One-Eye Eskimo, already had been attempted. Then an overpurchase of 500,000 pounds —-- 10 refrigerated boxcars -- of turkeys— sent the Swansons scrambling for a solution. One of the less probable versions of the incident said that the only way the boxcar refrigeration worked was when the cars were in motion, which necessitated their constant movement from Omaha to the east, then back.
Back in Omaha, Gerry Thomas discarded the previous metal trays and perfected an aluminum compartmentalized container with turkey, cornbread dressing and peas, which could be retailed for 98 cents. Because the box design resembled a rectangular television screen, the product was dubbed the TV Dinner. Unsure of the salability, 5,000 were produced and instantly sold in the first year, 1952. The second year, mashed potatoes and cranberry sauce were added and an astounding 10,000,000 were sold. Not resting on the success of the TV Dinner, 1953 also saw the Swansons as one of the nation's largest margarine producers.
Despite their success in butter and margarine, both products were discontinued in 1954 to allow the company to concentrate on its main items of canned chicken fricassee, boned chicken and turkey, frozen chickens, drumsticks, chicken pot pies and TV Dinners. In April 1955, Swanson merged its more than 4,000 employees and 20 plants with the Campbell Soup Co., which ultimately dropped the famous TV Dinner label, thinking it limited their market.
Still generically thought of as TV dinners, the frozen dinner joins butter brickle ice cream, raisin bran and maybe even the Reuben sandwich as an Omaha original.
Historian Jim McKee, who still writes with a fountain pen, invites comments or questions. Write in care of the Journal Star or e-mail jim@leebooksellers.com.