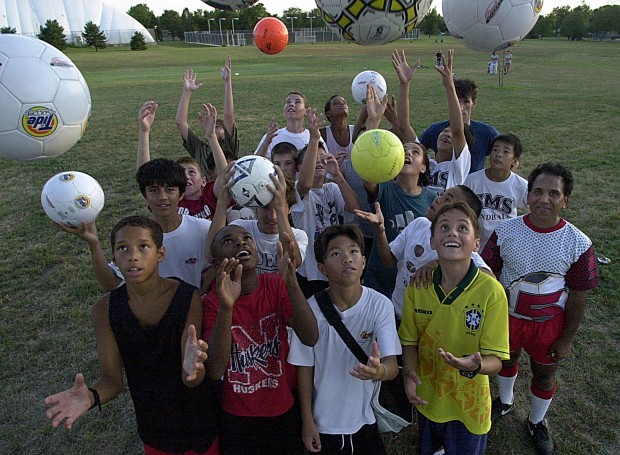 Joseph Rafique has traveled to many lands. As a missionary, a student, a tourist.
But it is here, in Lincoln, Nebraska — thousands of miles from his native Pakistan, thousands of miles from Egypt, India, Japan, Sri Lanka, Germany, Italy, the Philippines — that the priest in the Mar Thoma Orthodox church has discovered the world.
School has started and night falls sooner than it did just a few weeks ago, bringing with it cooler evenings and open-window nights. Still, it's unusually warm for late August, and by 7 p.m., Father Joseph's brow is beaded with sweat as he runs a makeshift soccer field at Woods Park.
"Men, draw back 10 yards," the coach yells to his players, a dozen or more boys dressed in T-shirts and shinguards, scattered in the grass.
The boys — mostly middle school students — take a few running steps back. "Ten! Ten! Ten!" the coach commands. "Spread out."
"Badum! Asmir!" he yells. "Hurry up!"
Badum Maaloo. Asmir Hurko. Phuc Ninh. Zach Squires. Genesis Sy. Malic Ahmic. Josh Heiliger. Omar Montoya. James Evans ...
They are named for a team he once played for in Pakistan, says Rafique, a small, powerfully built man who can outrun most of his players. In soccer, he explains, 11 players take the field at a time. Hence the 11.
"I tell them again and again, 'We are all brothers,'" the coach says.
"We are all one. We respect each other. We love each other as brothers."
The Brothers 11 are in their second season of YMCA Lincoln Spirit Club soccer under Father Joseph's direction.
"He does a nice, nice job," says Doug Kasparek, the YMCA's outreach director. "He's just so good with kids."
One afternoon a week Rafique assists Kasparek at the YMCA Youth Academy, a program that helps students with academic and behavioral troubles.
The priest talks to the children about honesty, respect, responsibility, integrity.
And twice a week he runs a multicultural after-school program with the help of United Methodist Ministries, bringing in college students to help children with schoolwork, serving snacks, playing games.
The purpose, he said, is greater than phonics or subtraction.
"It is to overcome the cultural barriers, the racial barriers. To become friends with each other."
Four years ago, shortly after Rafique came to Lincoln with his wife, Nosheen, to serve as a missionary with the Mar Thoma Orthodox church, the priest began coaching soccer. He coached a third-grade girls team. A team of middle school boys.
But his dream was to field a multicultural team, a team to mirror the melting pot Lincoln was becoming, a team that would not only learn to make corner kicks and headers, but would foster friendships and understanding.
"I want to give them a chance" the coach says. "To give them some positive activities. ... 'Look,' I tell them, 'This is the land of opportunity.'"
He found some of his players at the Youth Academy. Others came over from his middle school team. Still others by word of mouth, by watching the many-hued players work together and asking: "Can I play, too?"
Today the Brothers 11 are Nigerian, Bosnian, Vietnamese, American. They are middle-schoolers who once lived in Sudan, Afghanistan, Kosovo, Mexico, Cambodia. They speak Spanish, English, Arabic, Serbo-Croatian. They worship God and Allah. Some have seen war, lived in refugee camps, been persecuted by their neighbors, their own governments.
Some have been sheltered in suburbs.
Some have never known need. Some have known nothing but.
And they all love soccer.
Friday, an hour before the Brothers 11 faced the Lions at 5:15 on Field 2 at YMCA Spirit Park, a group of players gather at Elliot Elementary School, several miles away. Before each game Father Joseph drives a battered but reliable Dodge van to the school to pick up players who can't otherwise make it to the park.
He also visits parents, organizes team dinners, helps secure donations for players who don't have the money for registration, jerseys or shinguards.
Later this night he will strip down to his undershirt, handing over a Tommy Hilfiger polo shirt to his goalie, who has forgotten to bring a jersey of his own.
"He's cool," says Phuc Ninh, who arrives with his little brother, Minh, for a lift to the game. "He teaches us a lot of stuff about soccer and how we should behave."
"He helps us when we need help," says James Obari who waits, too, along with Shuhrat Popal, one of several older boys whom Father Joseph allows to practice with the Brothers.
The boys talk soccer and watch Minh, an 8-year-old Houdini in oversized soccer shorts, breakdance on the sidewalk. In a few minutes Father Joseph pulls to the curb.
"Hi, men," he says, stopping to pat Minh on the cheek.
"My future player," he says. "He's fast as a bullet."
"I'm better," says Phuc, not content to have his showoff younger sibling steal all the attention.
"Better at everything?" responds his coach.
The nimble-footed soccer forward pauses. "No," he says.
"A good example for your brother?" asks Father Joseph before running inside the school to search for a missing player, a remark both question and statement.
This is how it works with Father Joseph. He teaches the fundamentals: How to guard the goal, when to pass, how to dribble. And in the midst of it all he doesn't let them forget the larger goal.
That they are brothers. That they are all brothers.
At the field most of the players have forgotten the red jerseys they need when they are the home team.
Father Joseph scolds them gently, then passes out spare shirts.
The boys laugh together, kicking balls back and forth, comparing goals from the first week, arguing whether they won 7-0 or 8-0.
Josh Heiliger takes a piggyback ride on Badum Maaloo's shoulders and they tumble to the grass.
Josh played for Father Joseph last year. When the coach formed the Brothers, he asked Josh to join. He and Badum have become fast friends.
"It has probably been the best experience for Josh," his mother, Joni, says. "Before we did this he took everything for granted."
Having enough money for shinguards and balls. Having a parent with a car who could drive him to the games.
"Father Joseph is really trying to teach them skills. ... He has a very big heart."
The priest talks about a book, "The Marriage of East & West," written by a British monk in India.
"I'm so convinced this marriage is taking place right in our town," he says. "People from all over the world are coming here — East and West, north and south."
That is the genesis of this soccer team, he says.
"Helping kids grow in love and respect for each other and each other's culture, faith and race.
"I want this marriage to work."
Soccer, he says, is just the medium.
In the end, Brothers 11 win 7-2
"Don't look to score," the coach tells his players as they begin to dominate. "Practice dribbling."
On the way home James Obari and Arber Selimi wrestle in the back seat — the defender from Nigeria, the midfielder from Kosovo — having fun the way boys sometimes do, by playfully punching each other.
"I was loving it," the coach says a few days later.
"In my heart I was laughing."
Be the first to know
Get local news delivered to your inbox!