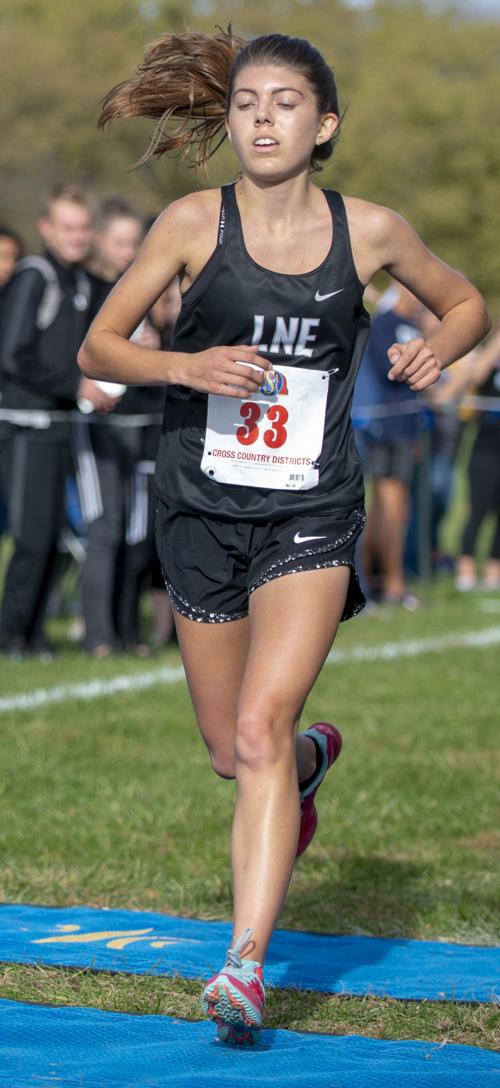 John Snoozy is a high school teacher and coach, but the students at Lincoln Northeast educated him about something recently.
The students said Lincoln Northeast senior Hannah Ray was the G-O-A-T when it comes to girls cross country runners at the school.
Snoozy didn't know what the students meant at the time, but as soon as he did he agreed.
"Why are you calling Hannah a goat?" Snoozy said. "And they go, 'Greatest of all time.' I said, 'Oh, yeah, she's a G-O-A-T.' She owns every distance record we have. For us, she's our greatest girls distance runner."
Ray is putting the finishing touches on a great career in the sport, and it got even better when she won the A-4 district meet Thursday at Pioneers Park.
That's her second win of the season and the fourth of her career. She dominated the field, winning in 19 minutes, 7 seconds for a 34-second victory.
There was another district meet on the same course Thursday, and it had some of the best runners in the state from Papillion-La Vista South. But Ray would have won that district, too, with the winning time for that district being 19:16.
Four years ago, Ray decided to run cross country because she says she wasn't skilled at any other sports, and it's turned out to be a good decision.
"I just never found myself good at other sports, and I was like, 'I'll just try running,' because my mom wanted me to stay active," Ray said.
Ray didn't find immediate success, though. At the start of her first season, her time in the 3.1-mile cross country races was about 24 minutes and she wouldn't finish in the top 30. But she improved quickly, and finished 15th at state as a freshman.
She's qualified for state all four years, with a best finish of sixth last year.
Ray has earned a medal at every meet for the past three years. Her best race this season prior to Thursday was at the Lincoln Public Schools championship when she placed second. Lincoln East is the No. 1 ranked team in the state with several great runners, but only one East runner beat Ray that day.
Ray also placed third at the city meet as a junior, and has been a source of pride of the program.
"It's really cool because Northeast isn't the best in athletics, so to be a representative of Northeast and put a good light on the school, it's really nice," Ray said.
Since she was a sophomore Ray has trained with the Northeast boys team so she could be pushed in practice. She's usually at about the same level as the No. 5 runner on the boys team.
"They're really supportive," said Ray of the boys. "You would think they would not want a girl to beat them, but they're actually really supportive."
Rays also excels in the school and ranks sixth in her class. She plans to attend UNL and may continue to run in college. She plans to study biology and go into the medical field.
The top three teams and 15 individuals from each district qualify for the state meet. Ray was the only girl from a Lincoln school to qualify as a team or individual from the A-4 district. Elkhorn, Millard West and Kearney were the team qualifiers in the girls race.
Adam Murphy from Millard West won the boys race in 16:25 and led the Wildcats to the team title. Omaha Burke and Elkhorn South also qualified for state.
Be the first to know
Get local news delivered to your inbox!