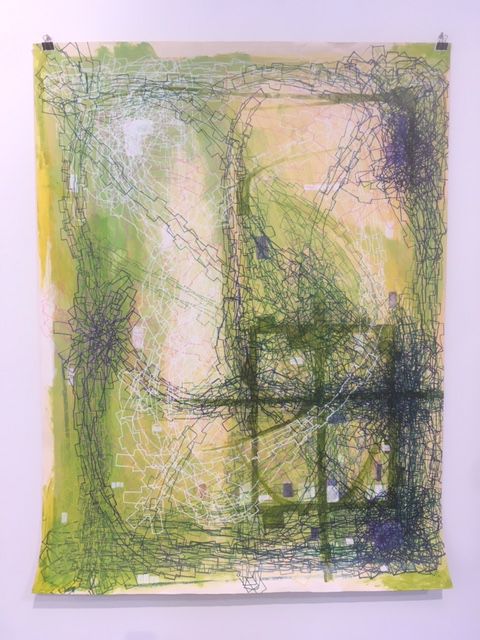 A punk rock ethos pervades "Texas Extravagant Drawing" at Fiendish Plots.
Some of that is rooted with the artists themselves -- the most famous of the bunch, Mark Flood got his start in the '80s experimental punk band Culturcide (it's first single: "Consider Museums as Concentration Camps"), while Emilio Mittry is a punk rock bass player today.
Other works, like the "Match" and "Burn" drawings of Rachel Hecker -- "you might think of this as the Amy Winehouse of drawings," said exhibition curator Bill Arning -- embody something of punk's "destroy everything" nature.
That's the intent of Arning, a veteran of the New York late '70s avantgarde music/art No Wave scene and the former director of the Museum of Contemporary Art Houston, who put together the show of works on paper from, with a couple exceptions, Houston artists.
"Art making and art viewing should be something parents worry about, the same way they worry when their kids going to see a hardcore show," Arning said. "Art should be dangerous, in my opinion. It should make someone uncomfortable. It should be like 'do I really want to sign up for this?'
"In my years in not-for-profit I always had to make the argument that art was good for you. But it's not really my basic nature. My basic nature is it should be good for you the way like having a banana split is good for you. It should be taken with care and in moderation. The artists in the show pretty much feel the same way. Their ideology is very much the same."
The show of artists age 23 to their early 60s contains a pair of "Domino Drawings" inspired by old men playing dominos in a park done by MacArthur "genius" award winning artist Rick Lowe and drawings of the cat of stand-up comic Bob Morrissey.
Each is presented tacked to the wall, with no labels of any kind -- another extension of the no stars, everyone can do it punk ethos.
"The shows about a certain leveling and about granting people the right to express their creativity in any form," Arning said.
One of the best examples of the latter is a series of small untitled word drawings from Flood that together
"These little Mark Flood diagrams of the art world is just the way his mind works," Arning said. "He's constantly looking at this stuff. Whether or not these are great art objects -- if you were going to buy a Mark Flood for a museum collection, I would not say get these. But this is definitely a way of thinking about the world. And I like that way of thinking."
Not all the drawings are tossed off, rough or disturbing.
One example -- "Face to Face," a sharpie on Tyvex diptych of actor Steve McQueen looking at one of his female co-star, by Laura Lark is cool and beautiful.
Even the show's most poetic works, say David Kelly's "Letters from the Sea," a set of near-invisible minimally marked, lightly colored drawings touch on the punk ethos as they reference the hallucinatory light effect that comes with meditation or, here's the punk part, drugs.
Punk, however, disappears in one aspect of the exhibition -- the price list. Lowe's drawings go for a cool $18,000 each. Or you can get one of Tod Bailey's colorful, clever, expressionistic India ink on card stock pieces for $200.
That's a measure of the art world, where art and artists are judged via monetary value. But it's not remotely important to "Texas Extravagant Drawing" where the art is presented through a raw, unflinching, revealing punk lens and is all the better for it.