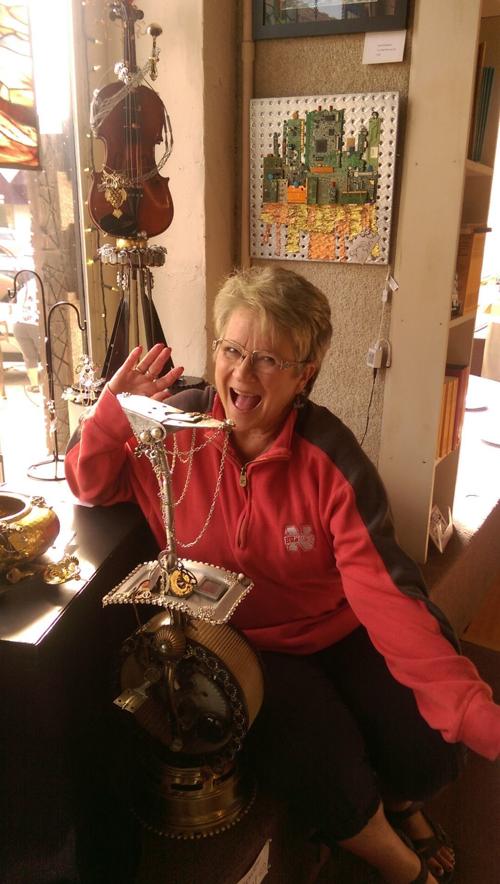 Noyes Art Gallery artists will host their second October event highlighting repurposing from 6-9 p.m. Friday, Oct. 18 at 119 S. Ninth St.
You have free articles remaining.
Organized by Sharon Sykes, whose steampunk creations re-envision objects as works of art, the Third Friday show includes work by: Kris Rosenow (photography), Kevin Baker (painting and sculpture), Lori French (stained glass), Ashley Stevens (photography), Marilyn Schulter (textiles), Lynette Fast (jewelry and mixed media), and Lois Oliver (watercolor).
Come see how these artists transform unique materials and viewpoints to create new objects of beauty. From Sykes' imaginative reinvention of spoons and teapots (among other things) into anthropomorphic characters to Kevin Baker's discovery of figures in scraps of wood to Marilyn Schulter's transformation of fabric scraps into wall art, this show may change how you look at the world.
It's the perfect complement to the October Focus Gallery exhibit, also organized by Sykes. That show includes work by: Roger Richters (photography), Grace Martin (art and spiritual poetry), Beth Gardner (abstract acrylics), Stefanie Goforth (wrapped jewelry), Robin Hesselgesser (abstract painting), Tim Peterson (contemporary jewelry), Peggy Alloway (acrylic painting), Carolyn Mason (recycled mixed media), Kris Rosenow (photography) and John Lawton (metal work).