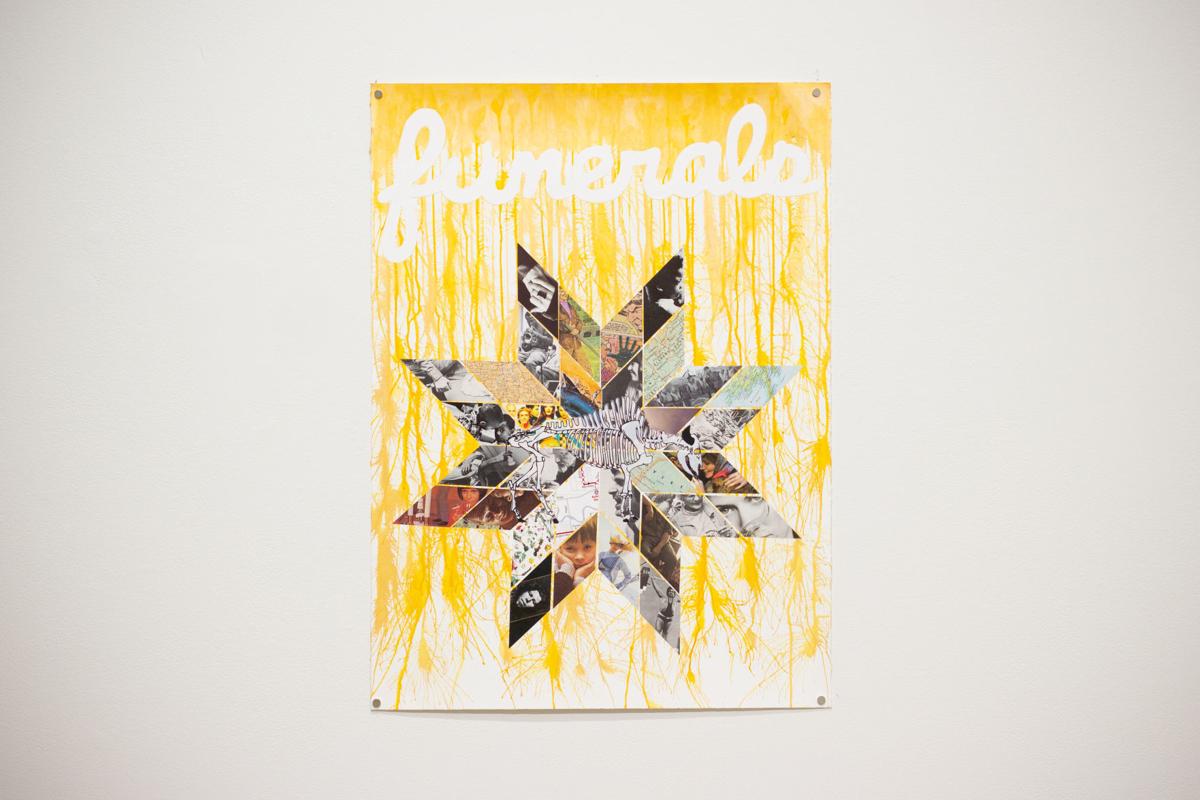 An abstracted mixed-media buffalo with elongated legs, pierced with arrows, dripping blood, it's hide emblazoned with a combination of letters and numbers stands in the center of the Lux Center for the Arts west gallery.
It is titled "Tribal I.D. Number" by South Dakota-based Oglala Sioux artist Micheal Two Bulls.
By its size and positioning, it is the centerpiece of "Dementia Americana," a collaborative exhibition by three Native artists who use media from ceramics to silkscreens to examine, in the words of the show's statement, "the chronic disorder of memory, personality changes and impaired reasoning of American culture and its interpretation of history."
Unpacked a bit, that means the exhibition is about the clash between the contemporary and ancient, between stereotype and historical reality, between popular culture and the traditional — all of which can be seen in single pieces or multiples.
A row of Joseph Cornell-style shadow boxes, for example, is aligned on one wall. Each of the boxes has a printed image on its glass front piece. Inside are various objects, primarily created out of ceramics rather than found, or photographs printed on the back of the box.
Some, by Marty Two Bulls Jr., have ceramic beer bottles surrounded by flowers inside with images of, in the case of "Carrion," a dinosaur on the glass — a commentary on destruction and extinction.
Others, jointly created by Two Bulls Jr. and Two Bulls, put stereotypical popular culture images, like a fringed outfit clad Caucasian-looking dancing woman with her hand over her mouth, a cowboy and Indian doing battle on horseback or Mount Rushmore over vintage photos of Native warriors. That conflict is hard to miss — or misunderstand.
For me, the exhibition's most interesting, innovative and provocative piece is "Neither Good Nor Bad Medicine," a collaboration between Two Bulls Jr and Cannupa Hanska Luger.
Created from an old metal medicine cabinet, the piece has a buffalo skull image on its glass. On the top shelf inside is a pile of empty fired brass cartridges. On the bottom is the piece that gives the show its name, a pile of ceramic cigarette butts, created by New Mexico-based, North Dakota-raised Luger. Again the commentary on death and destruction can't be missed.
Luger also contributes the show's other notable sculptural element — a ceramic, sheep skin covered buffalo skull with star-spangled horns and a star for an eye. Its title: "Old Dominion."
Another wall is covered with silk screen prints. The most powerful of those — Two Bulls' "Kiksuya (Remember)" has "1890" in its center, an upside down church on the top, an old small cemetery on the bottom.
It's subject — easily identifiable for those with a little Native historical knowledge — is Wounded Knee, the massacre on the Pine Ridge that was the final clash between federal troops and the Sioux. But, importantly, also the site of an American Indian Movement takeover in 1973 to protest reservation conditions.
Other prints, like "Graduation" juxtapose a skeleton over collaged pictures of graduates, families and war images, arranged into a traditional star pattern by Two Bulls Jr. That pattern continues into the exhibition's other suite of works — a series of ceramic milk jugs, some shot through with bullet holes, each covered with a star.
"Dementia Americana" makes no attempt to explain or resolve the clashes it exposes. Nor does it assert a cohesive view of 21st century indigeneity.
But it raises both the classes and indigeneity through serious contemporary art rather than the common sloganeering, propagandizing views, winding up aesthetically and thematically thought provoking and effective.