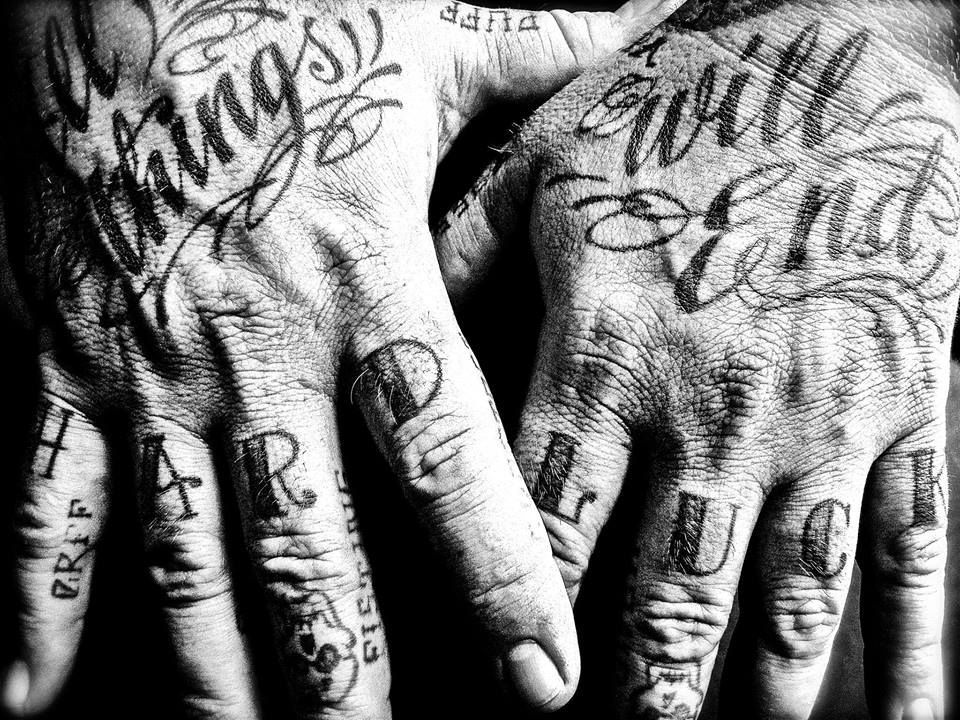 The photographs of Sam Herron are gritty portraits of those often overlooked -- the homeless, street people and outsiders who live on the fringes and rarely are treated with respect or dignity.
Herron, however, finds strength and distinction in each of the subjects of the 15 large-scale photographs tacked to the walls of Iron Tail Gallery, giving each an evocative, poetic title that puts a contextualizing spin on the image.
So a color picture of a man wearing a black leather jacket over an Omaha Nighthawks T-shirt standing in front of a junk shop becomes "The future is uncertain but the end is always near" and, two spots over, a younger, heavily tattooed man in distorted red and blue gets titled "Kiss me with your eyes."
"America, why are you libraries full of tears," a photo of a man holding up a coffee table book to show an American flag, his eyes just seen over the top of the book, is a powerful image on first glance, raising implicit questions about the treatment of all Americans. But the title gives it additional punch.
For me, the two most striking photographs in "Midnight in a Perfect World" are each perfectly titled.
"Love yourself and your expression; you can't go wrong," a color photo of a breakdancer about to start spinning on his head is the most dynamic image in the bunch.
"Knowledge without mileage equals bull----," a black-and-white picture of a biker with a bushy beard, leaning over the gas tank of his Harley is the most evocative of the portraits.
That said, each of the images has a story to tell, or, together with the title, a point to make -- for example, "America this is quite serious" is a black-and-white photo of a man in clown makeup wearing a striped shirt, but certainly not a performer from a circus or a kid's birthday party.
Only one of the photographs, which were largely taken in Omaha, contains a woman. She's wearing a captain's hat, playing a ukulele while seated next to a man with a tattooed face in "It's a wicked life, but what the hell, the stars ain't falling down."
Two of the most evocative photographs in "Midnight in a Perfect World" are black-and-white images of tattooed hands. In "Candor disarms paranoia," the tattoos on the knuckles read "HOLD FAST."
In "Luck was fine and well, but I didn't need it. I had a plan," the knuckles read "HARD LUCK" with "All Things" and "Will End" on the left and right hands, respectively.
Herron's photographs are, in a sense, documentary. But they're not journalism. Rather they reach for something deeper and revealing in their subject matter and treatment whether in stark black-and-white or saturated color.
That puts the focus not only on the largely unseen, who Herron captures through the lens, but on the qualities of the image itself -- the photograph as an art object. And Herron's technique is as impressively effective as the depictions in the pictures.