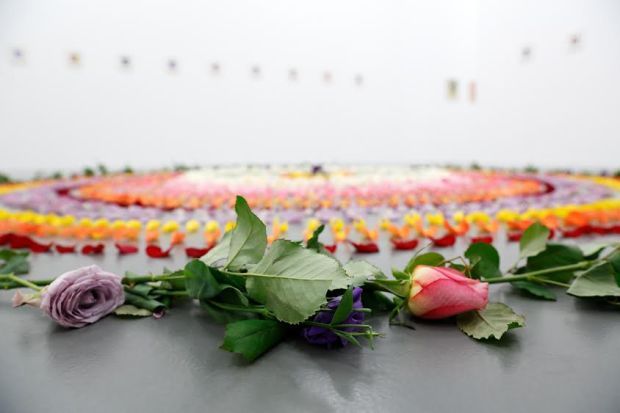 Chrysanne Stathacos will use rose petals to create a mandala Saturday afternoon at Fiendish Plots, the west Lincoln contemporary art exhibition space run by artists Charley Friedman and Nancy Friedemann.
"The Double Helix Rose Mandala," which Stathacos, a New York/Toronto artist, will construct during the 5 to 8 p.m. opening, is one of three parts of her installation "Flower Power." The parts are titled "The Aura Project: Flowers of self" and "Poems (of three Poets)."
"Her installation of the piece is a performance," Friedman said. "It's going to be a flower petal mandala. She'll be making it during the opening. She's never done a double helix before. It should be gorgeous."
Stathacos creates the mandala by pulling roses apart, petal by petal, then circling colored mirrors with them, allowing the petals to dry over time while the rose scent fills the gallery space.
"The Aura Project" is a series of portraits Stathacos has taken with a "biofeedback camera" during her travels around the world. "Poems (of three Poets)" is a process of applying ink directly onto roses then using the petals to "print" on towel linens that are transformed into scrolls.
Stathacos has presented more than 25 interactive public art projects, installations and exhibitions in Asia, Europe and North America, including "The Wish Machine, presented by Creative Time at Grand Central Station in New York City and The Power Plant Contemporary Art Gallery, Toronto. Recently, her work was included in the groundbreaking exhibition "The Temptation of AA Bronson" at The Witte de With Center for Contemporary Art in Rotterdam, The Netherlands.
Stathacos is the second artist to have an exhibition at Fiendish Plots, which opened last year. Her installation will be on view through May 18.
Fiendish Plots is at 2130 Magnum Circle, which is near S.W. 20th and West O streets. After Saturday's opening, the space will be open from 11 a.m. to 4 p.m. on weekends or by appointment by calling 917-348-3331 or 646-247-3361.
Jonathan F. Walz appointed Sheldon curator
Jonathan F. Walz, a Central Florida Americanist art historian, has been appointed to a one-year term as curator of American art at the Sheldon Museum of Art.
Walz is currently co-curator of the traveling exhibition "This Is a Portrait If I Say So: Reimaging Representation in American Art: 1912 to the Present," which opens at the Bowdoin College Museum of Art in 2016.
As curator of the Cornell Fine Arts Museum at Rollins College in Winter Park, Fla., Walz received the school's 2012 President's Award for Diversity and Inclusion.
Walz's appointment was made by Sheldon Interim Director Christin Mamiya. A search for a new full-time director to replace Jorge Daniel Veneciano will be conducted by the University of Nebraska-Lincoln this year.
Walz's appointment fills the position left open at Sheldon by last year's departure of curator of transnational American art Brandon Ruud.
This week, Ruud was named curator of American and decorative arts at the Milwaukee Art Museum. Ruud was at Sheldon from 2010 to November, and he organized exhibitions from the museum's collection and authored edited publications based on those exhibitions, including catalogs of photography and painting.