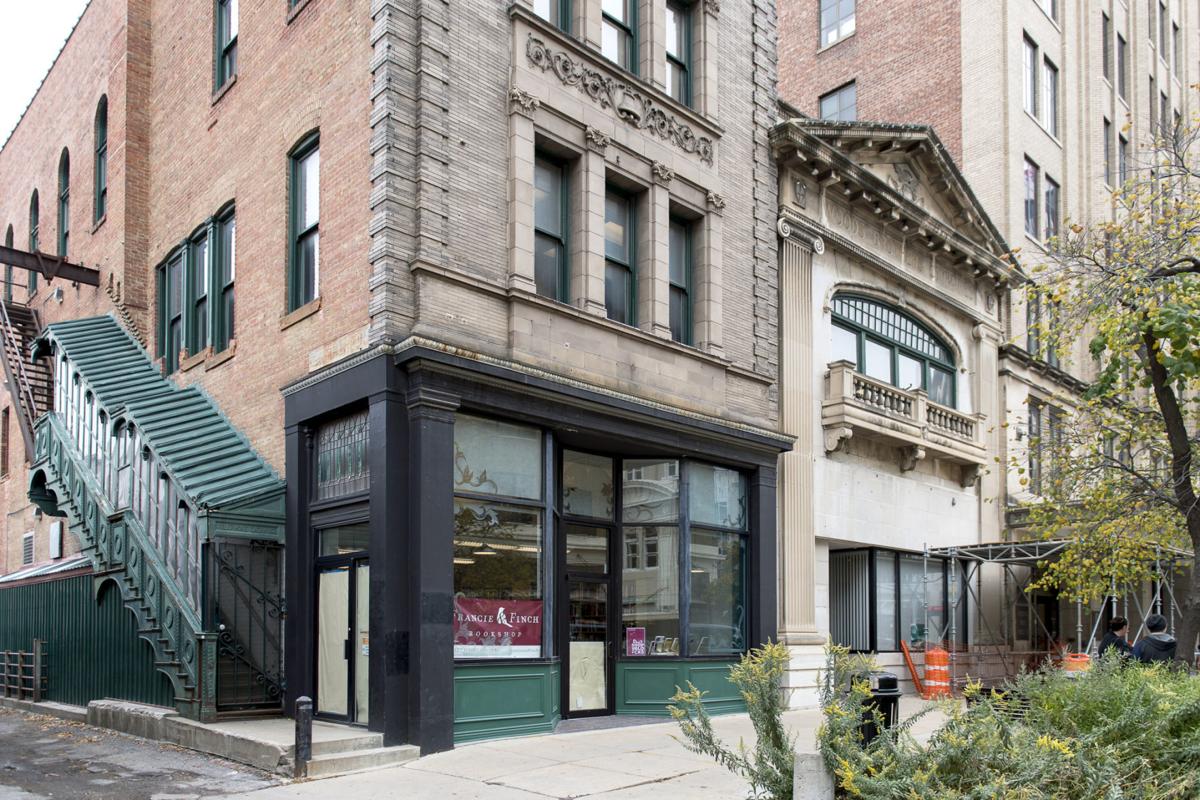 Openings
All receptions take place Friday unless otherwise listed
Burkholder Project — "Landscape Geometrics," paintings by Tim Timken; also "Hammer, rolling mill, saw and torch," by Pam King, (Main gallery); "Circle of Many," group show by associated Burkholder artists, (Outback gallery); New works by Elisa Benn, (Skylight gallery); "Acrylic Pour: A Study in the Magic of the Flow," by Julia Kappenman, (Special exhibit). Reception: 5:30-8 p.m., 719 P St.
Burlington Antique Mall — Featuring Dean Settle's Wall of Vintage Art. Hours of operation: 6-9 p.m., 201 N. 7th St.
Chapin Studios and Gallery — Featuring Mike Melbye, Tracy Moul, Diane Reiber and James Stephenson. Reception: 5-9 p.m., 110 S. 14th St.
Code Beer — Featuring Nika George, watercolors. Reception: 6-9 p.m., 200 S. Antelope Valley Parkway.
Cornhusker Marriott —"First Friday Demo at the Cornhusker," featuring the fourth artist in residence, Wendy Jane Bantam, hosting a live demonstration with ink and paper. Reception: 4-6 p.m., first level of the hotel, 333 S. 13th St.
Constellation Studios — Featuring "Light Prints: Cyanotypes," by Erin Cross, Matel Rokke and Toan Vuong. Exploring the natural intersection of prints and photography as a means to record outside information. Reception: 6-8 p.m., 2055 O St.
Crescent Moon — Scott Snirl, jazz guitarist, 8 p.m.; Joshua Redwine, featured artist. Hours of operation: 7 a.m.-11 p.m. Mondays-Saturdays; 9 a.m.-9 p.m. Sundays, 140 N. 8th St.
Eisentrager-Howard Gallery: School of Art History and Design — Lincoln Collects: The Steve Wake Collection," curated by Gallery Director Patricia Davis, the exhibition highlights work from the private collection of local collector Steve Wake. The mediums represented in the exhibition are contemporary studio glass, ceramics and sculpture. Reception: 5-7 p.m. (first floor), Richards Hall, Stadium Drive and T streets.
Francie & Finch Bookshop — Featuring Chuck Shroeder, grounded in respect for people and places whose character can provide guidance and inspiration for generations to come; live music, Prairie Psycho; special guest singer Ingrid Gessert. Reception: 5:30-7:30 p.m., 130 S. 13th St.
Free Standing Building: College of Architecture — "Make Nothing," hosted by UNL College of Archictecture, Reception: 6-8 p.m., 1302 T St.
Gallery 9 — Featuring Judith Andre, (kiln formed glass); Brook Taylor, (metal sculpture); and Larry Schwisow, (wood). Reception: 6:30-9 p.m., 124 S. Ninth St.
Great Plains Art Museum — "Recent Acquisitions: Highlights from the Great Plains Art Museum Permanent Collection." This exhibition highlights the generosity of the museum's donors by featuring artwork that has entered the permanent collection in recent years. Reception: 5-7 p.m., 1155 Q St.
Indigo Bridge Books & Cafe — Featuring the Lincoln High Photography students, showcasing their work.; UNL Masters of English will perform live readings. Reception: 6-9 p.m., 701 P St.
Kiechel Fine Art — Francisco Souto Solo Exhibition: Diaspora. A dispersion of people from their original homeland (first floor); Regionalists featuring Dale Nichols, Grant Wood, Thomas Hart Benton, John Steuart Curry and Roger Medearis. Additional works by Wolf Kahn, Pablo Picasso and more (second floor); Chad M. Olsen, Keith Jacobshagen, Wendy Jane Bantam, Jenny Kruger, Dan Howard, Hal Haloun, Deborah Murphy and more (third floor); Cash bar and hors d'oeuvres provided by Dish restaurant. Reception: 6-9 p.m., 1208 O St.
International Quilt Museum — Join the International Quilt Museum for "Traces in Cloth, Ideas and Development," 5:30 p.m. Lecture: Speaker is artist Diana Harrison, free admission; Also, members of Mourning Hope are going to be in attendance for the Mourning Hope Exhibition, currently showing in the Beavers Terrace Gallery. Mourning Hope provides support groups, community education, grief resources and referrals to grieving children, teens, young adults and their families when someone significant in their lives has a serious illness, or has died. Reception: 4-7 p.m, 1523 N. 33rd St.
Lux Center for the Arts — Jewelry Exhibition curated by Sydney Lynch and Katelyn Farneth, Sydney Lynch Jewelry is made by hand in Lincoln. Sydney's name is on each piece, however the business is made of a talented crew of metalsmiths. She created the designs, and the team worked to produce the collection until 2019 when Sydney retired her designer line. Reception: 5 p.m., 2601 N. 48th St.
Meadowlark Coffee & Espresso — Featured artwork on display during the hours of operation: 6 a.m.-11 p.m., 1624 South St.
You have free articles remaining.
Metro Gallery — Featuring Jen Landis, modern paintings. Reception: 3-7 p.m., 1316 N St.
Nebraska Club — Featuring Ben Darling, classic Western Nebraska landscapes, a variety of sky and a dance with the horizon. Reception: 5-7 p.m., main dining room, 233 S 13th St., Suite 2000.
Noyes Art Gallery — Curated by Lynette Fast, featuring artists Heather Ilisko-Duckers, Dana Clements, Taylor Wilson, Isabelle Engel, Jocelyn Reiss, Hope McCulley, Davyd Kokhanets; Special guests Union College water color students of Julia Noyres, in the Gold Room, 5-9 p.m. Reception: 6-9 p.m., 119 S. Ninth St.
Sheldon Museum of Art — Enjoy light refreshments, socialize, and wander the galleries, free admission. Current exhibitions including "Unquiet Harmony: The Subject of Displacement"; "In Conversation: Black: Convergence on Paper: Printmaking and Photography from Piranesi to Pop"; "Intersecting Identities"; "Sheldon Treasures." Reception: 5-7 p.m., 12th and R streets.
Storm Cellar — 5 p.m.-2 a.m. Art show and live art demos; 7:30 p.m. comedy show; 9:30 p.m.-12:30 a.m., live music, 3233 S. 13th St.
St. Mark's on Campus — Quilts on display including works by connie Backus Yoder; Native American quilter Ethlylene ; Wounded Shield quilts by Wilma Daddario; Cuddle Quilts, Quilts of Valor, Fiber Works, Lincoln Modern Quilt Guild, vintage and antique quilts, Reception: 4-6 p.m., 1309 R St. 
Tugboat Gallery — "Beneath the Skin," featuring Amanda Durig and Kyle Nobles, collaborative effort of two Printmaking friends that investigates organic containment using plant life, lawn chairs and garbage bins; live music with DJ Ol' Moanin. Reception: 7-10 p.m., 116 N. 14th St., above Gomez Art Supply, entrance to elevator is at 1410 O St.
Other Openings and events
Artists on the Edge and Writer's Workshop Artwalk / South of Downtown Community Development Organization: 2 locations — 6-8 p.m. Nov. 8. Free event featuring artwork from Artists on the Edge and the Writer's Workshop, South of Downtown Arthub, 1247 S. 11th St. (location one): 5-8 p.m. Pop-up Kitchen Jujus Vegan Cajun and Creole Cuisine; 7 p.m. Live music with Spitfire Fiddle Band; Pepe's Bistro, 1311 S. 11th St. (location two): 5-8 p.m. Pepe's Bistro will be serving Mexican vegan and vegetarian food for purchase, art on display by local artist Erin Butcher, live music with Root Marm Chicken Farm Jug Band. Lincolnsouthdowntown.org.
Foundry — Nov. 8. Reception: 5-7 p.m. "Cognitive Mash Up," busy works and bright colors, Collages by Lori Thomas and paintings by Jared Floodman, (third floor), 211 N. 14th St. (Elevator entrance is at 1410 O St.)
Red Deer Studio — Sculpture, mixed media and photography, by Christian Torres, Receptions: 3-6 p.m. Nov. 2 and Nov. 3, 2947 T St.
St. Mark's on Campus Episcopal Church — Nov. 2. Reception: 11-3 p.m. 11:30 a.m. Live music, Blueberry Boys; 1 p.m. Vicky Skuodas of Cuddle Quilts will offer a talk about their organization and quilts for infants they create; Reception: Nov. 3. Noon-3 p.m.; 2 p.m. Connie Backus Yoder is presenting a free workshop on quilt block design and spirituality, $5 raffle tickets for Cancer Fighter quilt raffle, proceeds benefiting Making Strides Against Breast Cancer, 1309 R St.
Ongoing Exhibitions
County City Exhibition gallery — "People, Places and Things," Paint on paper and mixed media, by Jeanie Michelle Krejci. Hours of operation: 8 a.m.-5 p.m., 555 S. 10th St.
Lincoln Art Company — Gallery specializes in 20th and 21st Century American Art, the current show features Dale Nichols, oil paintings, drawings and prints; Gladys Lux, screen prints; Robert Weaver, drawings and prints. Hours of operation: 10 a.m.-6 p.m. Friday; 10 a.m.-3 p.m. Saturday, 4706 S. 48th St.
Nebraska Weslyan Elder Gallery — "Drawing Fire," an exhibition of drawings by former firefighter Marlene Mueller. The exhibit continues through November 10. Hours of operation: 10 a.m.-4 p.m., Tuesday-Friday; 1-4 p.m. Saturday-Sunday, located in the Rogers Center for Fine Arts, 51st and Huntington Ave.
Nebraska History Museum —"Votes for Women": Nebraska's Suffrage Story, through Jan. 2021; "Nebraska Unwrapped: Selections from the Collections," through 2020; "Take Our Picture: Sod House Portraits," by Solomon Butcher, though June 1, 2020; "Photographers and the Plains Indians," through 202: History Learning Center, ongoing adventure led by Docents, discover the cowboy life and early Pioneer life of the early Nebraskans. Hours of operation: 10 a.m.-5:30 p.m. Monday-Friday; 1-5:30 p.m. Saturday, 131 Centennial Mall North. History.nebraska.gov.
Nearby
Museum of Nebraska Art — Current Exhibitions: Nebraska Now: David Gracie, "A Light That Casts No Shadow," East Coast native David Gracie creates intimate paintings of everyday scenes or objects such as the night sky or tufts of grass in addition to an occasional portrait, these seemingly disparate subjects speak to an overarching theme of the abstractness of human experience. Gracie is an Associate Professor of Art at Nebraska Wesleyan University in Lincoln. Exhibit runs through January 12, 2020; The Lundeen's: A Divine Collaboration, through Feb. 2020; Compelled to Tell: Contrast, thorough Feb. 2020; Threaded, through Feb. 2020; Opening: Nov. 20. Reception: 2 p.m. David Wells, "Christmas in Wartime." Hours of operation: 10 a.m.-5 p.m. Tuesday-Saturday; Noon-5 p.m. Sunday, 2401 Central Ave., Kearney. Mona.unk.edu or 308-865-8559.
Roberta and Bob Rogers Gallery — Fine Craft in America, through Nov. 2. Featuring fine crafts by nine Midwest makers including Lincoln artists Linda Stephen, origami, paper; Allison Borgschulte, fiber, glass. The exhibit is a part of the nationwide event celebrating American Craft Week. Hours of Operation: Wednesday-Saturday 10 a.m.-6 p.m., 1806 Vinton St. Omaha. Rbrg.com or 402-496-4797.