Through the years, Lincoln has had residents who came to town for a short time but who would impact the Lincoln landscape for a long time. Ohio native Ellis Luis Burman was one such person.
Due to sinus congestion, Ellis had to get out of Chicago. His wife's family lived in Nebraska, so they moved to Lincoln in the 1930s. This move, which happened decades ago, did impact this community. Ellis Burman sculpted several noteworthy projects that are still impacting Lincoln today.
His first featured sculpture was commissioned by the Lincoln Woman's Club. Club members requested a statue to represent the pioneer women who bravely settled the west. The Pioneer Woman statue is located beneath a pavilion near 33rd Street and Sheridan Boulevard.
Burman's other Lincoln sculptures were commissioned on a national level. During the time of the Great Depression (or "Great Headache" as it was called in one newspaper article), the government tried to help artists survive by hiring these men and women to complete public art projects. The acronyms changed a bit (WPA or Works Project Administration, FERA or Federal Emergency Relief Administration, CWA or Civil Works Administration), but the result was the same. Cities across the country were beautified.
Burman's first project involved meticulous research. He wanted to connect Lincoln to the Native Americans who would have once called the area home. He began to study this people group to make his statue as accurate as possible.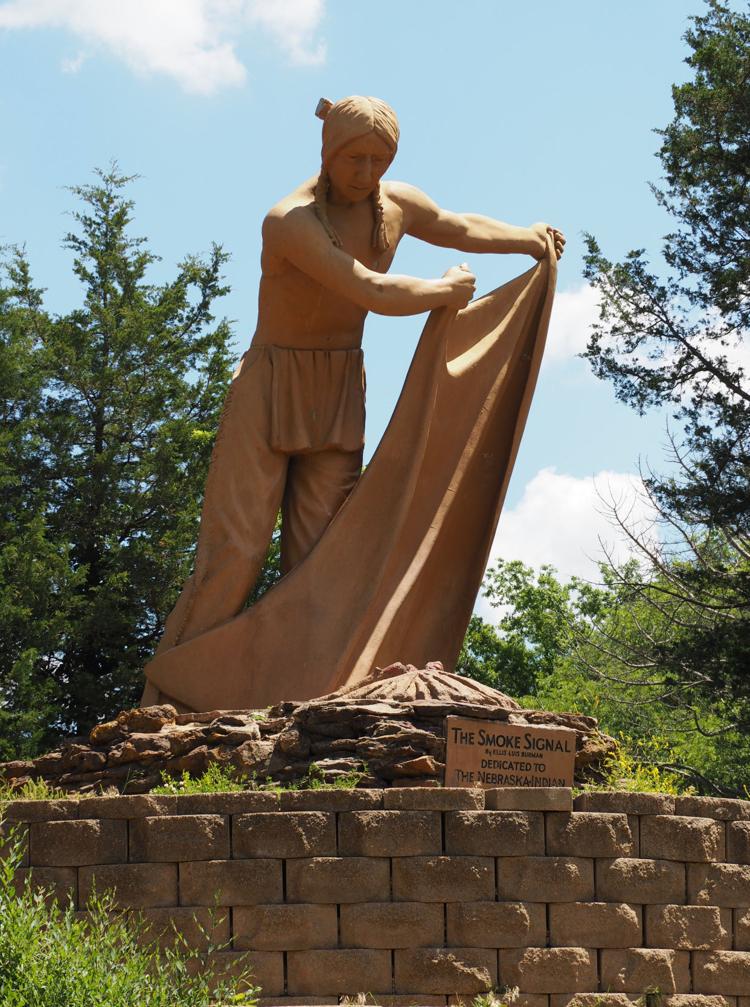 The Smoke Signal sculpture was positioned to purposefully face away from the city of Lincoln. Set up on a hill in Pioneers Park, the 15-foot-tall chief is waving a blanket over a fire. Burman even studied the symbolism behind the smoke signals. This chief is showing disdain toward the arrival of the white man.
His work was completed in such a respectful way that local Native American tribes attended the dedication ceremony. Over 100 people from the Sioux, Ponca, Winnebago and Omaha tribes came for the September 1935 dedication. Many arrived on horseback, and many camped at the site.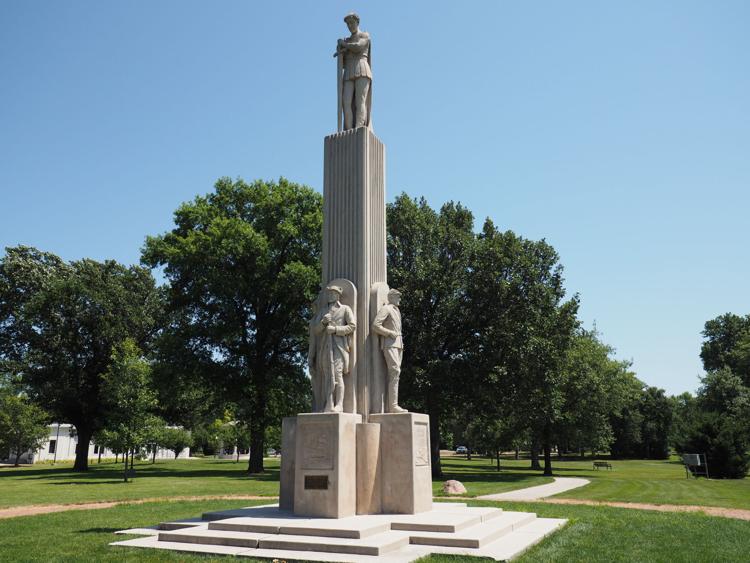 Burman's next sculpture honors veterans. War and Victory rises over 30 feet over Antelope Park. This statue is different than many soldier monuments. Crushed marble, similar in sturdiness to limestone, was used for the materials. He had estimated 11 months to complete the project.
Four soldiers circle the base of the statue and represent the four major wars of the United States: The Revolutionary War, Civil War, Spanish-American War and World War 1. Each one is shown in a typical uniform from that time period. Soldiers from Nebraska fought in the last three conflicts. To achieve authenticity, Burman had three models wear uniforms. For the Revolutionary War, he had to use pictures since a uniform was not accessible. The figure at the top represents victory.
The focus was also distinct. In 1936, Burman was interviewed around the time of the statue's completion. His vision was to celebrate peace and acknowledge the complexities of war. At this point, this was the largest sculpture that the WPA had commissioned.
Around this time, Burman completed a smaller statue that he entitled Rebekah at the Well. This sculpted woman was based on the biblical story and was proudly displayed in the Sunken Gardens. Unfortunately, this piece did not survive weathering and had to be removed in 2004. The following year, a modern sculpture in similar style was created by David Young and put up in its place. A plaque in the garden shows a picture of the original.
One other way that Burman contributed to Lincoln was as part of a temporary display. Back in 1935, Burman was in charge of creating costumes for Lincoln's second holiday Storyland parade. Newspaper pictures from the time show elaborate costumes. Papier-mache clay masks were constructed in grand form. Sixteen-foot-high figures were created to represent both the King and Queen of Hearts as well as Mother Goose.
Sometime in 1937, Burman and his family left Lincoln. Perhaps his time in the Capital City influenced his future, as he went on to pursue stage art. He moved to Hollywood, where he became a popular movie prop master. He created masks for movies and shows such as "Planet of the Apes," "Phantom of the Opera," "The Wolfman" and other productions.
12 iconic Lincoln signs and statues
Gretchen M. Garrison has been writing her blog, Odyssey Through Nebraska, since 2013. She is the author of three books: "Detour Nebraska: Historical Destinations and Natural Wonders," "A History Lover's Guide to Lincoln" and "100 Things to Do in Lincoln Before You Die." To write this article, various sources were consulted. These are available upon request at odysseythroughnebraska@gmail.com.
Stay up-to-date on what's happening
Receive the latest in local entertainment news in your inbox weekly!