Dinsmore's 'A Poetry of Painting' is a massive showcase for one of Nebraska's finest painters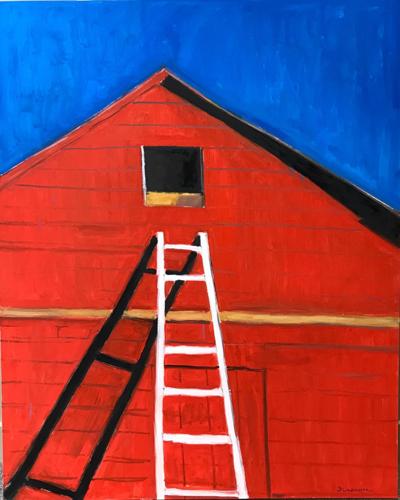 "A Poetry of Painting: A Painter's Path" is a retrospective of sorts, compiling works — some 28 years old, some just created — by Stephen Dinsmore.
But the show isn't carefully curated or accompanied by an avalanche of text, as would be the case in a museum retrospective. In fact, there are no titles on the paintings, save one, that fill room after room in Gallery 725.
And the paintings (there are well over 100 on view) were taken from Dinsmore's South Bottoms studio to the Haymarket building that is transformed into an art space for this show. Some hang on the wall. Some lean against it. Some are found on shelves. Some lie flat on counters.
They're not arranged in any particular order, and there's no tightly focused lighting or careful separation of the work.
That's a curator's nightmare. But it's one of my favorite ways to view art — as informal as a studio visit with no constructed narrative designed to tell you what you're looking at and why it matters.
Instead, the presentation allows the paintings to speak to the viewer, one at a time or as a group, and provides an opportunity to look at the varying yet consistent oeuvre of one of Lincoln's finest painters.
The variety starts with place: There are paintings of Maine, Florida, Brooklyn, Long Island, Minnesota and, of course, Lincoln and its environs.
Those locales reflect Dinsmore's life, from studying in Minneapolis and working in New York, where he painted on Long Island, to his annual sojourns to Maine, where he lives for three months each summer.
Then there's the subject matter: landscapes, still-life paintings, figurative works, depictions of dogs, birds and baseball players, and some color field abstractions.
That also directly connects to the "painter's path" from abstract color fields inspired by the buildings he saw while living in Green Point, Brooklyn, to harking back to the landscapes of Minnesota and Nebraska, painting on Long Island, paying tribute to the Ashcan school with baseball paintings, to making still lifes because he wanted to, and incorporating the animals he's come to love.
Cleverly, one painting combines a still life, a dog, a birdbath, buildings and a palm tree, bringing many of his themes into a single piece.
"The things I love, stick 'em all in there," Dinsmore said as we walked through the show this week. "I maybe get a little restless with a particular subject matter, like landscape, and venture off to do different things. It allows different palettes. And with the abstract, you're free to have color be the focus. They feed off each other."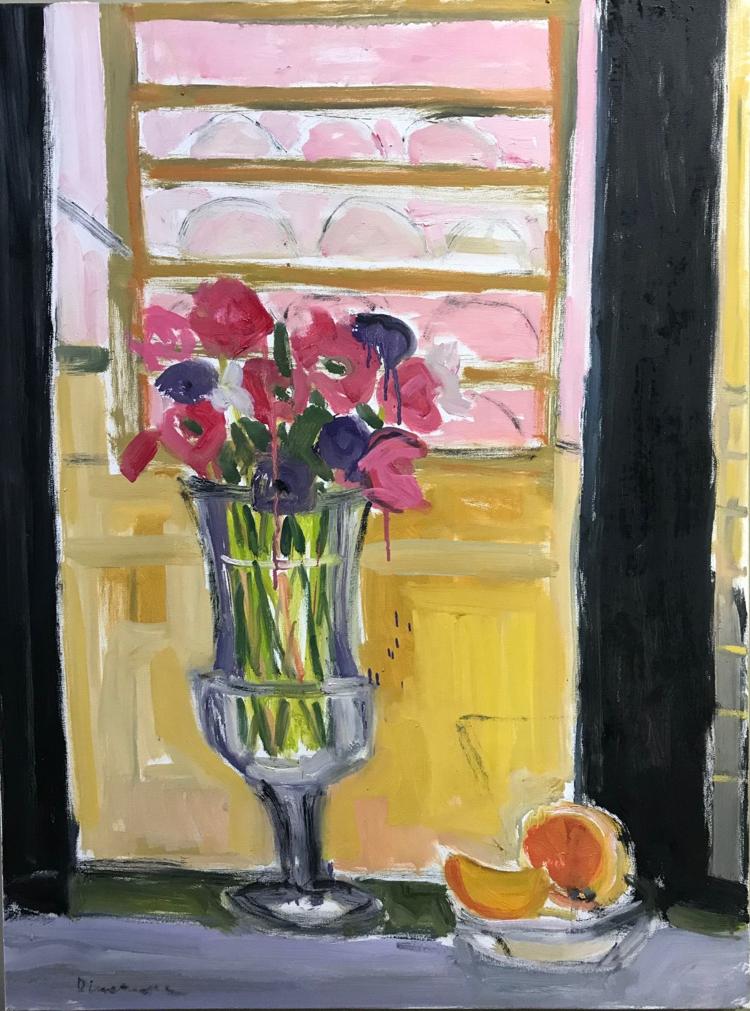 They're also closely related, as a grouping in a corner of one room vividly demonstrates.
On one wall is a Mark Rothko-esque color-field painting with a heavy, dark brown section in a lower square, a painting about color and edge. Hanging above it and next to it are landscapes, divided by horizon lines. The color schemes make those paintings resonate as landscapes. The lines and edges are no different than in an abstraction.
That's also seen in a striking new landscape that is a masterwork in its color combination and luminosity.
Dinsmore, as I've written many times in the past, is a painter of mood and light, taking his paintings to the point where representation threatens to tip into abstraction, where images that might be tightly rendered blur into passages of color — be it of faces in a Rembrandt-resonant pub scene, a sailboat on a Maine bay or the flowers in a still-life vase.
Among the paintings that caught my sports-loving eye are large aerial views of holes 7 and 18 at Pebble Beach Golf Links, and his baseball works, especially depictions of Mickey Mantle, Babe Ruth in a famous home run pose and a view of Roberto Clemente stretching to catch a fly ball that captures the legendary Pittsburgh Pirates outfielder's power and grace in a way no photograph could.
It's also notable that the space and the wide-open nature of the show have allowed, for the first time anywhere (including in his studio), for all of Dinsmore's large paintings to be on view at the same time.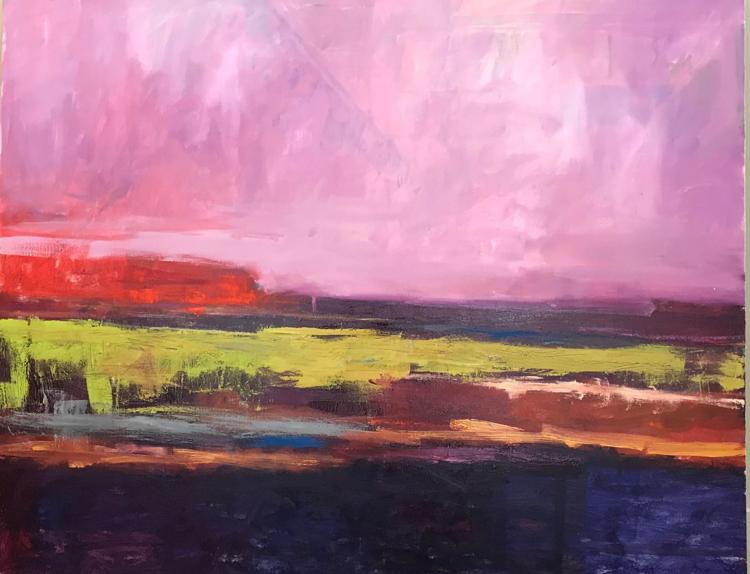 That is revelatory when, for example, big paintings of a Middle Eastern fish market, the Penny Bridge on Sheridan Boulevard and a Southwest landscape from above sit next to each other, creating a conversation of subject and style.
The same thing also holds true for the smaller works, with an evocative image of a scene from The Oven, a study for a larger work, standing next to detailed landscapes with buildings that might be in Maine or Nebraska.
"This is a show that I'd love every person that knows me and has purchased my work to come in here and wander," Dinsmore said.
If you fit those criteria, the exhibition is a must-see. But there's no requirement to be familiar with Dinsmore for me to recommend seeing "A Poetry of Painting," which is one of the top shows of a massive body of superb work by any Lincoln painter ever.