"Summer's Bounty (As Ye Sow)" is a classic regionalist piece from David City's Dale Nichols. Painted in 1941, it depicts a farmer hauling sheaves of wheat in a field on a rolling hillside with a farmhouse, barn and stand of trees in the background.
That's just the sort of painting that would be expected in an exhibition titled "Approaching Landscape" at a Nebraska art museum.
Next to the Nichols at the Sheldon Museum of Art hangs Ed Ruscha's 1983 painting "Barns and Farms," which replaces the titular structures with the words themselves, arguing that there's no need to paint a barn, fence or livestock to get the point across — a conceptual twist on the landscape..
At the far end of the gallery is Elizabeth Murray's sculptural painting "Wishing for the Farm," 1991, a very cerebral, abstracted notion of landscape — interior and exterior — that's rooted on the farm where she lived with her family.
Facing the Murray on the opposite end of the space is Robert Rauschenberg's "Soviet American Array VI" 1989-90. An 7-by-4-foot photogravure, it's covered in juxtaposed pictures Rauschenberg took in the Soviet Union and New York City — some of them instantly identifiable, others less so, and none classic landscapes.
That is the nature of what is likely the largest exhibition held in Sheldon's 55-year history.
There might have been a show or two over that time that included more than the 128 objects on the "Approaching Landscape" checklist. But no other exhibition has stretched to include the museum's entire second floor — a move which eliminates, likely for good, the concept of "permanent collection" galleries on the south side and rotating exhibition spaces on the north. It is likely that future exhibitions will use the entire second floor or combine north and south galleries in other arrangement.
Drawn from the Sheldon's holdings and showcasing several recent acquisitions along with work from the collections of Kathryn and Marc LeBaron and Karen and Robert Duncan, "Approaching Landscape" was curated by Wally Mason, Sheldon director and chief curator, who aimed at stretching the definition and implications of landscape.
"What's going on here is you make the basic concept with one word, landscape," Mason said. "Then it's like jazz — you improvise from there."
That improvisation found its form in a handful of themes: "landscape as witness; landscape as battlefield; landscape and the sublime; landscapes of the mind; landscape as opportunity and landscape and identity."
Without being overly literal, some works fit easily into a single theme. George Inness' circa-1894 painting "The Farmhouse," for example, is the epitome of the landscape and the sublime. But cleverly, it's undercut on the adjoining wall by a 1941 panel from "Krazy Kat" George Herriman's comic which has nothing sublime about it.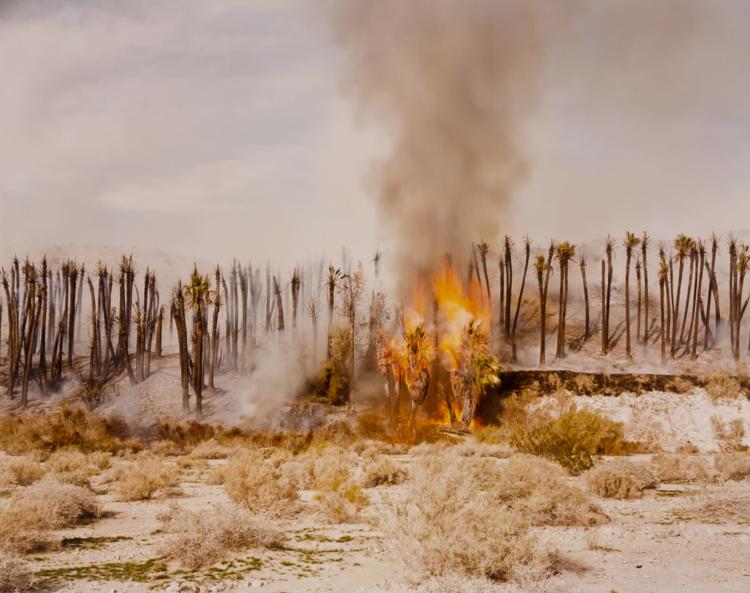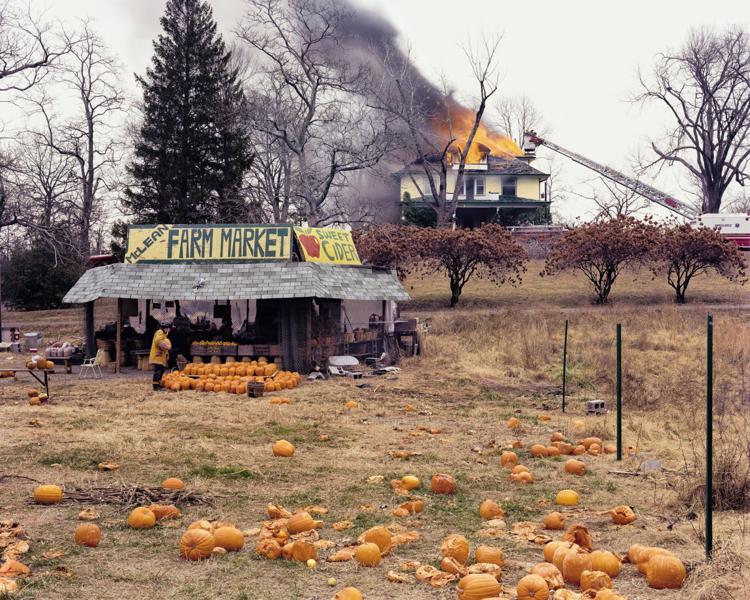 Other pieces could find their way into multiple themes, like the famous "McLean Virginia, December 4, 1978" photograph by Joel Sternfeld that captures a firefighter buying pumpkins at a stand in the foreground while a blaze roars in a house behind. It could be landscape as a kind of battlefield, as witness and even as identity — for the firefighter, who's really ignoring a controlled burn.
There are also "battles" between works, most notably in the wall-by-wall groupings of multi-image series by Joseph DiGiorgio and Willie Birch.
DiGiorgio went to Brooklyn's Prospect Park every day in 1992-93, doing plein air old pastel drawings of the flowers and plants, creating the 200-piece "The Prospect Park Series." Twenty of those brightly colored drawings are now part of Sheldon's collection and hang together in a grid.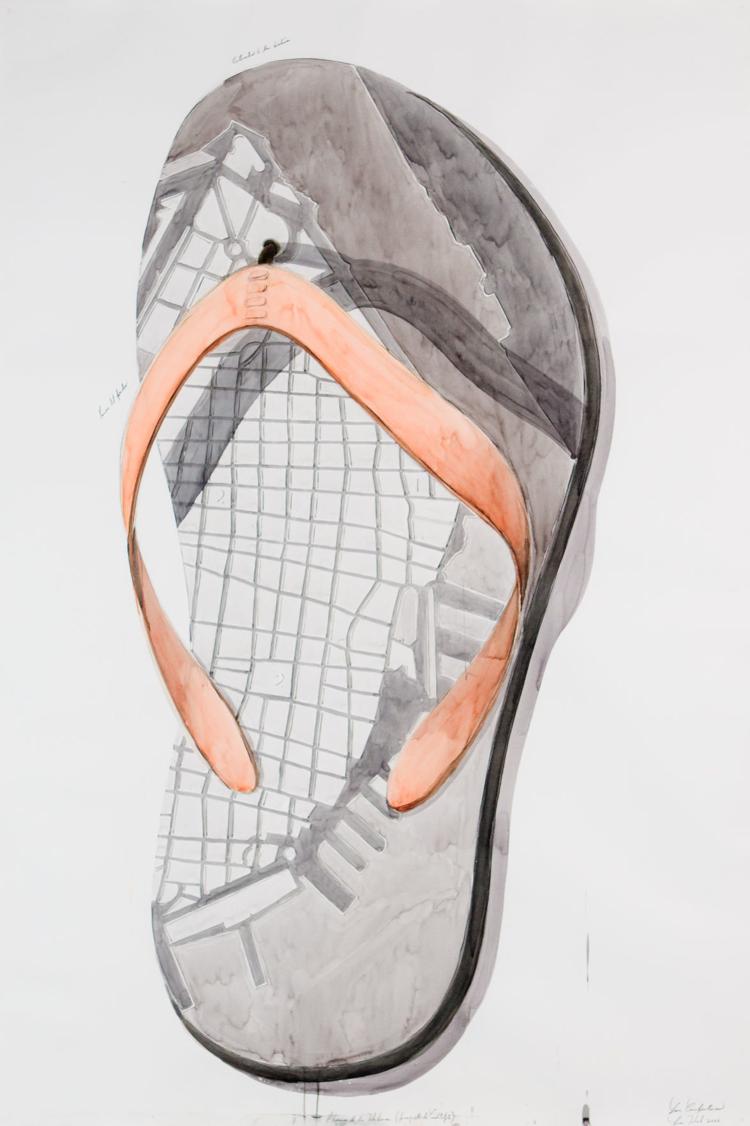 On the adjacent wall are four acrylic and charcoal drawings by Willie Birch. Titled "Sweeping, Scrubbing, Washing, Healing," the 2008 series depicts the aftermath of a shooting in a New Orleans neighborhood, from a body lying in the street with police cars nearby through the clean-up of the title.
Two more divergent views of the urban landscape could hardly be found. But both, sadly, ring true.
I'd add another, perhaps overarching, theme to the list: landscape as imagination
Again, that quality is obvious in some pieces, like Robyn O'Neil's large graphite drawing that depicts a man hanging on a wire above giant waves of something — maybe water, maybe grass, who knows.
But pivotally, it's also present in the pre-photography paintings of Albert Bierstadt and Thomas Cole that would appear to be the definition of pure landscape.
However, Cole's "Catskill Mountain Landscape," from 1826, conveys its subject matter in the most idyllic possible manner, hardly reflecting reality. And Bierstadt, who traveled the just-opening-to-Europeans West in the 1860s, transformed his raw drawings into majestic if nonexistant landscapes in "River Landscape," 1867.
Photography, seen as the most "real" of media, can be used to convey something other than a precise depiction of a place.
Lewis Baltz's three chromogenic 1989 prints "Piazza Sigmund Freud (Milan Italy)," for example, use the quality of the film to turn an Italian parking lot red — and comment on the changing European economy.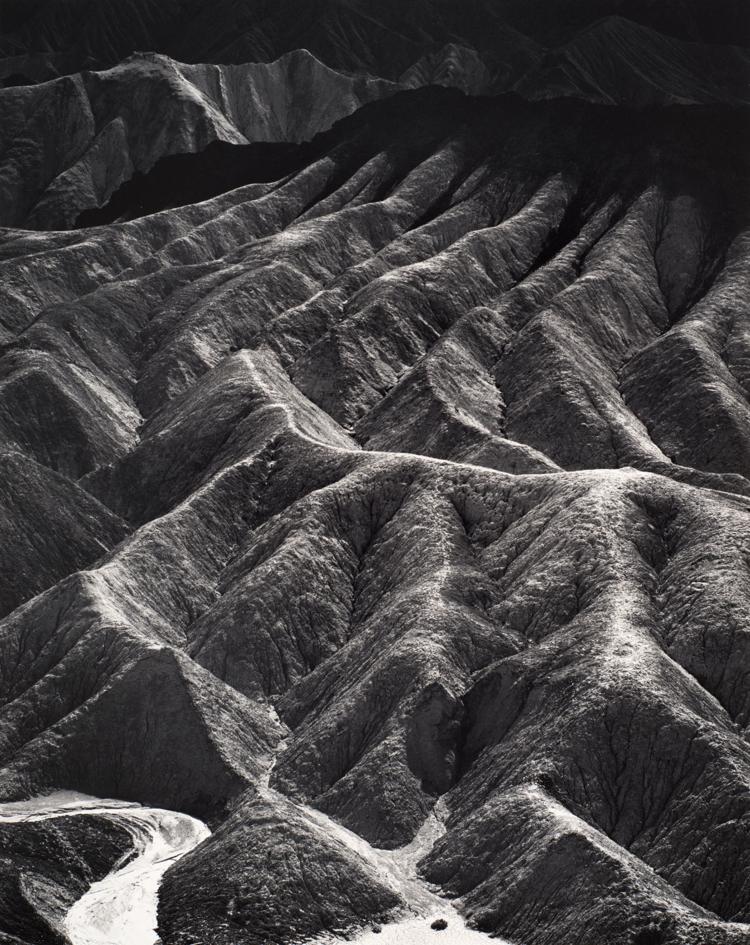 Even Ansel Adams, who's represented by three of his famous gelatin silver prints from the 1930s and '40s, made his photographs pristine and beautiful, subtly arguing for preservation of, to pick one, "The Tetons and the Snake River, Grand Tetons National Park, Wyoming."
Adams, Rauschenberg and Ruscha are among the "names" that populate the sprawling exhibition, a grouping that includes: photographers Berenice Abbott and Eugene Atget as well as painters Richard Diebenkorn, whose "Ocean Park #89.5" (1975) looks abstract but is actually aerial view of the title area; Marsden Hartley; John Marin; Fairfield Porter, who's "Long Island Landscape With Red Building" circa 1962 is a rarely seen Sheldon gem; John Sloan; Wayne Thiebaud, who is represented by the beautifully crafted print "Hill Street," 1987; and Andrew Wyeth.
There are far too many pieces in "Approaching Landscape" to discuss every work or grouping. So, I'll call attention to a few more notable pieces:
* Hank Willis Thomas's "Cotton Bowl" from 2011 is a provocative photograph which, highly appropriate for Nebraska, features a football lineman facing off with a sharecropper bent over to pick cotton — each on far different fields.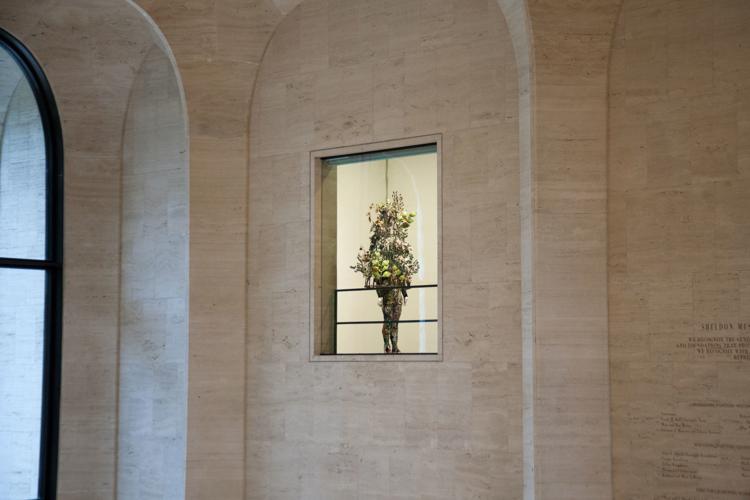 * Nick Cave's "Untitled Soundsuit" from 2008 transports the landscape onto a piece of wearable art, covering the body with flowers and branches.
* John Divola's "Isolated Houses" series, taken from 1998 to 2001, captures buildings, some houses, some storage or workshops, sitting alone in the California deserts, so isolated they can only be identified by GPS location.
* Ruscha's "Every Building on Sunset Strip," 1966, is a wall-length, unfolded book masterpiece that includes a tiny picture of every building on the famous Los Angeles street at its cultural peak.
There are plenty of other works worth talking about in the show which demands repeat viewing to wrap yourself around not only the objects but its thought-provoking concepts. Once they settle in, they will broaden your view of "landscape" from just roads, hills, trees, mountains, etc. to something deeper and more illuminating.