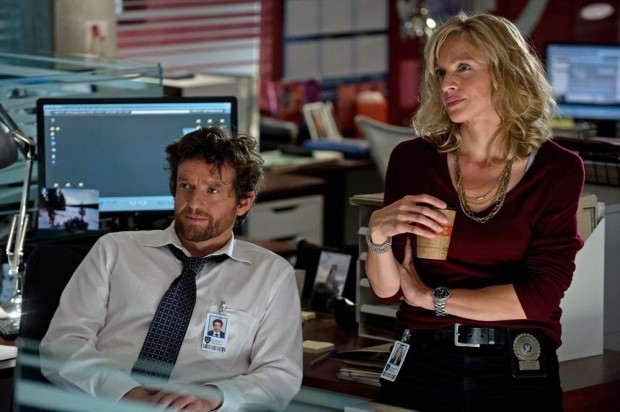 It's not commonplace yet, but we are seeing more and more Canadian TV shows popping up on American broadcast stations, especially in the summer when the networks prefer to air original stuff as opposed to reruns.
The list includes "Flashpoint" (CBS), "Saving Hope" (NBC) and "Rookie Blue," which begins its fourth summer at 9 p.m. Thursday on ABC.
Add to the list "Motive," a cop drama which just concluded its first 13-episode season May 16 in Canada and has been renewed for a second season.
The episodes begin airing stateside starting at 8 p.m. Thursday on ABC.
From executive producer Daniel Cerone ("Dexter," "The Mentalist"), the drama is a twist on the crime procedural focusing not on who did the crime, but why the crime was committed in the first place.
That may spoil it for some viewers. At least it did for me.
Part of the fun of procedurals is not knowing the who and trying to figure it out along with the characters of the show, which is why I count such shows as the "The Mentalist" (CBS), "NCIS" (CBS) and "Law & Order: SVU" (NBC) among some of my guilty pleasures, and why I endured an agonizing second season of "The Killing" on AMC (I needed to find out who killed Rosie Larsen).
Though disappointed with the lack of a whodunit, I found something to enjoy in "Motive" -- the characters. Particularly good are the leads Kristin Lehman and Louis Ferreira as Detectives Angie Flynn and Oscar Vega, respectively.
Lehman, by the way, was one of the stars of "The Killing," playing the love interest of and campaign worker for Billy Campbell's mayoral candidate/murder suspect.
Here, Lehman's Flynn is a street-smart, tough-talking single mom, who is a stark contrast to Ferreira's laid-back, wisecracking Vega. Their banter is a treat, especially when they are tag-teaming an interrogation.
The cast also includes veteran Lauren Holly ("NCIS") as the quirky and sultry medical examiner. I did a double-take when I realized it was Holly, whom I last saw on the small screen as the tough-as-nails director of NCIS.
In the first episode, "Creeping Tom," I didn't really care why the teenager killed his victim. But I did become engrossed in the detectives' investigation. Grade: C+
* Regina "Reggie" Busse needs your help. The 29-year-old Nebraska native is one of 12 semifinalists competing to become the next "wild guide" for "Mutual of Omaha's Wild Kingdom."
The "wild guide" will win $10,000 and host a new webisode series of the original wildlife TV show, premiering this fall on the Wild Kingdom TV YouTube channel.
Busse grew up in Omaha, graduating from Omaha Roncalli High School in 2002. She currently lives in Switzerland, where she has a seasonal job selling paragliding.
* When May sweeps end Saturday so will the 2012-13 TV season, with CBS in position to win the Nielsen ratings race -- again.
How strong is CBS? Well, the network canceled two shows averaging more than 11 million viewers -- "CSI: NY" and "Vegas." The other networks would kill for a show that attracted that kind of viewership.
Even better news for CBS -- the network is poised to win the cherished 18-to-49 age demographic, supplanting Fox at the top spot, thanks to "The Big Bang Theory," which is projected to finish No. 1 in the demo.
* Does anybody really watch "The Voice" for its contestants? No, the draw is its coaches and the friendly rivalry and banter among them. So viewers will be happy to learn that all them are staying put. Sort of. Original judges Cee-Lo Green and Christina Aguilera will return this fall for the fifth cycle. They will step aside in the spring for Usher and Shakira for the sixth cycle.
* Sad news for "Southland" fans: TNT canceled it along with new drama "Monday Morning" because the ratings just weren't there for either of them. "Southland," a gritty drama about Los Angeles police officers, may have enjoyed its best season yet in terms of quality, especially the final two white-knuckles episodes.
* Finally, we met the mother last week on "How I Met Your Mother's" season eight finale. She was played by Broadway star Cristin Milioti ("Once") for those like me wondering who the heck that actress was.
* Fox's "American Idol" drew just over 14.3 million viewers Thursday to see Candice Glover win the 12th competition. It was the first time an "Idol" finale drew fewer than 20 million viewers, prompting many to believe, including me, that it's time for some kind of major overhaul.
* Quick hits … Syfy renewed "Warehouse 13" for a fifth and final six-episode season. The fourth season currently is airing … "The Carrie Diaries" will introduce the character Samantha Jones, the first of Carrie's friends seen in HBO's "Sex and the City," during the "Diaries" second season on The CW … "Downton Abbey" will premiere its fourth season on Jan. 5 on PBS. The trick will be avoiding any spoilers after it airs first this fall in England … NBC officially confirmed "SNL's" Seth Meyers will replace Jimmy Fallon on "Late Night" after Fallon takes over "The Tonight Show."