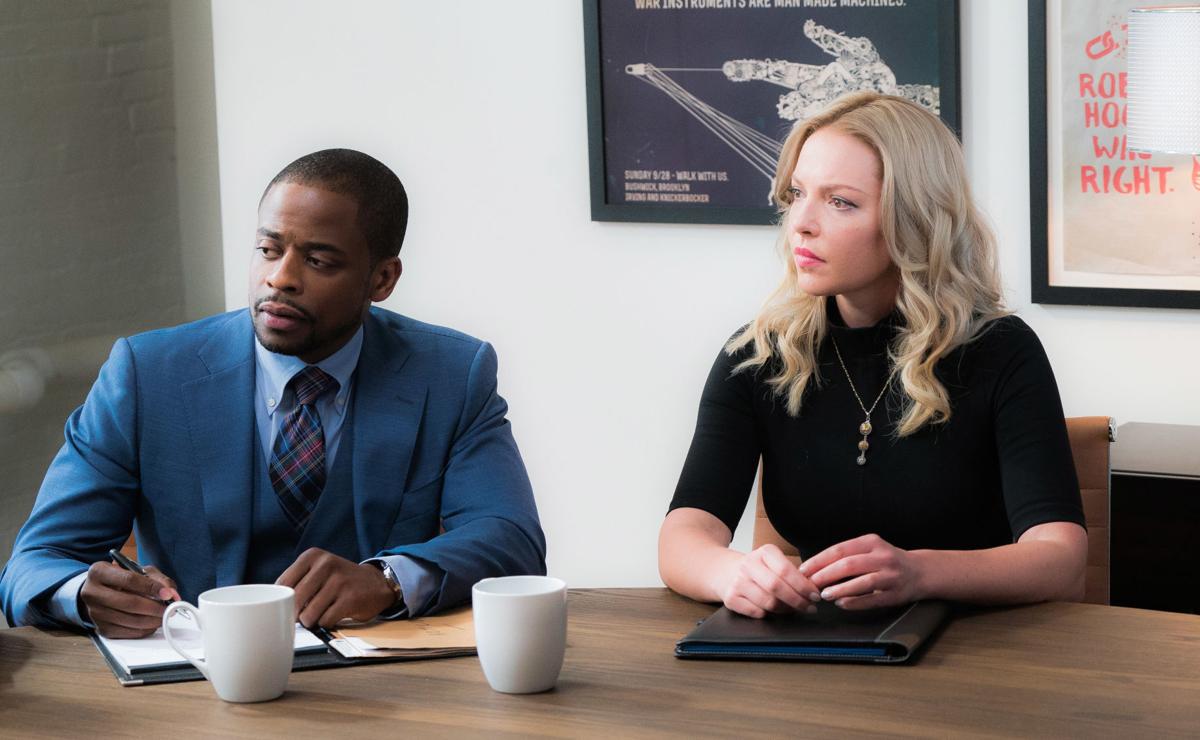 When it premieres Wednesday on CBS, "Doubt" will be the first series from a broadcast network (ABC, CBS, Fox, NBC and The CW) featuring a transgender regular character played by a transgender actor.
That would be Laverne Cox (Sophia on Netflix's "Orange is the New Black"), who portrays attorney Cameron Wirth in the new legal drama airing at 9 p.m.
While that, of course, is a big deal, "Doubt" from creator and executive producer Joan Rater, also is the latest effort for Katherine Heigl, whose career has seen more downs than ups since leaving "Grey's Anatomy" in 2010.
This one seems more in Heigl's wheelhouse -- more so than the CIA officer she portrayed in NBC's horrible "State of Affairs." Here she plays series lead defense attorney Sadie Ellis, who fights the good fight with plenty of chances to wring emotion with her many speeches -- punctuated by the appropriate pop music -- from the metaphorical soapbox.
"Doubt" is a procedural -- common on CBS -- with an underlying storyline involving Steven Pasquale as a pediatric surgeon on trial for murder with Heigl's and Dule Hill's ("Psych") characters as his defense attorneys. The "doubt" is whether or not the surgeon, whom Sadie falls for, is guilty of his crime.
Heigl, Hill and Cox are all part of firm run by veteran actor Elliott Gould. Here's hoping he's given more than just dispensing fatherly advice as seen in the first two episodes. He, to me, is the most interesting character -- probably because I'm a huge Gould fan -- of the ensemble drama, which relies on current events and issues for its stories.
Episode two, for instance, deals with a respected judge accused of raping his wife, who suffers from Alzheimer's and may or may not know who her husband is. The cases are what propel the drama, but it's the high-profile cast that will keep viewers coming back. Grade: B.
News and notes
* Lincoln's Mark Gross received some great news this week -- CBS ordered a pilot of "Brothered Up," Gross' multi-camera comedy about a guarded African-American cop partnering with an emotionally available Pakistani in Detroit.
Gross, a University of Nebraska-Lincoln and Lincoln Southeast graduate, currently is a writer/producer on the Matt LeBlanc-fronted "Man With a Plan" on CBS. Prior to that he was writer/producer for six seasons on "Mike & Molly" (CBS).
If CBS likes Gross' pilot -- one of many the network will see over the next three months -- it will give the comedy a series order.
* Apparently, I'm not alone in my appreciation for "Saturday Night Live," which ended up on my top 10 list for 2016. According to TVLine, NBC's sketch comedy series is enjoying its best ratings in 22 years, thanks in part to its parodies of President Donald Trump (Alec Baldwin), Hillary Clinton (Kate McKinnon), Vladimir Putin (Beck Bennett) and, most recently, White House press secretary Sean Spicer (Melissa McCarthy).
* Syfy knows what the public wants, and the public wants another "Sharknado." Stars Ian Ziering, Tara Reid and Cassie Scerbo will return for a fifth movie, which the tornado- and hurricane-hopping sharks flying into cities around the world. Filming is scheduled to take place in Bulgaria, Australia and the UK. No premiere date has been set.
* Quick hits: Charlie Rose will take a break from "CBS This Morning" to recover from heart surgery and return sometime in March. Richard Hatch, Apollo from the original "Battlestar Galactica," died at the age of 71 from pancreatic cancer. Netflix has renewed its supernatural thriller "The OA" for a second season.