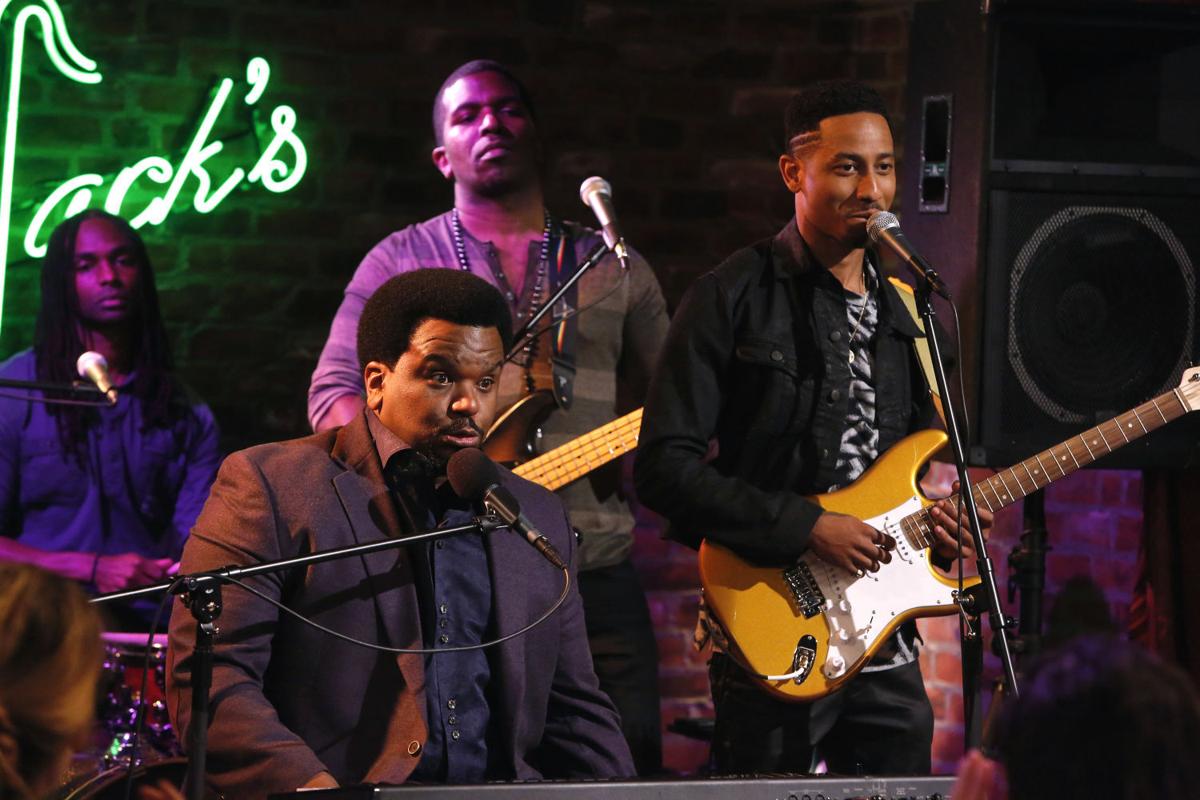 Craig Robinson, a supporting player for nine seasons on "The Office," will front his own comedy, "Mr. Robinson," which premieres at 8 p.m. Wednesday on NBC.
And, for the most part, he proves he's ready to be the go-to guy.
Semi-autobiographical, "Mr. Robinson" features Robinson as a journeyman musician who, in pursuit of his love interest (Meagan Good), lands a job teaching music at a Chicago middle school. Robinson actually taught music at one point in his life and plays in a band, Nasty Delicious, with the same name as the one in the sitcom.
"(If) this gets rejected, you pretty much are rejecting me," he told The New York Times.
NBC ordered six episodes and will air two each week, back-to-back, for the next three weeks.
The series also stars Peri Gilpin (Roz from Kelsey Grammer's "Frasier") as the no-nonsense school principal with a wild side. The other Grammer connection is daughter Spencer Grammer as a math teacher who moonlights as a stripper.
Where Robinson excels are in the scenes with him leading his funk band. It reminds me how Louis C.K. often interjects a bit of his stand-up performances into his FX sitcom, "Louie." Listen closely, because the lyrics of the songs Robinson sings are not only catchy, but downright funny.
The series, however, sticks too much to the sitcom formula, telling 22-minute stories that are all too predictable. The episode with Gary Cole guest starring as a British rock 'n' roller is a perfect example. We know where it's going to go from the outset.
Plus, many of the supporting cast members play one-dimensional, seen-before characters. They include the crude coach and the clueless administrator.
Still, Robinson is a joy to watch, showing he learned a thing or two from his years on "The Office." Grade: B
Across the remote
* A bunch of shows received notice over the past couple of weeks. Those getting canceled include "The Comedians" (FX), "Happyish" (Showtime), "Welcome to Sweden" (NBC) and "Lilyhammer" (Netflix).
"Key & Peele" announced it's ending its run after five seasons on Comedy Central, while "Banshee's" fourth season on Cinemax will be its last, and "The Soul Man's" upcoming fifth season will close it out.
Meanwhile, those earning renewals include "Scream" (MTV), "Rizzoli & Isles" (TNT), "When Calls the Heart" (Hallmark) and "Salem" (WGN America).
* So Luke may not be gone from "General Hospital" after all. After his much-ballyhooed departure this week from the ABC soap, actor Anthony Geary hinted to EW.com that he could come back. "If the story is interesting to me and it works out, I may come back to the show for six weeks or so," Geary told the entertainment site.
* New "Daily Show" host Trevor Noah told reporters Wednesday during the Television Critics Association summer press tour that the late-night talkie will change after Jon Stewart's departure. "We're still dealing with the same issues," he said. "Issues are not really changing in America and the world … (But) the way we look at the same story will be completely different." Noah begins his tenure on Sept. 28.
* Viewers will decide whether or not a new comedy from multiple Emmy winner Bryan Cranston ("Breaking Bad") and "House" creator David Shore will become a series. Amazon will release the pilot of "Sneaky Pete" on Friday. Originally developed by CBS, the series stars Giovanni Ribisi as an ex-con who takes on the identity of his cellmate.