Jeff Korbelik: A&E's new drama 'Damien' is cliche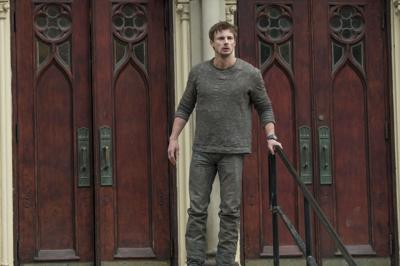 In 1976, Gregory Peck and Lee Remick starred in the thriller "The Omen," a film that scared the you-know-what out of this then 12-year-old.
Now Damien Thorn, the devil child from the movie, is back. He's 30, and just beginning to realize he's "different" in A&E's new drama "Damien," which premieres at 9 p.m. Monday on Time Warner Cable channels 47 and 102.
The trouble is, after years of Michael Myers, Freddie Krueger, Jason Voorhees and Pinhead, the Antichrist just isn't as terrifying anymore. Maybe he could be, if done properly. But "Damien" is nothing more than cliche, right down to the use of Rottweilers as hellhounds.
Bradley James is Damien, a war photographer, who, while in Syria, happens upon an old woman who, first gives him the evil eye and, later, grabs and shouts at him in Latin. This ignites flashbacks to when he was a boy.
And then unexplainable (and bad) things began to happen -- like when those aforementioned dogs show up out of nowhere after Damien's visit to an eccentric professor who's an expert on the Bible's Book of Revelation. Let's just say the professor should have had some dog treats handy.
I won't even go into what happens to Damien's ex-girlfriend, beyond noting that when the scene played out, I said -- out loud -- "Oh, come on!" It's that bad.
Sadly, "Damien" is nothing like "Bates Motel," the innovative prequel to the "Psycho" film, which begins its fourth season an hour before the "Damien" premiere. At least "Bates Motel" did something creative with a dog. Grade: D+
Across the remote
* Also new this week is "Of Kings and Prophets." The ABC drama, premiering at 9 p.m. Tuesday, tells the Biblical saga of King Saul, the prophet Samuel and the shepherd David.
* Kate's dead. Ziva left and Tony is on his way out. "NCIS," however, continues to power on and will do so for another two seasons. CBS announced it has renewed its highly rated drama for seasons 14 and 15. The renewal coincides with star Mark Harmon's (Gibbs) two-year contract extension.
* Also coming back is "Bones" for a 12-episode 12th and final season at Fox, with execs saying they did it to give the drama's producers a chance to play out a "meaningful and satisfying conclusion."
* I don't normally write much about pilots because you just never know if they'll become a series. But this one seems like sure-thing. CBS has cast "Person of Interest's" Sarah Shahi as the lead in its Nancy Drew pilot. The kid sleuth is all grown up now and solving crimes as a NYPD detective. Anthony Edwards ("E.R.") has been cast to play her dad. We'll know by May if it comes to fruition.
* In other pilot news -- this also seems like a sure thing -- Sarah Michelle Gellar will reprise her role from the 1999 movie "Cruel Intentions" for NBC. The show picks up 15 years after the end of the movie. Gellar, if you remember, was the anti-Buffy in "Cruel," playing a coked-up, evil manipulator.
* Netflix wasted little time renewing the "Full House" reboot, "Fuller House," for a second season. The streaming service dropped the first season on Feb. 26. Other newbies recently getting renewed include "Baskets" (FX) and "Superstore" (NBC).
Meanwhile, USA has canceled "Satisfaction" after two seasons. Also getting axed is "Mad Dogs" after just one season on Amazon.
* Fox liked what it saw from the two-hour showing of "Superhuman" in January. The network has picked up the competition series hosted by Kal Penn for an eight-episode season. The show tests the abilities of ordinary people who possess uncanny abilities in memory, sight, taste and more.