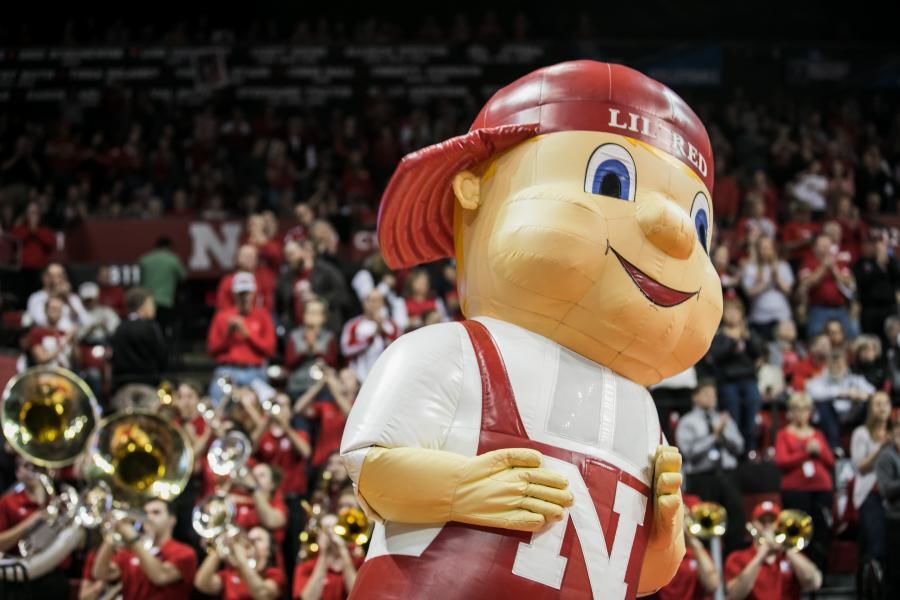 Annette Hudson knew she had to be much better than the other 200 girls trying out for three spots on the Nebraska cheer squad. That, she says, is just how things were for African Americans in the 1960s.
Hudson, who grew up in Lincoln and was a cheerleader at Lincoln High, was, in fact, better than the rest, landing a spot on the cheer squad in 1969, the first African American to do so.
Hudson is at the center, literally, of "Nebraska Spirit: Go Big Red," a new documentary from NET Nebraska that looks at the history and functions of the Cornhusker Marching Band, cheerleaders, dancers and mascots who have fired up Husker fans at sporting events for well more than a century.
The documentary from NET producer Brandee Weber is roughly split into thirds, opening with the band, then the cheerleaders and concluding with the mascots. It's framed by the work of former cheerleader Debra Kleve White, who recounted that history in her book "The Spirit of Nebraska."
Each of the segments that spin together archival footage, interviews and contemporary clips is enlightening, even for someone who has been around Nebraska athletics, the band, cheerleaders and mascots for decades.
The Cornhusker Marching Band, for example, grew out of a military band, was male-only through much of its existence and wrote one of its most famous songs on the train trip to perform at the 1941 Rose Bowl.
The cheer squad's history is even more compelling. Begun in 1903 as a male-only squad, Nebraska became the first college in the U.S. to add women, when, in 1917, Louise Pound, one of the most influential figures in the university's history, added three females to the group.
The cheer squad eventually went all-female before men, and stunts, returned in the last decade. That story comes from Kleve White, her '70s cheerleading partner and later Husker cheer coach Chris Lofgren, who also talks about how stunts work and how cheerleaders try to fire up the crowd.
Today, the cheerleaders are part of the Nebraska spirit squad, and a part of the athletic department. Their coach is former Scarlets dance team member Erynn Nicholson Butzke, the department's only African American head coach.
She turns up throughout the documentary, telling her story of coming to Nebraska because she saw a black woman on the yell squad during a televised competition, delineating the steps of the squad during the fight songs and talking about the qualities required of squad members.
The latter includes being big Husker fans. And the biggest of the lot are the guys inside the mascot costumes.
They include Antone Oseka, who was one of the first people inside the first inflatable college mascot, Lil' Red, and Aaron Wyatt, a band member who became Herbie Husker and is now the proud owner of the giant fiberglass head of "Mr. Big Red," better known as Harry Husker.
That mascot was weird and kind of creepy.
But, as the documentary briefly shows, it wasn't even in the same stratosphere with the strange, ridiculously funny Corn Cob Man, the first Nebraska mascot.
That good-humored segment wraps up a documentary that would have been embraced by Husker fans in any year, but has, by coincidence of timing, a special role to play in 2020. That is bringing the "Husker Spirit" from the band, cheerleaders, Scarlets, Herbie and Lil' Red to fans in a sports year where they aren't at games.
HISTORY OF NEBRASKA MASCOTS
Lil' Red's forebears: The history of Nebraska's on-field mascots
Corncob Man (1955-1962)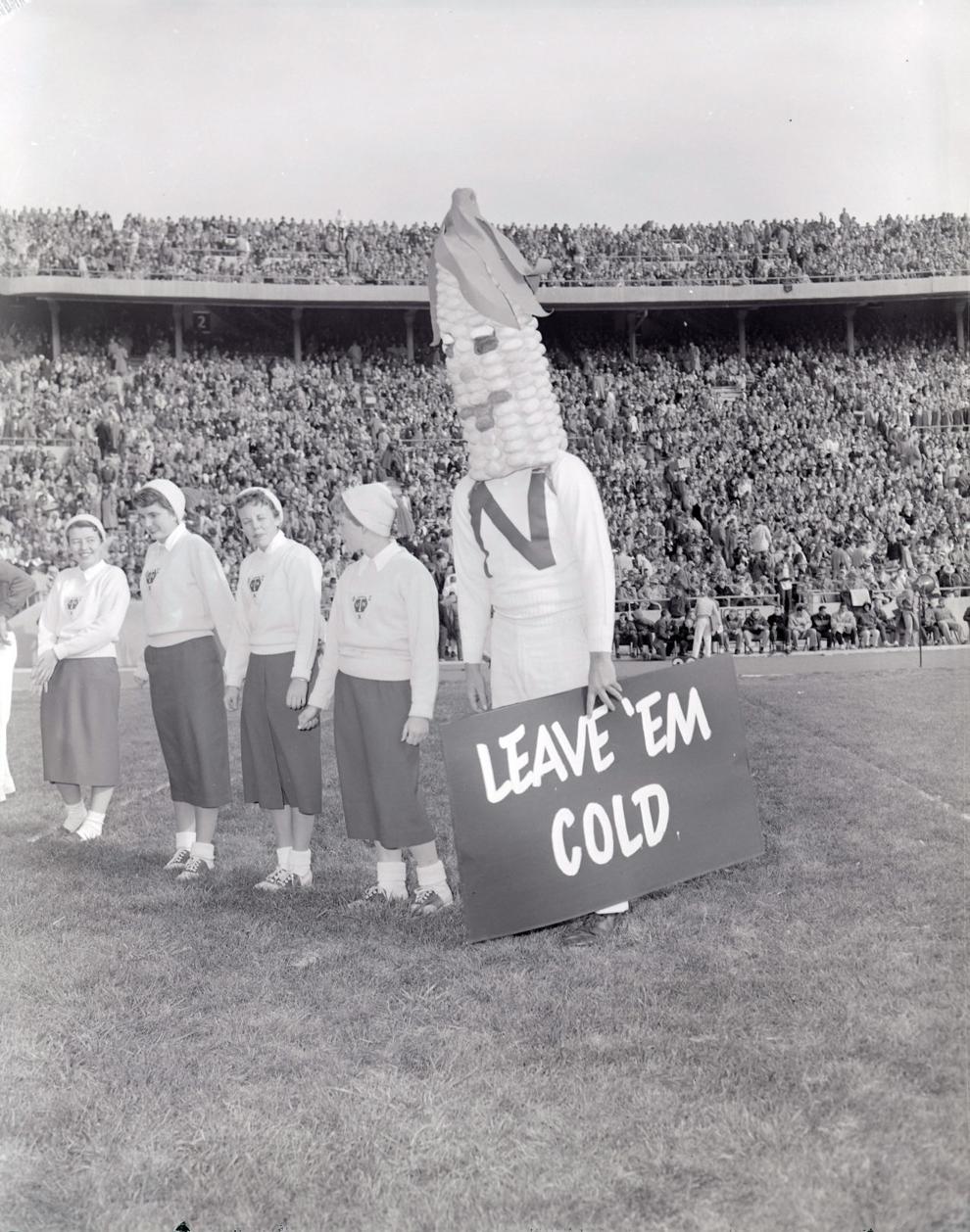 Corncob Man (1955-1962)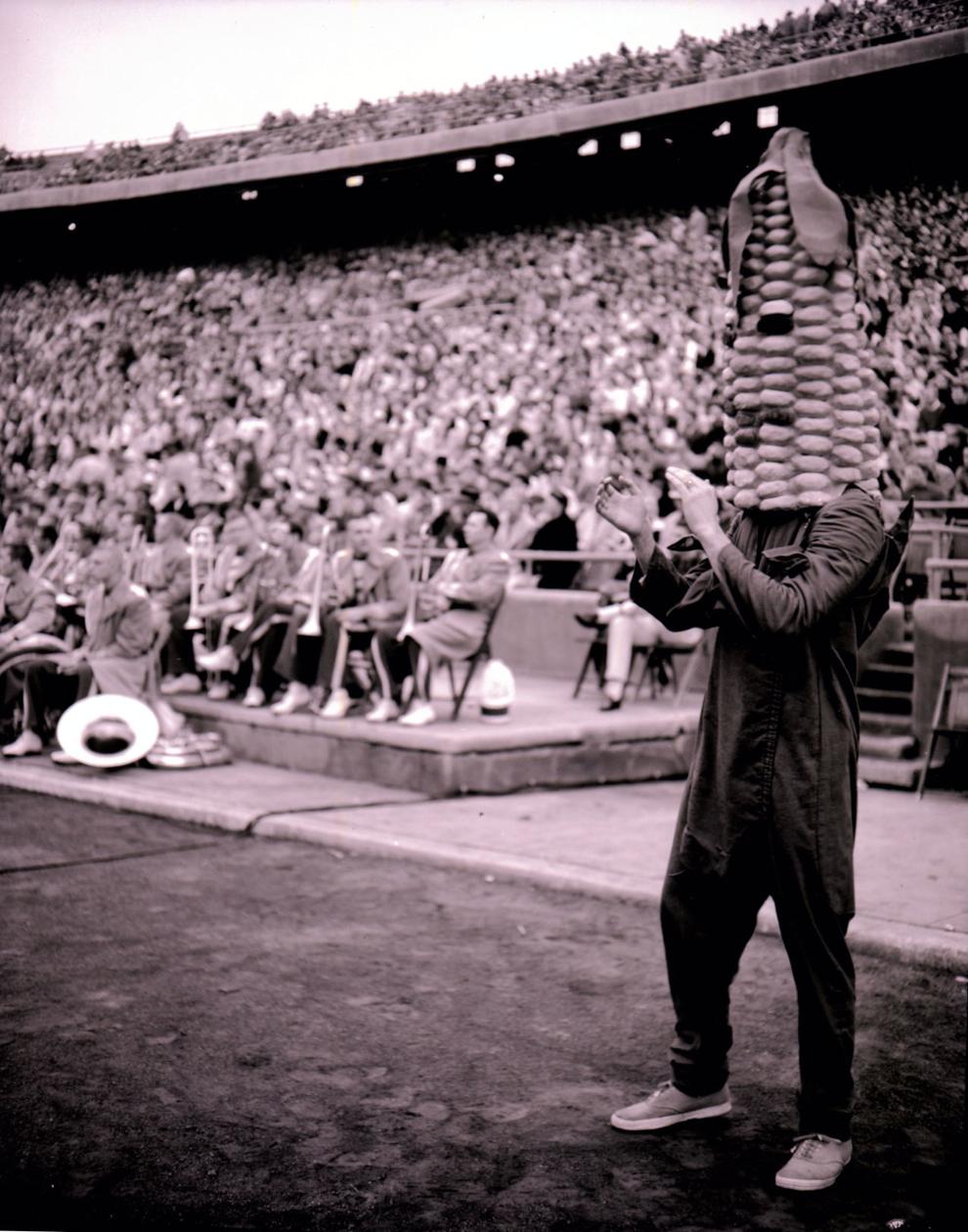 Huskie the Husker (1962-1970)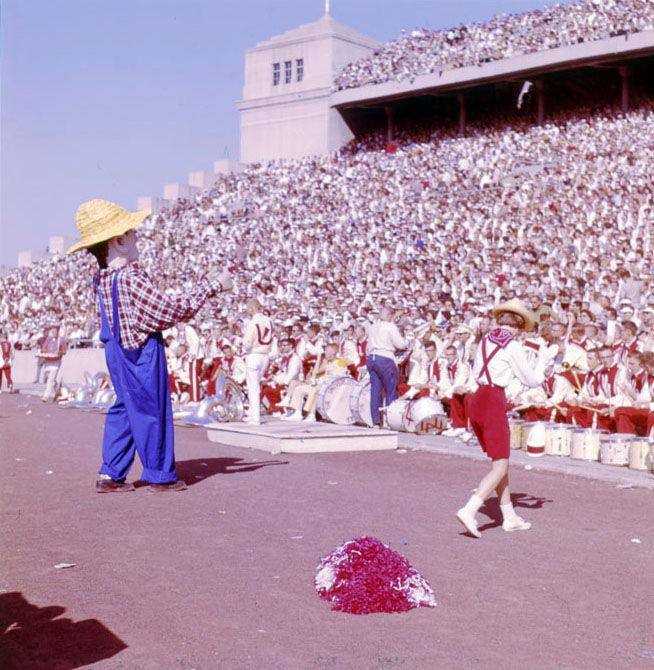 Mr. Big Red, aka Harry Husker (1970-1974)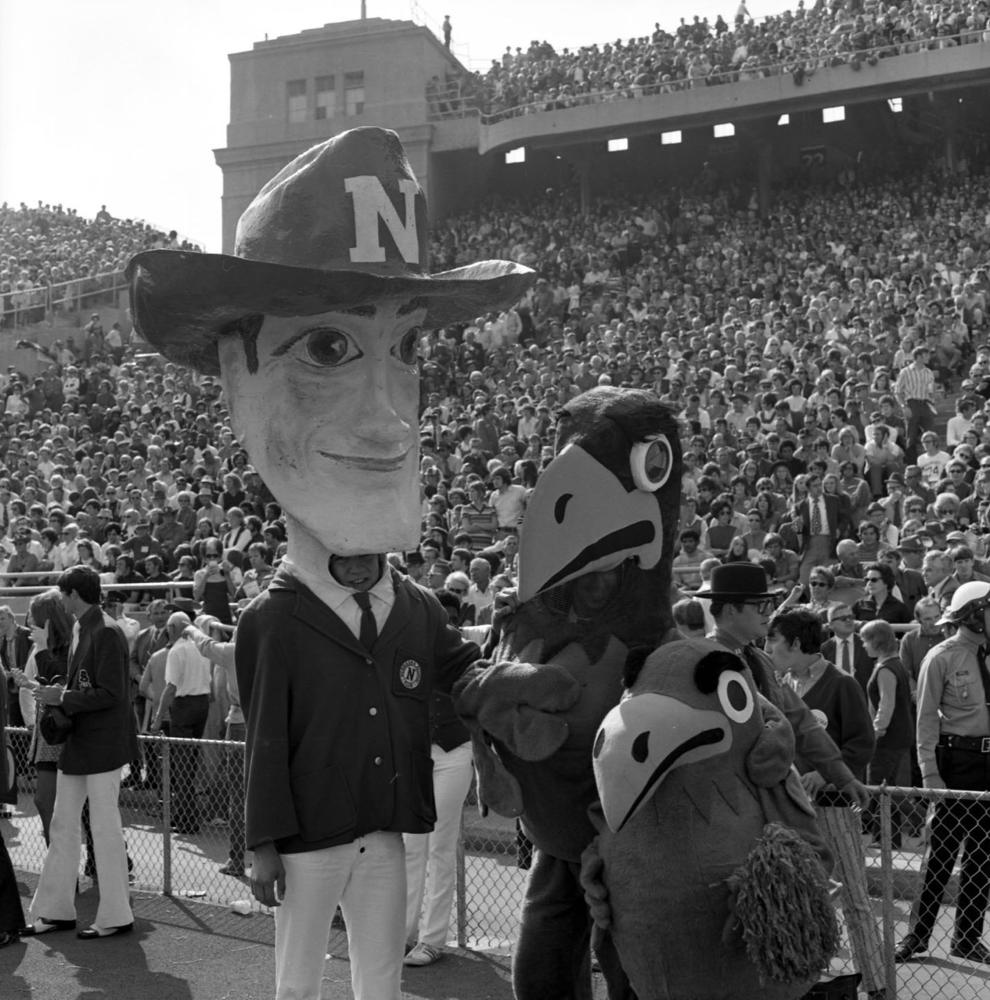 Herbie Husker (1974-Present)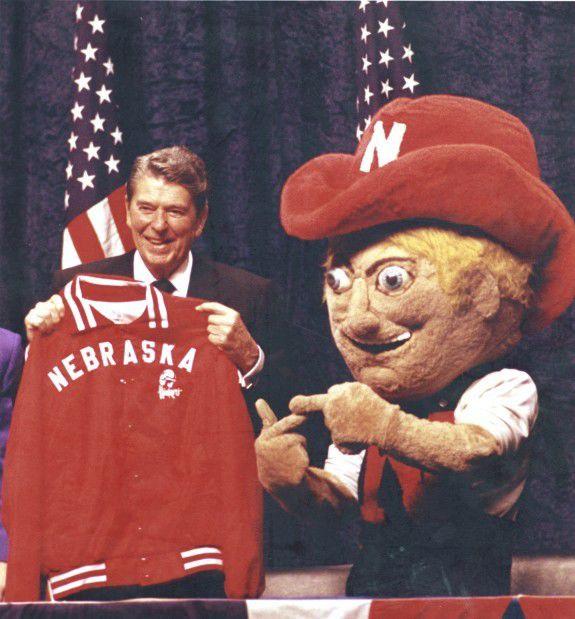 Herbie Husker (1974-Present)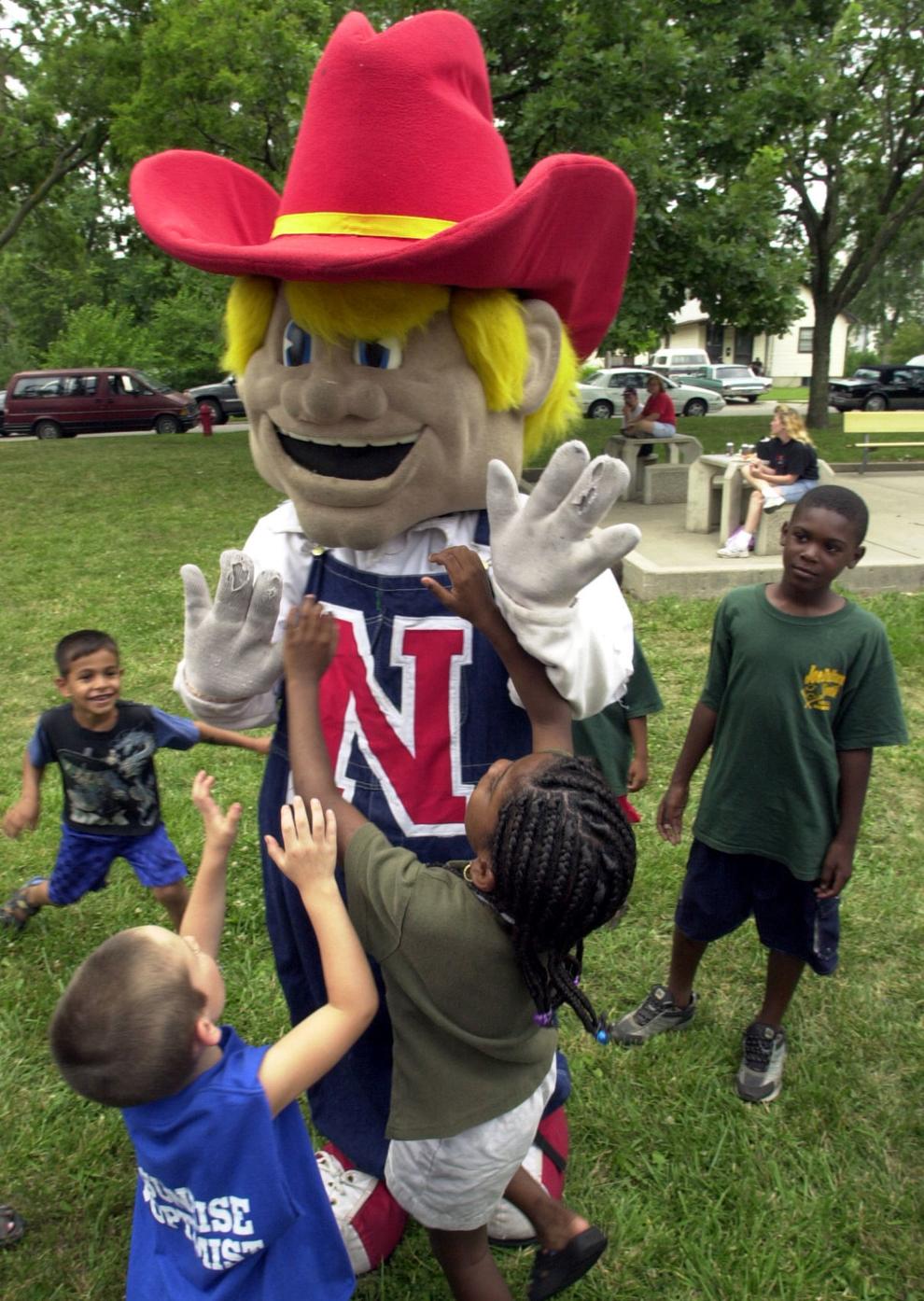 Herbie Husker (1974-Present)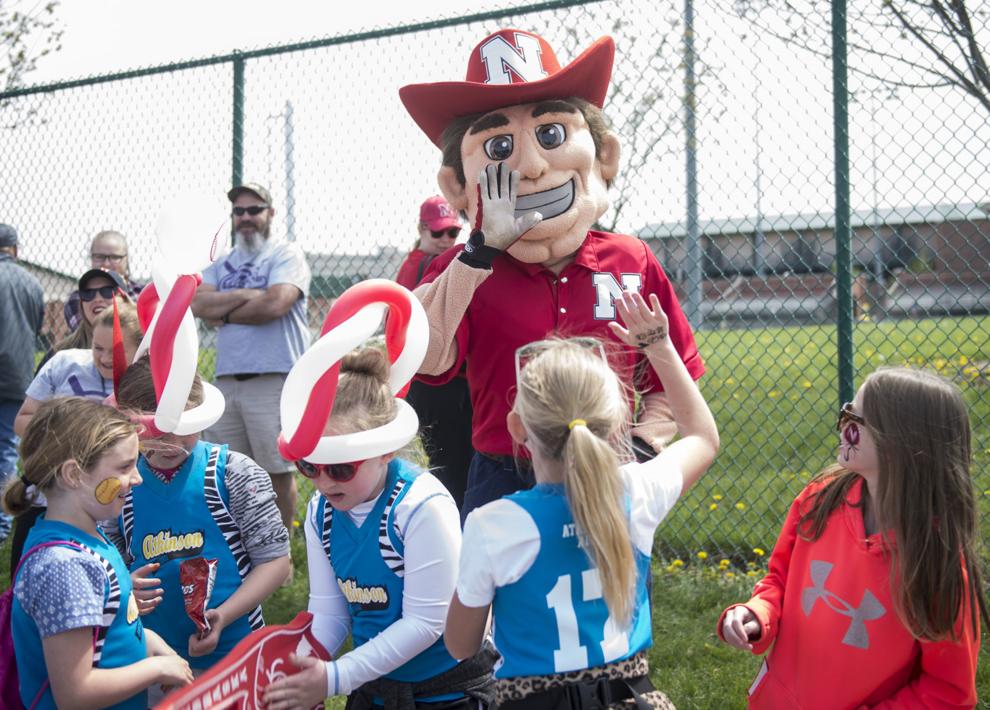 Herbie Husker (1974-Present)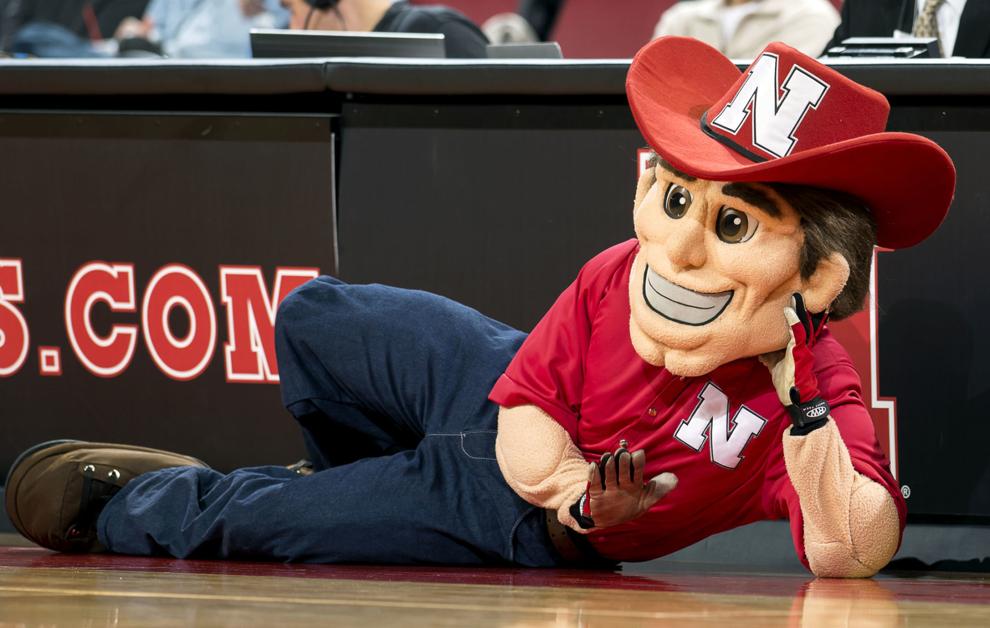 Herbie Husker (1974-Present)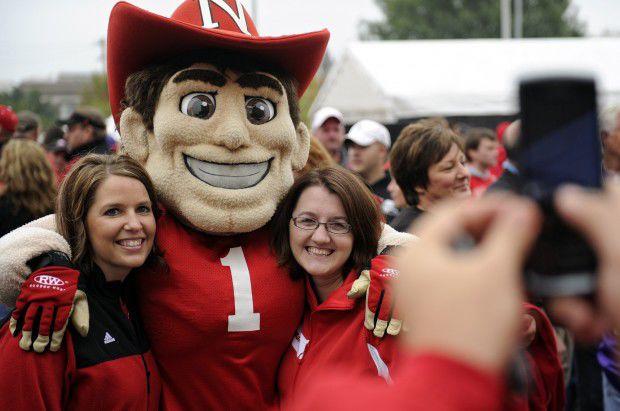 Herbie Husker (1974-Present)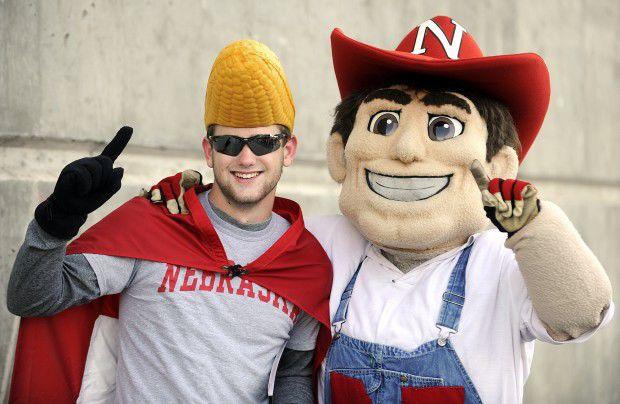 Lil' Red (1993-Present)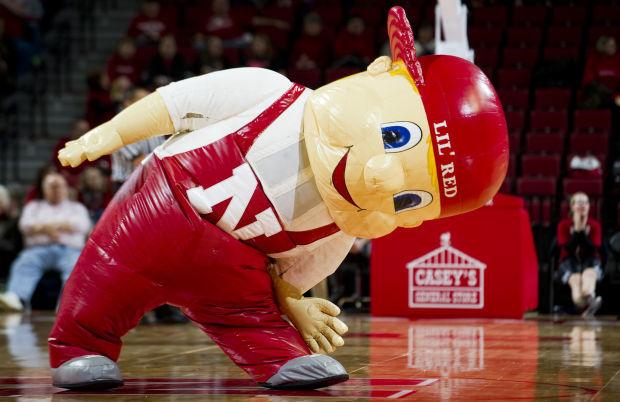 The ultimate Husker fans: Here's what you should know from some of the pro's pros
Five things to know about how to step up your gameday look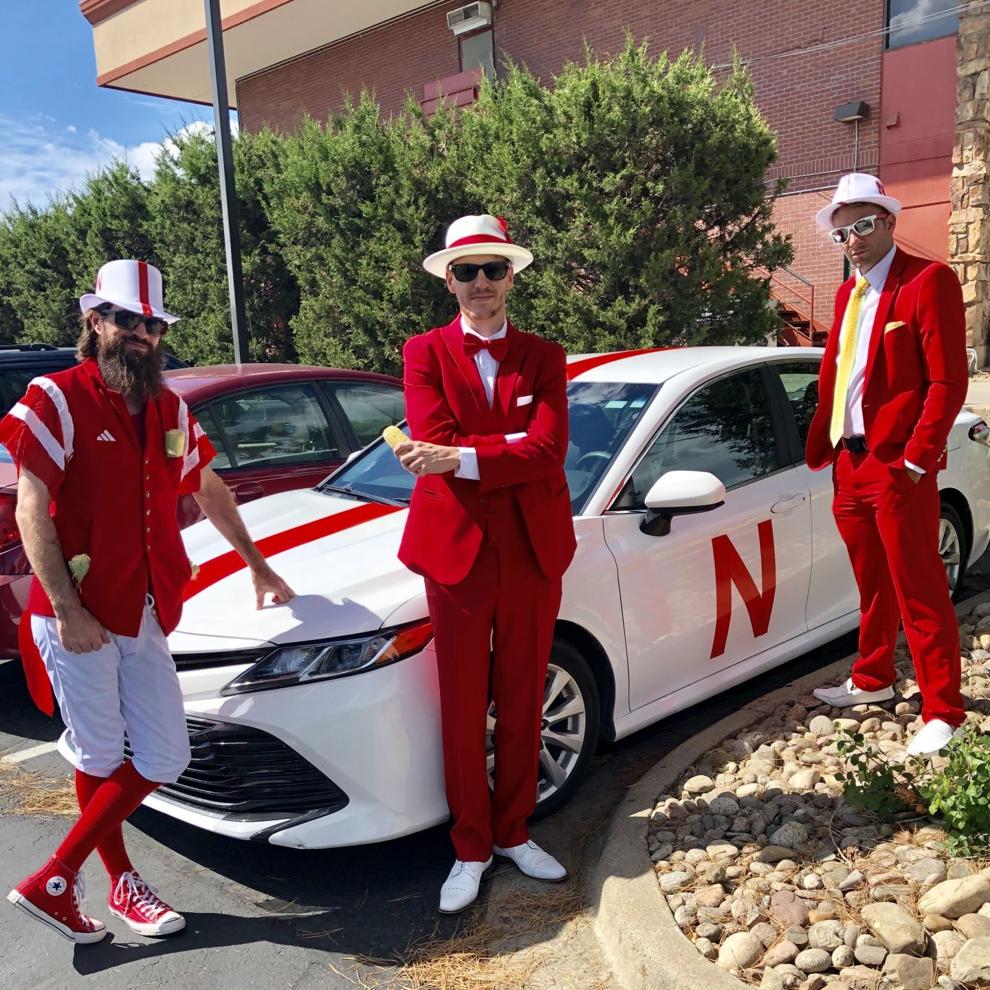 Usually, Eric Crouch is the one being asked for a picture from fans.
But in 2017 in Eugene, Oregon, the former Heisman Trophy winner spotted three guys decked out in red and white duck-hunting ghillie suits and asked if he could get his picture with them.
Sean Caudill, Will Dam and Bryon Pinkes are big-time Husker fans. But when it comes to dressing in Husker gear for gameday, the trio doesn't hold back. It's an all-out on face paint and costumes.
If game sites hosted costume contests, these guys would probably win.
Dam and Caudill started the tradition in 2012 when Nebraska hosted Michigan near Halloween. So the two Springfield natives, who live in Arizona, painted their faces like skeletons.
"The next year after that, it was like, 'OK, we've got to step (up) our game again," Caudill said.
And stepped up they have. 
They turned their heads into replica Husker helmets in 2014 at Fresno State, shaving their heads. They went back to a ghosts and goblins theme — think Oakland Raiders Black Hole fans — for Halloween in 2016 at Wisconsin.
It's all in good fun, but make no mistake, the Husker fans take this very seriously.
1. You need an idea (An excellent idea)
Dam and Caudill will look at the Huskers' schedule and identify the perfect road game, factoring in time of the year, opponent or a cool place to visit.
"If it's around Halloween, we do sort of a Halloween type of thing," Caudill said. "But we also pull it from pop culture, so those Raiders fans were really our inspiration. That was our nod to them; we appreciate the effort those guys go through."
Sometimes an opponent presents the idea. That's what sparked the duck hunting ghillie suits for the Oregon trip.
"That's kind of the first go-to, is there some way to tie it to this particular game?" Dam said. "If there isn't, we just kind of go with brainstorming what's good."
And, yes, these guys have ideas tabled for future years. They have their sights set on Norman, Oklahoma, in 2021, but Caudill says no spoilers.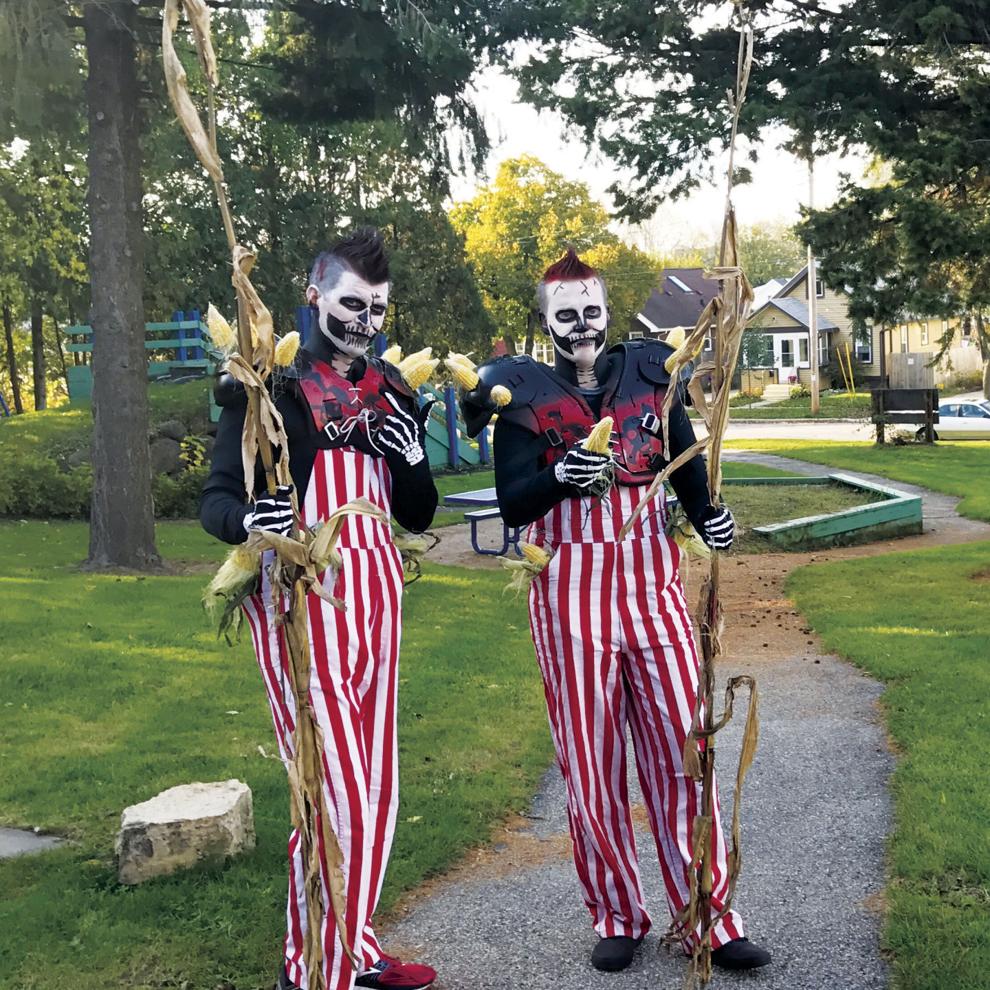 2. Planning and execution are critical
Think Dam and Caudill just wing these ideas on gameday? Think again.
"We usually do a couple dry runs in Arizona to see how much preparation it takes," Dam said.
Added Caudill, "We usually get everything ready about a month before and test it out and do a full trial run."
For example, the painted head helmets for Fresno State required multiple layers, paint to dry before painting on some more. They'll make the necessary tweaks.
What time does the game start? How early do they need to get up to apply paint and all?
It took four to five hours to make the ghillie costumes.
3. You need props … and corn
You've got to have ears of corn. Dam and Caudill make sure to include the Nebraska staple in their designs.
The Raider-inspired skeleton costumes for the Wisconsin roadie included half ears of corn popping out of their shoulder pads. Their classy fan suits for games at Michigan (2018) and Colorado (2019) included corn in the pockets.
Because they are flying to a lot of these places, it requires a trip to the vegetable section at the local grocery store or market place. In Miami, in 2015, the search for ears of corn led them to a Haitian bodega.
The Wisconsin costumes also included dry corn stocks, picked up at a store in Madison, but Dam and Caudill had to ditch them upon entering the stadium. Corn stalks, apparently, are on the ban list at Wisconsin games.
And if you plan to tag along with the Springfield natives, you better bring your A game. "If you're coming, you're going to have to face paint," Dam said.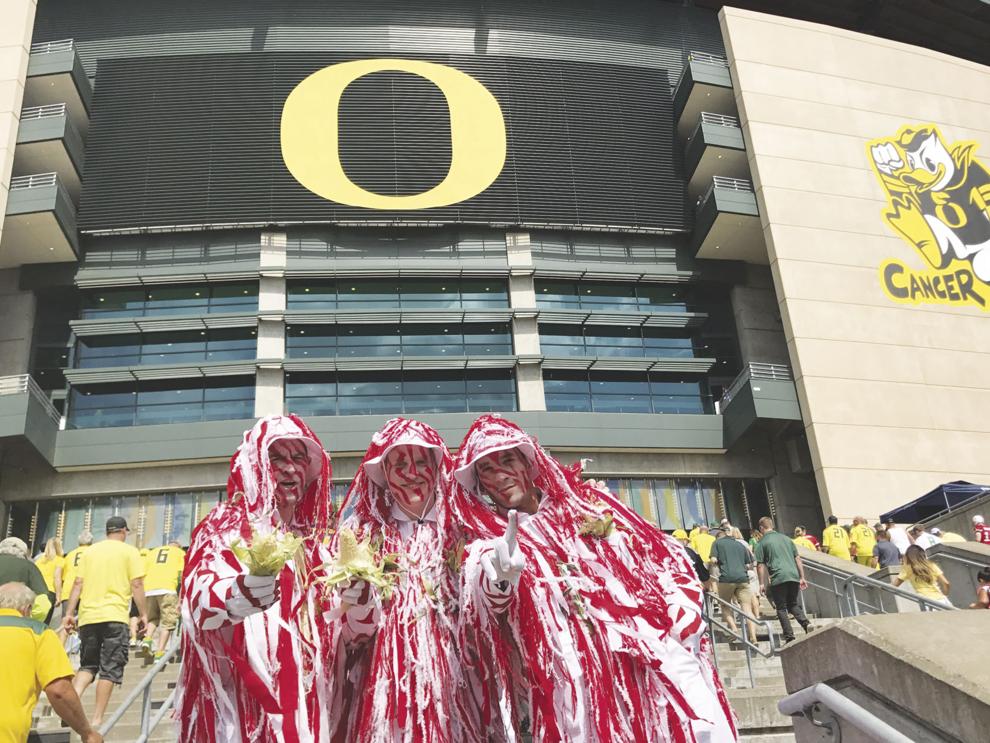 4. Be prepared to get some long looks
When you dress to stand out, people are going to stare. But that's OK, the interaction with fans is a big part of why Dam, Caudill and Pinkes do what they do.
People want to take their pictures with the guys, and it's not just those dressed in red. Dam said it's cool to see opposing fans acknowledging them in a positive way.
"The fan's reactions, both Husker fans and the opposing teams, they all love it," Caudill said. "We're all sports fans and I think they really appreciate the effort and they get the picture and it's kind of fun."
The guys will put put on their costumes at the hotel, so yeah, there are some long looks from hotel workers, and later Uber drivers.
If you want to get on TV at a football game, you need to pop, and Dam, Caudill and Pinkes have that covered.
Their strategy: Get to the first row.
It's not always an easy ticket to get, right? "It can get a little pricey," Caudill said.
Part of the guys' research includes scouting stadiums. What spots or corners would be the best? How close can they get to the field?
"A lot of time we've actually been in sections where we're the only Husker fans in the section," Caudill said.
A pandemic will keep Dam and Caudill from finding a road game this fall (They were eyeing Rutgers). But Dam said he has no plans to stop dressing up like it's Halloween.
"I'm already 36, so it's not like I'm going to outgrow it," he said. "I would have by now, I think."
Five things you should know about building a Nebraska football room
Eric Kringel feels a little closer to his hometown of Lincoln — and the Nebraska football team he grew up cheering for — now that he's completed his yearlong vision of designing a special room in the basement of his home to host parties for Husker football games. He's a Lincoln Southeast and UNL graduate who lives in North Potomac, Maryland, near Washington.
Kringel, 50, is an attorney for a large bank. His family finished the project this spring.
Here are some tips for creating your own Husker-themed space:
1. Keep your Husker memorabilia
Kringel has items in his room that go back to when he was a boy growing up in Lincoln, including a pennant he got for his 13th birthday. His mom went to Memorial Stadium and asked Tom Osborne's secretary if Osborne would sign it, and he did.
In a beer crate, he's saved several special programs. They include programs from when he went to games in the 1980s with his dad and the programs from when he took his daughters to their first games in Lincoln.
"Just keep piling stuff up, and taking care of it, until you have a place to put it," Kringel said.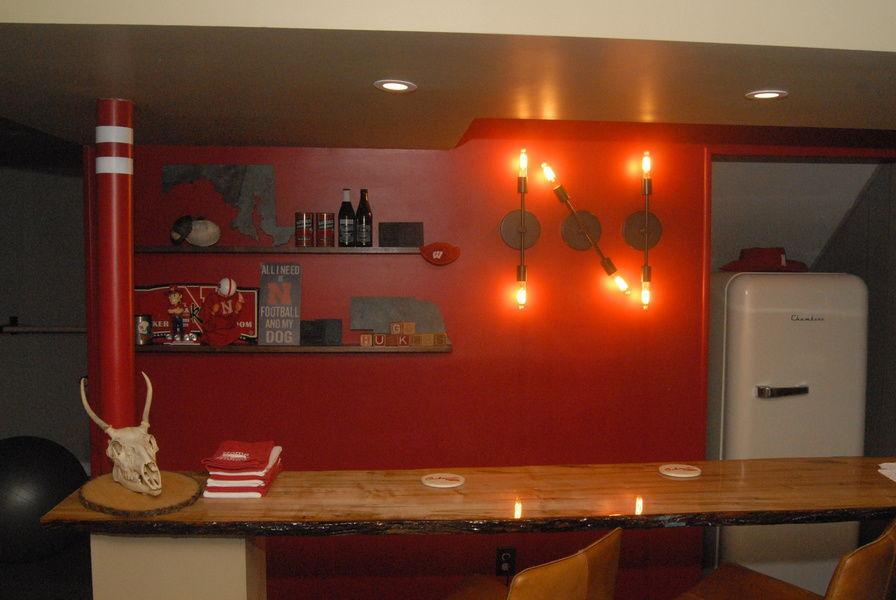 2. Come up with a name for the space
They call the room Osborne's, after the former head coach. They even had Osborne's — using a duplicate of the coach's signature — printed on coasters and pint glasses. Kringel had glasses personalized for both himself and his friends.
The friends also got a pint glass to take home. Kringel has always been a big admirer of Osborne and met him when Osborne was in Washington as a congressman.
"He's an inspiration, so we wanted to honor him a little bit," Kringel said.
Eric's wife, Cathy McCullough, came up with a lot of the design ideas and enlisted the help of her uncle, Barry Marron, who is a painter and designer. The design theme was a midcentury vibe, recalling the way his parents' and grandparents' homes looked when he was growing up. There's also a Nebraska and Lincoln theme.
Marron painted the paneling on the walls to look like the inside of a barn. There is also artwork to remind them of Lincoln: the State Penitentiary, near where Kringel once lived; the buffaloes at Pioneers Park, where he would go for school trips during elementary school; the Tastee Inn & Out, where his dad proposed to his mother.
There is also a blueprint of Memorial Stadium, and a lithograph from the Zoo Bar, which was one of Kringel's college hangouts.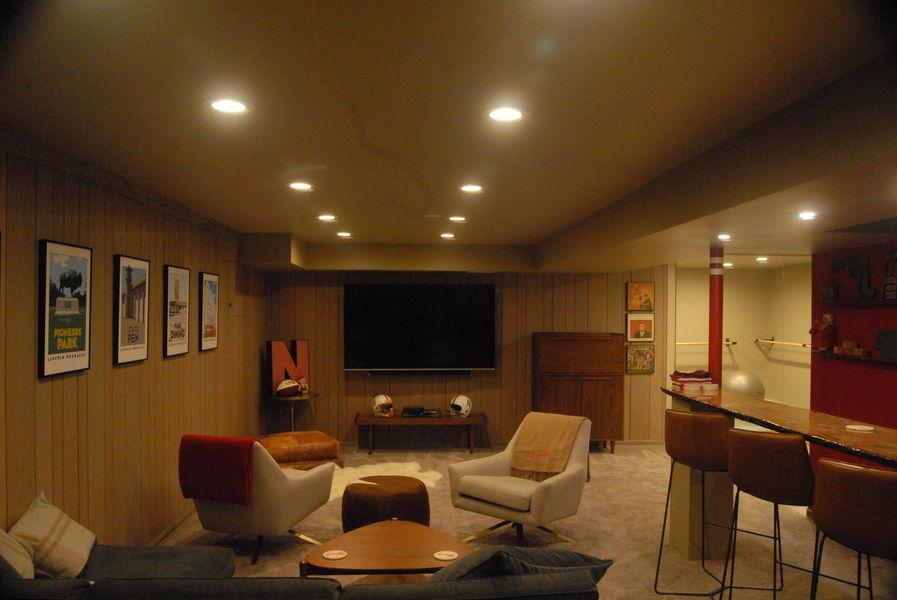 There is a TV, of course, but a media server is a nice accessory. On the media server, Kringel has about 40 Nebraska football games downloaded for quick access, along with Husker documentaries. The old games include the first Husker home games attended by his two daughters: Penn State for oldest daughter Kate in 2012; Maryland in 2016 for Ellery.
Some of his friends and family have ties to other Big Ten schools, so there are also a few non-Nebraska games. There are also videos from the Tunnel Walk and audio of the Nebraska marching band.
5. Make plans for food and drinks
To stay with the design theme there is a new refrigerator, but with a special vintage look And for some games, Kringle has Runza sandwiches shipped from Lincoln at the 33rd Street and Pioneers Boulevard location he used to visit in high school.
Even if Nebraska doesn't play games this fall, they still plan to gather to watch some old Husker games. Kringle gets a special feeling when he goes down to the football room.
"It's like home," he said. "I'm like a fish out of water to a degree out here. I've been here half my life in Maryland and spent half of it in Lincoln. It's nice to have a little piece of Lincoln. And the best part is that Cathy, she really picked it up and ran with it. She really loved the idea of a place to watch games, and she loves the Lincoln things and designed it really well. We spend a lot of time down here. It quickly became our favorite room in the house."
Three things you should know about being king of the road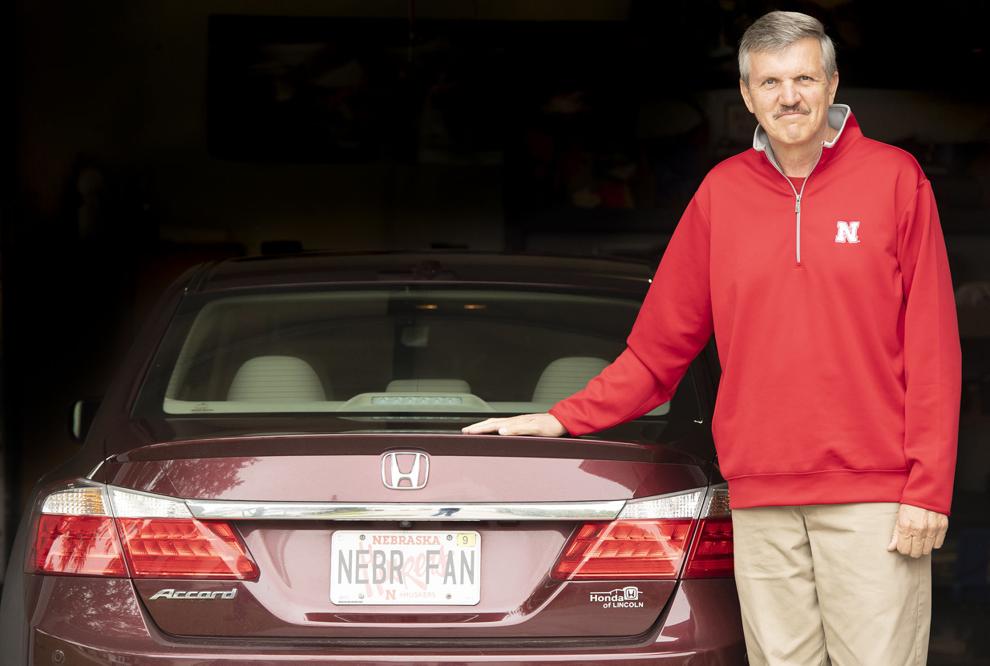 There is no rule to calling yourself a "roadie" or a patch you earn when it comes to watching your favorite teams on the road.
It's a self-given title, but some traditions involve decades of watching Nebraska football away from Lincoln, and others have become a family get-together.
Mark Clymer, a Polk native who now resides in Lincoln, has been to at least one Husker away game dating back to the 1980 season, spanning four decades and three different conferences.
Nebraska has accumulated a record of 380-134 record in the span and made 35 bowl appearances.
"In '79 to '80 when (Nebraska) played down at (Kansas State) I could get tickets because you really couldn't get them in Lincoln," Clymer said. "My brother and I drove down and went to a game and we went, 'This is fun.' Next year we went to Iowa State, and then back to K-State and then started going to Kansas. By the late '80s I was basically going to every Big Eight game home and away. From '83 to '87 I think I missed maybe one game. We would go to occasional bowl games. I was able to make it to the '94, '95 and '97 national title games, which were obviously a big thrill."
Just like the Huskers game plan for fall Saturdays, fans such as Lauren Sigmon and her family game plan to see each other during the holidays across Big Ten country.
Kelsey Badenhop, Lauren's sister, graduated from Nebraska and moved to Ohio, leaving family time and holidays a mystery until the idea of meeting midway for Thanksgiving in 2014.
"It started when she moved to Ohio right after college," Sigmon said. "She got a job out there and the first game we went to was Iowa. We chose that one because it was between both of us and it was about halfway to drive. It was either at that game or shortly after we decided to start picking an away game to go to each year."
Since then, stops have included Purdue, Minnesota, Ohio State, Michigan and Illinois. There are plans to finish off the rest of the Big Ten.
Another memory does not have to do with the game, but their travel.
"When we went to Michigan, we flew and our mom brought in her carry-on through Epley red (hot) dogs and frozen Runzas," Sigmon said. "She had them in like a cooler pack and security stopped her, because the red dogs looked like an explosive device and they had to search through her cooler, because she had red hot dogs. My sister lives about 30 minutes from (The University of) Michigan where she lives in Ohio, so my sister had a bunch of friends coming to that tailgate and my mom wanted it to be like a real Nebraska tailgate."
And as Clymer and Sigmon continue to hit the road, they've proved it is not how many games you attend that makes you a "roadie," but the memories you make along the way.
Three things you should know about building a great gameday tailgate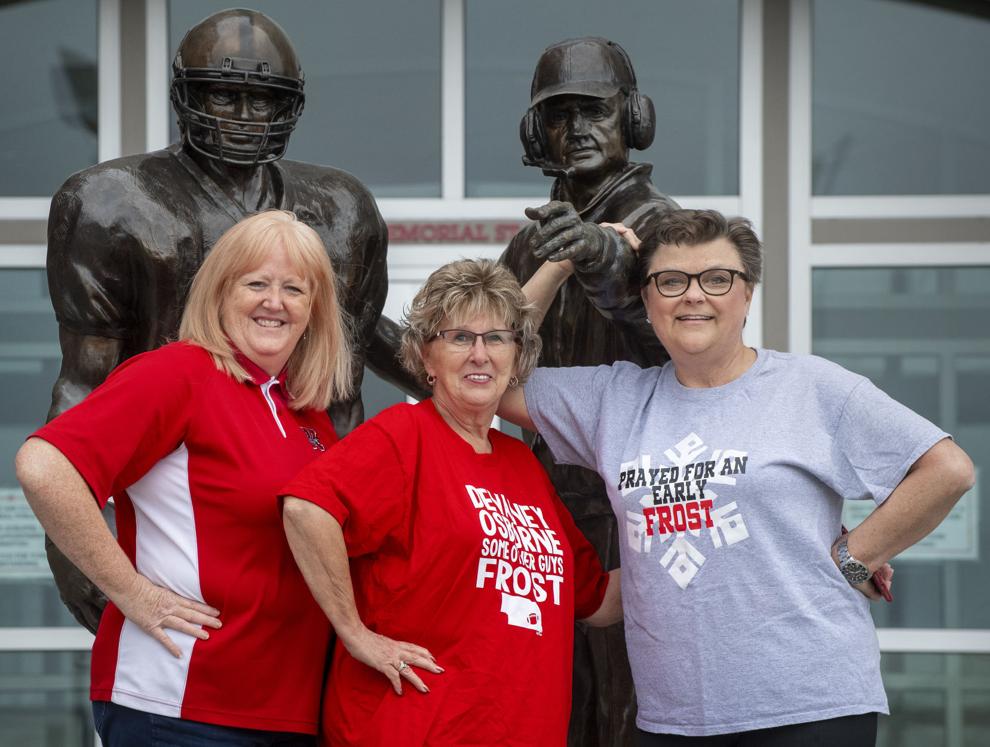 On the roof of a parking garage overlooking Nebraska's practice field, a feast is held each gameday for those two or three dozen lucky enough to be invited.
For the last decade, Karen Birdsall, Tracey Domgard and Laurie Sieg — they could be considered Lincoln's culinary queens of tailgating — have spent their weekdays game-planning a gameday feast that usually features no fewer than 15 entrees, side dishes and desserts, along with a specialty drink or two.
This party really does think outside the bun.
Instead of bratwurst or a burger, you might enjoy tortilla soup, twice-baked avocados, sliced brisket and a slab of RumChata cheesecake for dessert.
And of course, there's a special libation chosen to wet one's whistle.
"You can go to any tailgate and get hot dogs and hamburgers," Domgard said. "What we do with our brats is probably make them into casseroles."
2. It's all in the planning
It's part of the fun. You never know completely what you're going to get.
"We're always going to have beef and corn of some kind, those traditional rock-solid Husker offerings," Birdsall said. "We are responsible in that way."
The menu planning used to begin Monday with a string of telephone calls. In keeping up with technology, it has since evolved to a text string.
"I always try to find something new and fun," said Sieg, who consults a computer file of tailgate recipes accumulated over the years. "The goal is to stay two steps behind Karen because there's no way to keep up with the wonderful stuff she cooks."
Birdsall is the leader. She has a knack for finding theme dishes — Buffalo wings when Colorado came to town and Bevo Stew in honor of those memorable times the Longhorn visited Lincoln.
3. Don't forget the drinks
Birdsall's true calling might be choosing specialty drinks.
It started when former Husker Grant Wistrom was playing in the Super Bowl with Seattle a few years back. She did a little research and found that the best martini in Seattle that year was a fruity concoction called the Paradigm Shift.
That became the featured drink at the family's Super Bowl party that year. And it seemed only natural, based on a fan base in need of some patience, that it would become the drink that ushered in the Scott Frost Era in Lincoln. Paradigms might shift.
Attitudes could change. Let's hope this tailgate never does.
Will you be one of these crazy fans this season? See great shots of Husker fans showing their spirit.
alert top story editor's pick topical
From billionaires to movie stars, check out these famous faces who love the Huskers.
Reach the writer at 402-473-7244 or kwolgamott@journalstar.com. On Twitter @KentWolgamott