Zeus McClurkin is a "smiling, dunking person" who wasn't mean enough to play professional basketball.
"I used to get called out all the time by my coaches -- 'all he needs is a mean streak,'" he said. "That's not what I needed, I needed to just be who I was. That's what got me where I am."
Where McClurkin is -- and has been for eight years -- touring the world with the Harlem Globetrotters, fulfilling a dream he didn't know he had when he was a sports-crazy kid growing up in Columbus, Ohio.
"When I was a kid, I just wanted to play professional sports," said the 6-foot-8 McClurkin. "I didn't care what the sport was. I didn't care what the team was. I just wanted to be a pro. I played every sport. Basketball was the only one I wasn't very good at. I didn't make my first team until the 11th grade. When I finally did make the team, they allowed me to be myself -- that nice, naturally smiling, dunking person I am."
Julian "they call me Zeus" McClurkin started his college career at an NCAA Division II school, then played two seasons at North Carolina A&T, where he earned a degree in business management. He's also got a master's degree in marketing and communications from Franklin University.
For now, he'd much rather be playing and entertaining with the Globetrotters -- a job that requires more than just on-court skills.
"To be a Globetrotter, the first thing you have to do is be a great basketball player," McClurkin said. "That will get your foot in the door. After that, you've got to be a great person as well. You see what we're doing. We're going to children's hospitals, rehabilitation centers. We're going to schools. We're always in front of people. You've got to be a good person to share that great message we have."
McClurkin was spreading that message at St. Peter School in Lincoln last week, presenting a program of history and hoops to a gym full of students.
The message was the Globetrotters' anti-bullying program.
The history was a revelation.
It started with the fact that the Globetrotters, an entirely African-American team founded by Abe Saperstein in 1926, originated in Chicago and didn't make a Harlem appearance until the 1960s.
So, why call them the Harlem Globetrotters when they weren't from Harlem and had rarely ventured out of the state of Illinois?
The Globetrotters part, McClurkin said, was hype that later came true, making it sound like the team had played all over the world.
Harlem came from the Harlem Renaissance, the flourishing of African-American art, poetry, writing and music that occurred primarily in Harlem in the 1920s -- a movement with which Saperstein wanted his team to be associated.
Widely recognized as the best basketball team in the country in the '30s and '40s, the Globetrotters played and beat the NBA champion Minneapolis Lakers in 1948 and 1949, helping to speed the integration of basketball that began in 1950 when Globetrotter Nathaniel "Sweetwater" Clifton signed with the New York Knicks.
In 1985, Kansas Jayhawk and Olympic gold medalist Lynette Woodard joined the Trotters, becoming the first female to play on a men's professional basketball team, a pivotal step on the path to the creation of the WNBA.
Among the Globetrotters legends are "clown princes" Meadowlark Lemon, "Goose" Tatum and "Geese" Ausbie, dribbling wizards Marques Haynes and Curly Neal and a couple guys who went on to make their mark in pro basketball -- Connie "Hawk" Hawkins, the ABA/NBA star who preceded Julius "Dr. J" Erving, and Wilt Chamberlain, who played for the Trotters in 1958-59 after he left the University of Kansas.
The hoops part of McClurkin's presentation -- he's played more than 200 games as a Globetrotter -- was appropriately capped by a dunk.
McClurkin is a world record holder for some basketball tricks -- and one astounding feat. He's made the most bounced 3-point shots in one minute -- 5, the most behind-the-back 3-pointers in a minute -- 3, and the most blindfolded dunks in 60 seconds -- 3.
The mind-boggler, however, is the mark he set in 2017 for the most dunks in a minute with 16 -- or one dunk every 3.7 seconds.
"It was tough," he said. "I had to run behind the free-throw line in between every attempt. They added that little extra layer. That was really difficult. I had my teammates there; they were cheering for me."
McClurkin was in Lincoln to promote the Globetrotters' Friday appearance at Pinnacle Bank Arena. After his presentation at St. Peter School, he hopped into a rental car, still dressed in his warmup, and headed for Manhattan, Kansas, where he was do to the same thing the next day.
"I like traveling," McClurkin said. "My least favorite part is being on small aircraft. After I get off the airplane, my life is great. Getting a chance to go all over the world -- I've been to 25 countries. Seeing the people's reception, their faces, when we come into their community, it's really amazing."
In case it appears that being a Globetrotter is all fun and games, well, it's fun, but it's also a lot of work. The basketball comes naturally, but the skills have to be honed regularly. In addition, creating the entertaining tricks and gags the team pulls during each of its shows requires constant rehearsals.
"It's a ton of practice," McClurkin said. "If you think about it, we're playing 320 games this year in 260 cities. Before the game starts, we'll get to the arena about two hours before, then we'll do practice. We're talking over 300 practices a year. We're doing it a lot."
That schedule can be taxing. But McClurkin said he's got no plans to give up being a Trotter any time soon. He'll quit, he says, when he gets the signal that sidelines most hoopsters.
"It's not up to me, you've got to ask my knees," he said. "They're feeling pretty good right now."
Harlem Globetrotters at St. Peter's Catholic School, 1.23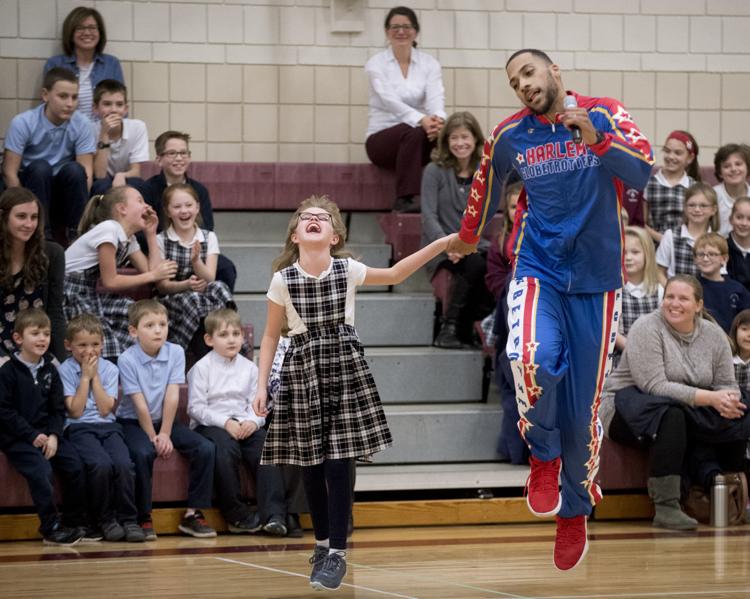 Harlem Globetrotters at St. Peter's Catholic School, 1.23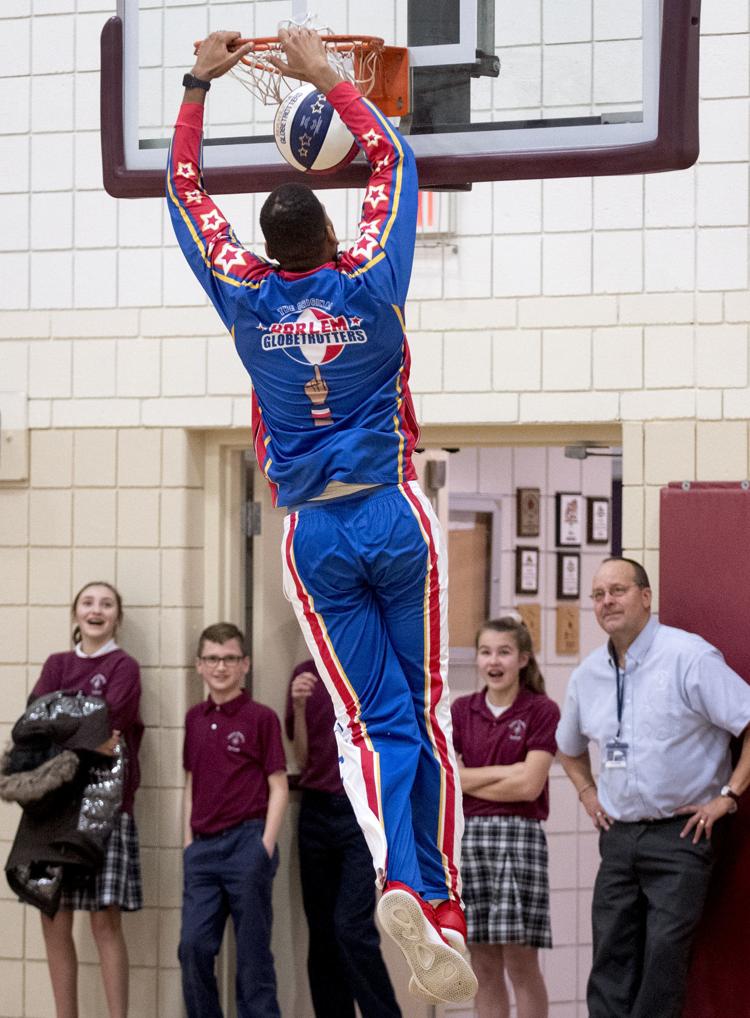 Harlem Globetrotters at St. Peter's Catholic School, 1.23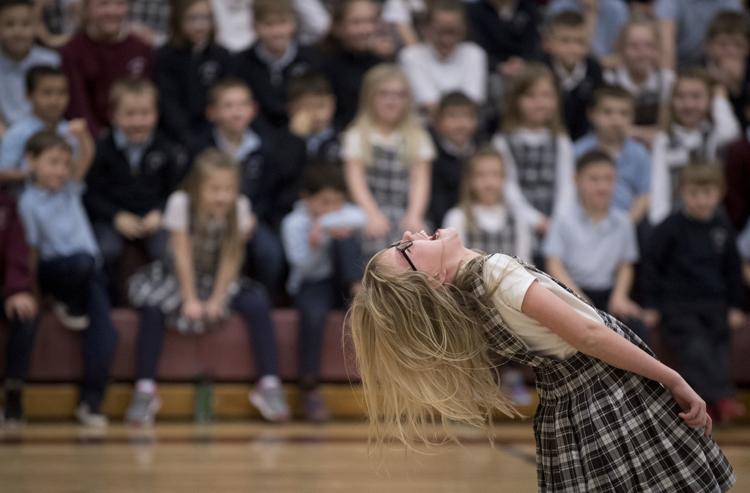 Harlem Globetrotters at St. Peter's Catholic School, 1.23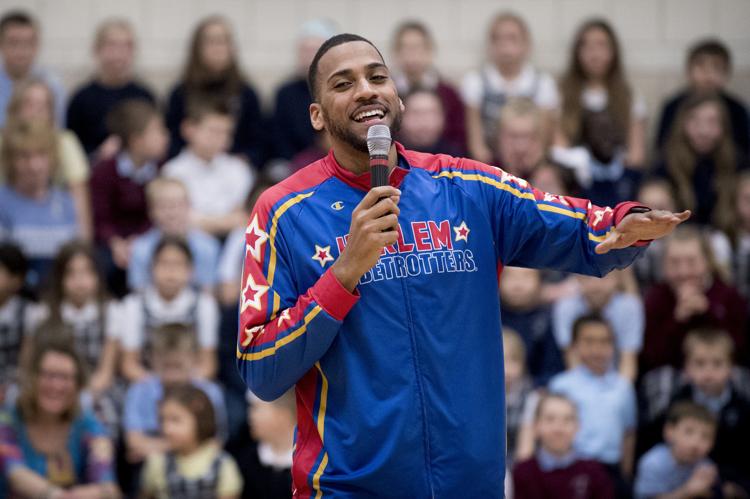 Harlem Globetrotters at St. Peter's Catholic School, 1.23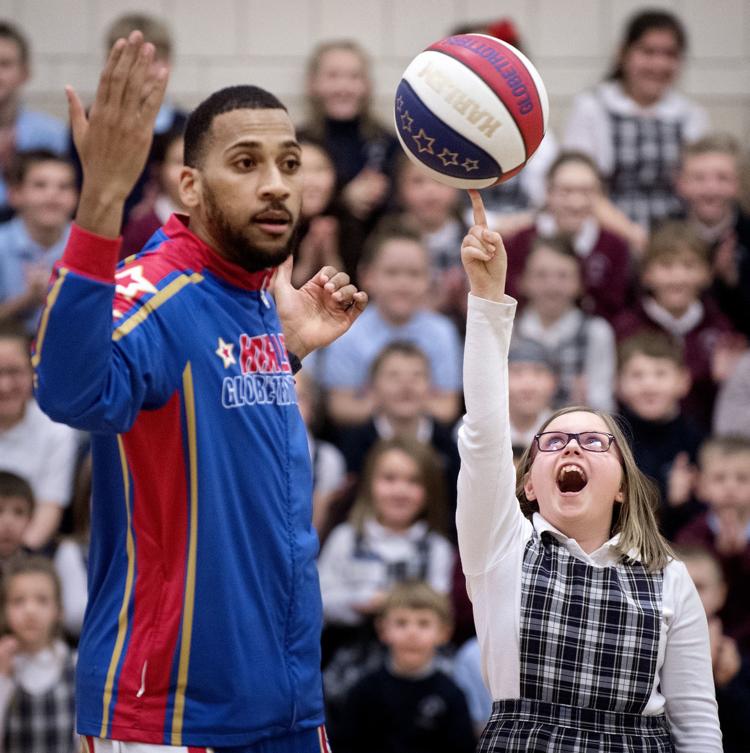 Harlem Globetrotters at St. Peter's Catholic School, 1.23