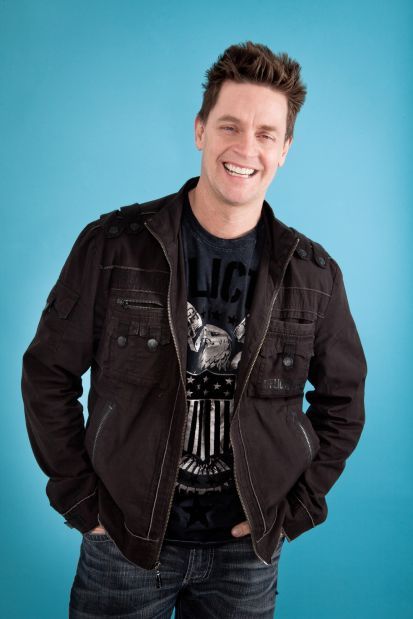 Stand-up comic and "Saturday Night Live" alum Jim Breuer has a dream that he believes will soon be realized. It involves two dudes listening to a metal record -- his upcoming metal/comedy record -- and arguing over whether that's actually Breuer singing lead.
"Someone will be listening, going, 'Dude, you heard this song?'" Breuer envisioned during a phone interview in advance of his upcoming stand-up and hosting duties at the Great American Comedy Festival in Norfolk. "And someone will go, 'Dude, do you know that's Jim Breuer?' 'You mean, like, the guy from 'Half Baked,' the comedian guy?' 'Yeah, that's Jim Breuer!' 'Come on, no it's not!' 'Google it! Google it! It's Breuer.'"
He played the roles of the two dudes with rather "Half Baked" voices, but Breuer doesn't lean on the 1998 Funyuns-loving character or his "SNL" staples, Goat Boy and Joe Pesci, during his sets. Now that he's married with three daughters, Breuer's most recent special, "And Laughter for All," culled material from his family … and Slayer fans. He took some time to talk over the phone about Carson, comedy and Norfolk in advance of his performance there during the festival. Here's a condensed, edited version of the call:
Ground Zero: You're going to be performing in Johnny Carson's hometown. Did you watch his "Tonight Show" growing up?
Jim Breuer: I watch it every single night, because I have the box set and both my parents live with me. So I'm a caretaker for my mom and dad. So what do we do before bedtime? We turn on a new Johnny Carson CD.
We watched last night -- I laughed so hard -- only 'cause I knew it was an inside thing, and it really marks the time. It was Burt Reynolds, it was his birthday, and Johnny Carson had some whole big thing. It was very sexually driven, but it was freakin' hilarious. So he did the sketch called, "This is Your Life," and he did it for Burt Reynolds. It reminded me, Burt Reynolds was huuuuuge. He was huge when I was a kid!
We watch it every single night. Every night we get to watch Johnny Carson, and it made me realize … I think Jimmy Fallon's the best thing since Carson, to be dead honest with you, of any late night people. He brings a whole new attitude. When you still watch (Carson's) "The Tonight Show," you realize, no one's ever gonna be better. He didn't have to talk, and it was just funny. It was funny! I watched him last night, and he went up, and he bombed in the monologue, and it was freakin' hilarious. He just keeps looking to the side, and he's, like, (Carson impression) "Very sweaty right now." He was it. He was the man. Always and forever.
GZ: Did you get those DVDs off the infomercials?
JB: Yeah! I got that, and I got the Dean Martin roasts. And those are the two things we watch. They're still freakin' hilarious. They're hilarious! I think they blow away any roasts that ever exist today, hands down.
GZ: Have you ever been roasted?
JB: I've been invited to almost every one, but they stopped inviting me. Because, to me, those aren't roasts. Those are, let's see how nasty, filthy, cruel and demeaning you can be. And that's just not my style. If you watch the Dean Martin roasts, they pretty much used everyone's comedic advantage.
You had Foster Brooks always pretending he was drunk, the drunk character. And he'd go up, and he'd do the drunk character -- it was hilarious. Don Rickles would go up and do his thing. You had the lady -- I forgot her name (Ruth Buzzi) -- she bopped people on the head with her pocketbook. Really it was just glorifying the comics where now … I'm turned off. I don't like any of the roasts. To me it's the easiest thing in the world to just go out and demean someone. I'm not a fan of it.
GZ: I've gotta ask one question about "The Joe Pesci Show" sketches. Who chose to give him a bat?
JB: We chose that. It'd be so funny to have a bat behind the thing and just be able to smash people, cause the gun is just too predictable. The bat adds slapstick, just such a funny slapstick. It was me and the writers' idea to use a bat. And we were, like, he should always have a weapon ready to take someone out, so that's the deal with that.
GZ: The Great American Comedy Festival is going to feature lots of comics who are getting started in their careers. What advice do you give to comics who open for you?
JB: Me it's easy. I have a guy that opens up for me all the time. What I'm looking for is, be original and be clean -- for me. If you're gonna work for me, I need you original and clean. I can't have filthy animals going up before me.
But for any other comic, it comes down like a band -- you just find your voice. You can tell who's inspired by who. And usually with young comics it's: "Oh, this guy's trying to be Dave Attell. Oh, this guy's trying to be Dane Cook. Oh, this guy's trying to be the new Louis C.K." And then you find your voice. Eventually you find your voice. Look for your voice. Be clean. Be original.
And my biggest advice for comics too, I tell them don't get caught up in drinking and getting high before you go on stage. Because what happens is, you then start believing you need that to be funny. And if you're not funny naturally and you can't go up there and just be funny, there may be a day where you have a problem, and you gotta leave that stuff, and now you don't think you can go back.
I know so many comics that would be, like, "I need two beers, I need a couple shots, I need a couple …" and then three years later, they need that to convince themselves that that's what's going to make them funny. And they most likely don't need it.
GZ: What are your plans for Norfolk?
JB: Well, I'm hoping I'm there early enough because I really do want to see what's going on. The first thing I always do when I arrive is walk around and check out the scene. I'll be checking out everything, walking around the streets. I'll definitely be visible. I don't hide. I'm very visible until my showtime. You might not recognize me because I may have, like, a baseball shirt and shorts on.
GZ: Well, just tell me what team it is, and I'll let everyone know.
JB: (Laughs) Most likely a Mets (shirt).