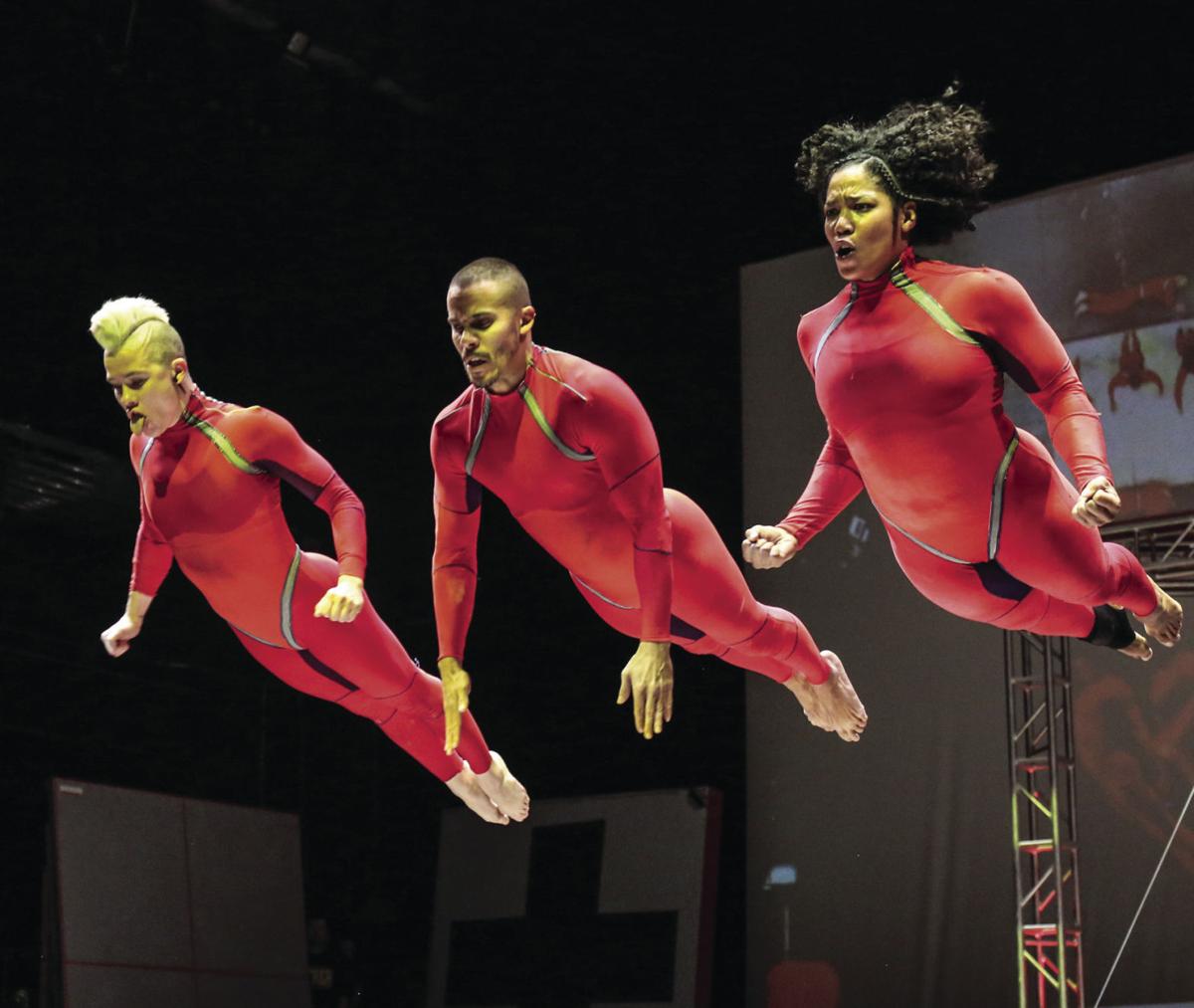 I had watched the final, pulse-quickening move in a performance that included, oh, a couple hundred of them before it brought the Lied Center for the Performing Arts audience to its feet to cheer the action heroes of "Streb: SEA (Singular Extreme Action)." In fact, I had replayed it over and over.
The New Yorker produced a video feature about STREB, the Brooklyn-based contemporary dance company, that included rehearsal footage of Daniel Rysak ever-so-cautiously stepping into the path of a furiously spinning 21-foot ladder. As he did on stage Thursday night, he crossed his hands in front of his face as he made the final approach. In the video, you can hear Rysak count as he nears the ladder. At the Lied, you could hear a range of gasps.
But by the time he began his approach, the audience had been primed for what should read like a reckless maneuver. Spectators had seen performers springing off a trampoline and crashing to the ground like planks, only to pop back up and do it again. They cheered as three people scooted up a slanted, 8-foot platform — on their heads. They'd seen a poetic dance between two performers tethered to one another with a rope they used to draw each other near, and also to simulate whiplash. They'd watched one, two and four performance at a time zip in and out of the path of a spinning, two-ton steel beam.
Oh, and upward of six performers had clung to the ladder mid-spin, all taking time to give toothpaste commercial smiles to the crowd. There's a reason founder Elizabeth Streb calls her company members action heroes, after all.
So the lead-up to the finale prepared you to believe that Rysak, Loganne Bond, Jackie Carlson, Tyler DuBoys, Luciany Germán, Felix Hess, Cassandre Joseph, Matthew McEwen, Justin Ross and Jamarious Stewart could astound within the boundaries of the nine events that pitted and/or married them with physics. And still, I cringed as Rysak moved toward that ladder.
In both the rehearsal video and the performance, the ladder seemingly thunked Rysak in the face, complete with thunking sound effect, and he fell, gracefully, backward upon a mat.
I replayed the video anywhere from 14 to a trillion times before finally realizing the thunk is the last-millisecond impact between the performer's hands grazing the bottom rung of the ladder before he expertly topples. Even after the sleight-of-hand revealed itself on video, the "STREB: SEA" show still thrilled — maybe even more so when you consider all the technique that went into it.