Omaha native Katie Pohlman knows she'll be dancing Saturday night in the third of four weekend performances of "Bandstand" at the Lied Center for Performing Arts.
The "swing" dancer and dance captain for the touring musical company made sure of that shortly after she landed her first professional job last fall.
"I did put in a request all the way back in October to go on that Saturday night performance," Pohlman said Friday. "I found out last week, I will be on. I'm excited. When I found out I got this, my mom and I were so excited that I'd get to perform in Lincoln. The last time I performed in Nebraska was in 2015 when I was in high school."
That was when she was attending Omaha's Skutt Catholic High, where she was heavily involved in music and dance programs. But she'd started dancing much earlier.
"I've been dancing my whole life," she said. "I've always known that's what i wanted to do. When I was 5, I'd tell people I wanted to be a dancer. At 23, it's still 'Oh, I want to be a dancer' I just know a lot more about it now."
Little Katie studied studied tap, ballet and jazz at a Papillion studio. At Skutt, she was in musicals, plays and "I loved show choir. In Nebraska, show choir is a big deal. Show choir helped me realize that music theater is where I love to dance the most.
"That's one of the main reasons I chose to go to Oklahoma City University -- their dance program has an emphasis in musical theater dancing."
After 3½ years in Oklahoma City, and earning a degree in performing arts - dance, Pohlman was off to Broadway.
"I moved to New York City a year ago and started going to as many auditions as I could and this one worked out," she said. "This is my first post-college professional perfomance."
She was cast as a "swing," which she translates from musical theater lingo to someone who "is basically an understudy for everyone in the ensemble," she said.  "There are five girls in the ensemble and I know all five of the parts. I'm always there for when somebody gets sick or has a wedding or something like that.
"That's when I go on, so the show will look the same as it does every time."
Pohlman keeps a set of note cards that detail not only the choreography for each of the dancers, but the costumes and precisely where they stand on stage during each point in the show, so she can step in to any of the positions on short notice.
She also gets a very good sense of what each dancer does when she watches "Bandstand" every week in her role as dance captain, passing out notes afterward to make sure the dancing looks the same as it did when the touring company hit the road last fall.
Regular viewing has given Pohlman the opportunity to discover how good the Tony Award-winning musical really is.
You have free articles remaining.
"We were actually saying yesterday during sound check that the songs in this show never get old," Pohlman said by phone from Toledo, Ohio. "Every time I go out and watch it, I'm amazed, blown away and continue to be inspired by the dancing, the acting and the story is so good."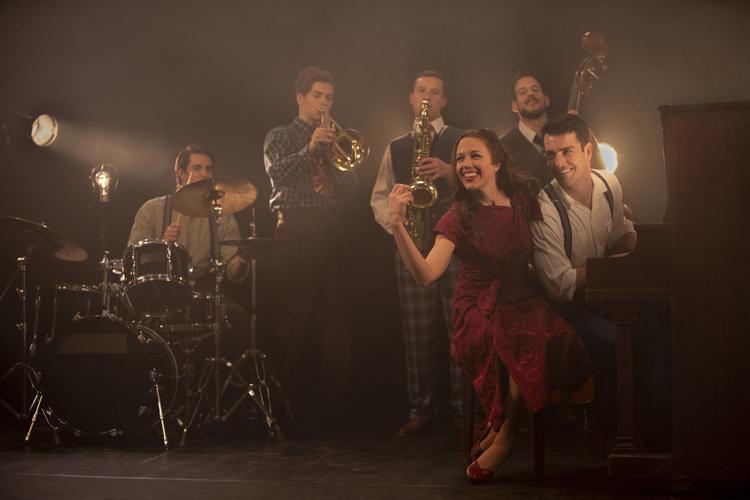 The story is about a group of World War II veterans who learn about a radio contest for singers and songwriters. They get together and write songs. But the tale goes much deeper, Pohlman said. 
"Along the way, it deals with PTSD and different things the World War II veterans were dealing with in their first couple months back from the war," she said.
The musical's lively, uplifting swing music, original compositions, not covers of hits, is a contrast to the darker themes and issues in the story, Pohlman said.
The swing music is also a jump back in time, more than a half-century before the dancers were born. And swing dancing isn't exactly in style these days. That required some dance education.
"Before we started working on anything with the staging, music, dancing, the dance ensemble had a three-day swing dance workshop," Pohlman said. "We didn't listen to any of the music from the show. We focused on social swing dance. We learned about how they'd approach swing dancing socially in the 1940s, dancing to the music that (were) hits back then."
There are a couple spots in "Bandstand" where the dances could have been lifted from a late 1940s nightclub. At other times, however, the Tony-winning choreography is "really, really difficult" and wouldn't have happened in casual dancing back in the day, Pohlman said.
While she's not on the stage every performance, Pohlman has done the show enough times to feel comfortable dancing in front of thousands of people.
"The first time you do it live, it's a little out of body," she said. "I know what I'm doing and how to do it. But there's a bit of 'Is this happening now?' … I think that tonight is our 50th show and I've been on seven times. That's a pretty good amount of time
"The first time I went on, someone was gone for a wedding, so I knew I was going to be on. The last time I went on, I found out the morning of. Last week, a male in the ensemble called out three hours before the show and one of the swings had to go that night. That's almost too close."
Pohlman is just starting her musical theater career. So she has a list of shows that'd she'd love to be in. Unlike most young performers, however, she's not dreaming of being Christine in "The Phantom of the Opera," Amy in "Waitress" or Elphaba in "Wicked."
"I do have a couple dream roles, but most of my dream roles are in the ensemble," she said. " All of my dream shows have to do with the ensemble --- I''d love to be in the ensemble of 'Wicked' or 'Singing in the Rain,' where I'd get to tap dance a lot."
For now, however, she's happy to be in "Bandstand," especially when she gets to dance and she's thrilled she's going to be on the stage for her Nebraska homecoming Saturday.
"I have a ton of people coming to the Saturday night performance in Lincoln." Pohlman said. "Both sides of my family are still in Omaha, so there's a lot. I'm so excited." 
Reach the writer at 402-473-7244 or kwolgamott@journalstar.com. On Twitter @KentWolgamott