Gabriela Montero never expected to be a political activist, using her position as one of the world's most acclaimed classical pianists to speak out against what is happening in her homeland of Venezuela.
But Montero, who will give a concert at the Lied Center for Performing Arts Tuesday, said she had little choice but to do so.
"We never expected we would see our country collapse into absolute mayhem and chaos as it has," Montero said from her home in Barcelona, Spain. "It's something that has touched every single Venezuelan. It's something that has affected all of us. My story today, and since 20 years ago, I've been speaking out — very, very vocal from 2010, not just in the press, on social media and in my compositions. ...
"Everything I've done has been connected to that. It's not something I chose to live. Unfortunately, it is what I've been called to do."
Montero was the first prominent Venezuelan artist to speak out against the government and its policies, which have left millions without sufficient food and sent the country's economy into a devastating tailspin.
"Once she became this international star, she is the one who spoke out against the government, making comments about the political situation, making the world knew what was happening in Venezuela," said University of Nebraska-Lincoln art professor and Venezuelan native Francisco Souto. "Every time she gave a recital, she gave a sense of what Venezuela is going through."
In fact, Souto said, Montero's activism inspired him to create his last two series of drawings — 2016's "A Memory in Peril" and this year's "Dicotomias," the first direct depictions in graphite of the people and unrest in Venezuela, the latter a more symbolic look at devastation of the country and its people.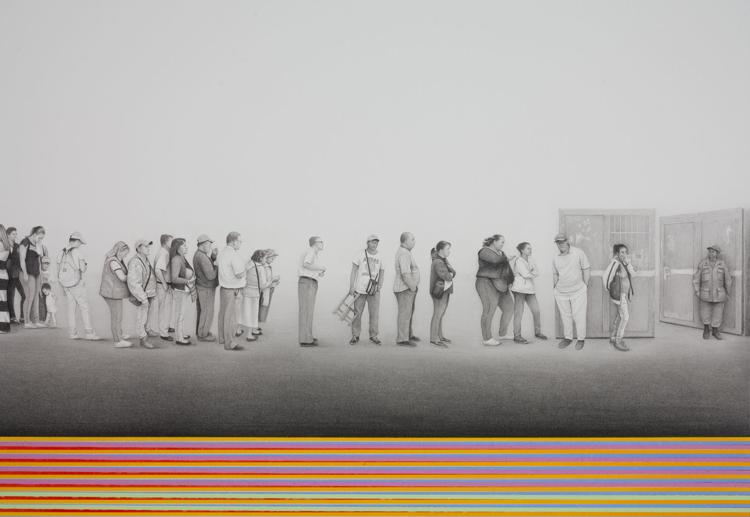 "Because she was doing that, I felt the urge to do that myself," Souto said. "Now that I have a little bigger voice, after I saw her do that, I thought 'this is my duty, my responsibility to do the same."
Named the first "Honorary Consul" by Amnesty International in 2015 for her activism, Montero was just announced as the 2018 winner of The Beethoven Prize for Human Rights, Peace, Freedom, Poverty Reduction and Inclusion, an award that takes into account an artist's engagement in broader society outside the concert hall.
But, as Souto noted, she also brings her protest into the concert hall.
"Since I've become an activist for Venezuela, a lot of my programs are centered on my experience as an artist who speaks out," Montero said. "I have one, I'm not doing it in Nebraska, called "Innocence/Experience" that starts with Shuman, Chick Corea and a composition of mine. Then there is a Shostakovich that is very dark, the experience part."
In Lincoln, Montero's program will open with Mozart's Piano Sonata No. 10 in C Major. It will be followed by Beethoven's Piano Sonata No. 21 in C Major, "Waldstein."
After intermission, Montero will return to do the improvisations for which she is known, taking themes from the audience and building on-the-spot compositions around them.
Montero is one of the very few classical music artists who do improvisations in their concerts.
"People in the business will say I'm a maverick," she said. "Maybe that is true. But I'm the old-fashioned one. I'm doing something that was done in the 18th, 19th centuries. ... Beethoven, Bach, Liszt, a lot of the performer/composers were wonderful improvisers. Improvisation is the nugget of composition."
The improvisation come naturally for Montero, a child prodigy who gave her first public performance at age 5 and, at 8, made her concerto debut in her hometown of Caracas.
"For me, improvisation is not ornamentation," Montero said. "It's really coming from a true spot. I can't really tell you where it comes from. It's always been with me. Since I was a little girl, I have always been improvising. From the very beginning, my first effort as a young child on, that's just what I do. Even on recordings I have from when I was 7, 8, 9 years old, they are very complex and dark, not childlike. It's part of my neurological landscape."
It is important to note that Montero's improvisation is not the same as the more familiar free-style ad-lib that is common in almost all jazz performances.
"It's like speaking Mandarin and French, two different languages," she said. "I'm a huge jazz lover. I think jazz music has great composers, some of it is really complex. Improvisation in classical is something different. It's nothing I practice. When I improvise, it's like turning on a tap that flows through me until I live the stage. I think it's that kind fluidity."
While the improvisation may raise eyebrows, Montero believes it enlivens and brings a new audience to classical music that is often seen as stuffy and staid.
"I think we've bored a lot of people to death, to be honest with you," she said. "The public is hungry for a musical experience that is real, a musical experience that is intact and interesting, a classical experience that is relatable today.
"If I ask someone to give me something and they yell out Justin Bieber and I do a fugue on that, they're learning baroque language on a song that's available to them."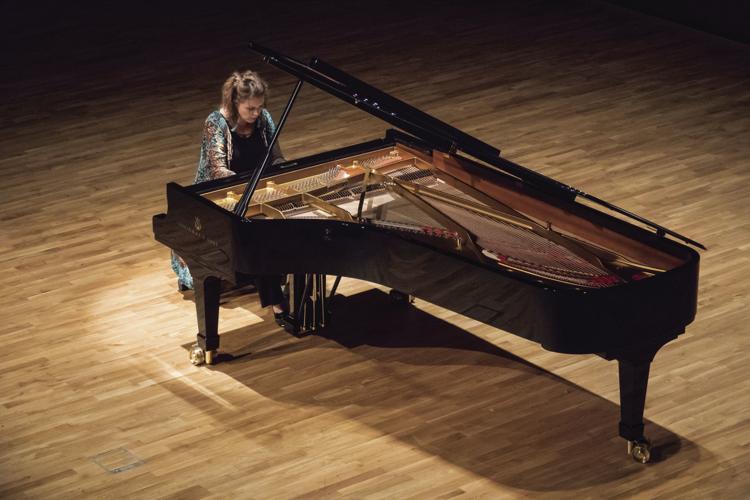 Montero doesn't need to ask for themes from the audience. She could easily present a familiar melody that she's selected and then do the improv.
"I do that because I want to involve them," she said. "I want them to see what they give me is happening in there. But it's more than that. I want to see the audience feels inspired and that they have a voice as well. I want that democratic aspect to it, to give the audience a voice. Having 3,000, 4,000 people singing to me, that's a great moment of unity."
While the improvisation has little overt connection to her activism, Montero said everything she creates is now rooted in her anguish over and work for Venezuela.
"It's changed over time, I think that all my art comes from having seen so much pain," she said. "My next composition I'm premiering in November is 'Babel.' It speaks of the frustration of speaking out and trying to get deliver a message to the world when there is so much noise and it seems that truth doesn't matter so much."
That truth, Montero said, will keep her voice loud as she works to save her country from the dark forces that have overtaken it.
"This is a Mafia, a narco state basically," Montero said. "It's a situation unlike any other where the government and all of its segments have been kidnapped by thugs. It's a very difficult road ahead. I don't quite have the answers. I know what I can do is speak out, denounce and dissent and do my best to tell the world about it."