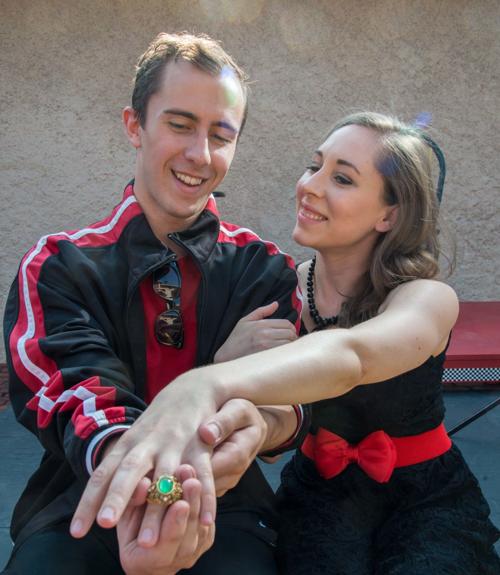 "Two Gentlemen of Verona" is a Shakespearean tale of leaving home, personal growth and learning all you can from the experience, something Emily Ernst can speak to with more than a passing knowledge.
The 33-year-old Lincoln High graduate, who plays Julia in the Flatwater Shakespeare production, is back in Lincoln after honing her stagecraft at SMU, in Dallas' theater community, as well as at the renowned L'École Internationale de Théâtre Jacques Lecoq in Paris.
"I've come back to my roots," she says. "I want Lincoln to be my artistic home."
Since her return, she's quickly made a name for herself as an actor and director. She recently directed the Lincoln Community Playhouse's production of "Mame," and now is playing a leading role in Flatwater's outdoor Shakespearean production.
So which of the two is her passion?
It's a toss-up, she says, but if pushed, she leans a little more to the directing side, a role that is only now beginning to open for women.
"She's a trained actress and now she's on the other side, digging it," said Karen Freimund Wills, who played the title role in "Mame." "She's such a great communicator. We texted every night to go over scenes. 'Did that work or did that not work?'"
Her time in Paris gave her a real understanding of what is expected of someone directing a play.
You have free articles remaining.
"A director isn't there to teach," she says. "The director is there to provoke and to guide."
And it's that mindset that is driving her acting this summer on the outdoor stage at the Stables at Wyuka. She is challenged with playing the part of Julia, who, by all accounts, is a teenager. Getting into the mind of a teenager -- no matter the historic period -- particularly on the subject of love, will test one's acting chops.
"I think she is many years younger than I am," Ernst said. "She is so naïve and inexperienced in life. She's optimistic because she's never been hurt by anyone yet. That's the big challenge for me. She can't see the red flags of her boyfriend."
There are times Ernst would love the chance to shake Julia her from doe-eyed malaise, but that would alter the desired outcome put in place by Shakespeare, who spins a yarn of relationships and infidelity -- and the conflicts that arise between friendship and love.
Moreover, he writes of the foolish ways that people in love tend to behave.
Most people can relate to that notion -- and the purpose of the Flatwater series is to get people to relate with the works of Shakespeare.
Exposing a new generation to Shakespeare is the purpose, says director Patsy Koch-Johns.
"Two Gentlemen from Verona," which opened last weekend, resumed Thursday at the Stables of Wyuka. After shows this weekend, it will move to Belmont Park on June 20, Trago Park on June 21 and Cooper Park on June 22. The 75-minute play will conclude June 23 at Havelock Park.
After the run at the Stables at Wyuka, the performances during the tour of Lincoln parks for the final weekend are free.